The Shorthorn breed is mourns the loss of one of it's greatest sons with the passing of Graham Ashby from Bundaleer Shorthorns, South Australia on Monday January 25.
The Bundaleer herd, founded in 1944 by Graham's father, the late T.E. Ashby, grew to become one of the pre-eminent Shorthorn seedstock producers in Australia.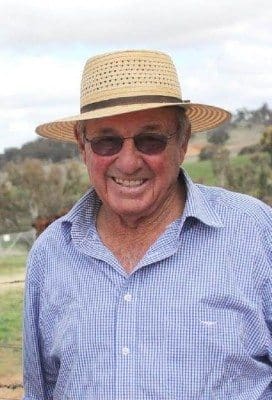 For many years Bundaleer was a key source of replacement genetics for the large Shorthorn cattle herds that dominated across the Northern Territory and Central Australia regions in the 1960s and 70s.
The stud was a source of tremendous passion for Graham, as was the Shorthorn breed, which has been left much the better for his dedication and influence. Bundaleer genetics contributed greatly to the progress of the breed both in Australia and overseas, with sales into the UK, US, Canada, New Zealand and Argentina.
Bundaleer has been a vendor at the prestigious Naracoorte Shorthorn sale in SA for the past 58 years.
In the show ring, the stud claimed the honours at the 2015 Adelaide Royal Show, where it exhibited the interbreed sire's progeny group. Bundaleer first exhibited at the Royal Adelaide Show in 1948 when Graham was just 11 years old, and has exhibited at every show since, missing only once in 1996.
Graham became a sought-after judge in stud beef circles, officiating at every Royal Show in Australia as well as the Edinburgh Royal Show, Scotland. He was also one of only two people to judge the Dubbo National Shorthorn Show and Sale twice.
He was also a long-time supporter of the South Australian Junior Heifer Expo, working tirelessly to assist the South Australian youth develop their skills and networks within the beef industry.
Graham also contributed strongly to the development of the Shorthorn breed, acting as a long-serving board member and past President of the South Australian branch of the Shorthorn Society as well as a long serving member of the federal board. Graham was awarded honorary life membership of the Shorthorn Society in 2004, in recognition for all that he had given to the breed.
Graham Ashby's funeral will be held next Thursday, February 4 at the Gulnare Uniting Church, SA from 1pm.