ONE of Central Queensland's true pastoral industry legends, Eric Nobbs, passed away earlier today, aged 97.
Spanning a period of almost 80 years, Eric Nobbs carved out a highly successful grazing empire, leaving a legacy spanning more than a dozen properties across some of Australia's best cattle country.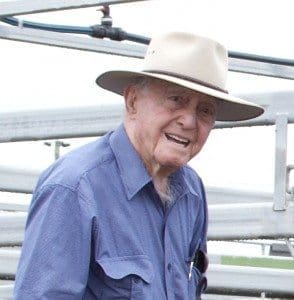 Regarded by many as both a gentleman and a gentle man, Eric was as unassuming as he was successful and knowledgeable in the cattle business, and in his approach to life.
Geoff Teys, who bought cattle from Eric for well over 40 years, said his passing represented a great loss to the Queensland and Australian cattle industry.
"He was more than generous in imparting his knowledge among those around him, but equally, Eric had an inquisitive mind, and even in advanced years, was still looking to learn," Mr Teys said.
"He commanded enormous respect wherever he went."
Eric made an appearance every day at Beef 2015 earlier this month, where he was greeted by friends and well-wishers from across the cattle industry – many making a bee-line through the big crowds when they spotted him in the distance.
Right to the end he maintained a hands-on role in his family's beef business – showing no great interest in retirement.
In 1937, at the tender age of just 19, Eric was successful in a ballot for a 3500 acre block of undeveloped forest and brigalow scrub country near Moura, which he named Burrawarra.
He spent the next 13 years developing the block, and married Valmai (Val) Lewis who also came from his home-town of Jandowae.  Around 1950 he sold Burrawarra and moved further west to a bigger holding at Allambie, near Springsure.
In 1953 Eric and Val decided to move closer to Biloela, and bought Lyndhurst, moving there with their young children, Helen and Chas. After moving to Lyndhurst, the Nobbs' had three more children –  Stewart, Linda and Roger.
In 1964 Eric bought 80 purebred Brahman females which had previously been registered, but were sold without papers, which formed the foundation of the Lyndhurst Brahman Stud.
In the 1960s, Eric put both Allambie and Lyndhurst on the market to buy into the Moura/Bauhinia district, and as it was Allambie that sold first, he and Val decided to retain their home property. They then bought Wingara in 1965, and added Cordelia in the Moura/Bauhina district in 1968 – country that had always appealed to him.
Since then, the Nobbs family holdings, now operated by his sons and daughters and their families, have grown to include 17 highly-productive Central Queensland properties including Yandaburra, Lake Salvator, Beauchamp and Glenrock at Springsure; and Delargum, Ruddlea, Cordelia, Kahmoo, Hillview, Yoman, Stanford Park and Wingara in the Bauhinia district, plus their most recent acquisition, Rangeview.
Eric continued to live on his beloved 2800 hectare Lyndhurst property, on Biloela's outskirts, where he could be found keeping an eye on both his stud and commercial cattle, checking waters, and watching his oats crop strike.
It was only in the last few years that Eric has stopped mustering by horseback, latterly doing his water and fence runs in his ute. As well as running 700 commercial breeders, he also maintained the Lyndhurst Brahman Stud (registered stud number 127), overseeing the joining of 200 stud breeders, breeding bulls catalogued for sale at the Nobbs Family Moura Bull Sale each September, Rockhampton Brahman Week, as well as selling paddock bulls to some of the nation's leading pastoral companies.
Eric probably bred as many top-priced bulls at the annual Brahman Week Sale – for many years the largest annual bull sale in the world – as any stud breeder in the country.
He was made a life member of the Australian Brahman Breeders Association in 2002, in recognition of an outstanding contribution to the advancement of the Brahman breed. Over time, Lyndhurst cattle have achieved great results at the Brahman Commercial Breeding Female Sale including being judged most successful exhibitor in 2012 and 2013.
Within a long list of wins in commercial cattle competitions, his pen of grassfed steers were judged champion pen in the Beef 2000 Prime Cattle Championships.
Eric was pre-deceased by his wife, Val. He is survived by his sons Chas, Stewart and Roger, daughters Helen and Linda, and their families, including 19 grandchildren and 11 great-grandchildren.
A funeral service will be held at the Biloela Civic Centre, Rainbow Street Biloela,  at 1pm on Thursday 28 May.