Two companies have received final US Department of Agriculture approval to sell lab-grown meat, opening the regulatory door to sales of cultivated product for the first time in the United States.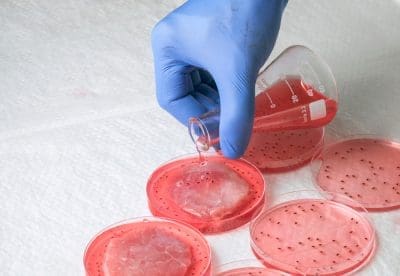 The United States will become the second country after Singapore to allow lab-produced meat to be sold.
The products are created in steel vats from sample livestock cells using processes initally developed for biopharmaceutical and tissue engineering purposes.
Upside Foods and Good Meat became the first copmanies to complete the approval process in the US last week.
Upside Foods CEO Uma Valeti told Reuters the development was a "dream come true" and marked "a new era".
The companies make cultivated chicken products and plan to first serve their product at high-end restaurants before scaling production to reach a lower cost for grocery stores, according to Reuters.
Both are still determining timelines for when their products will go on sale, with Upside reporting it is developing a US production facility that is 10 to 20 times larger than its existing plant in California.
Alternative proteins group Food Frontier in a statement to media said four companies are working in the cultivated meat ecosystem in Australia and New Zealand.
"Food Standards Australia New Zealand, FSANZ, is in the process of reviewing an application from Australian cultivated meat company Vow to sell cultivated quail," executive director Dr Simon Eassom said.
He added that the US approval will boost the morale of Australia's cellular agriculture sector and other food innovators working to introduce greater protein diversity.
"With our highly active food systems innovation and technical initiatives, Australia has the potential to lead the way on the global stage. If approval is granted in Australia, we will be at the forefront of the international race to develop alternative, and lucrative, solutions for the ever-growing protein demands worldwide.
"Cultivated meat offers consumers additional choices and helps ensure our food security as we move towards a more sustainable future food system."
Some groups have forecast that cultivated meat could grow to become a multi billion dollar industry in coming years, while others believe a range of challenges including difficulties producing the technology at commercially viable scales and overcoming consumer resistance mean it is likely to remain at best a niche food choice in future.
A leading expert in the technologies underpinning the fledgling industry, Dr Paul Wood, described US approval as a milestone for both companies, but said big questions remain about the future of the technology.
What has been learned so far is that the technology to grow cells in culture works, but the regulatory process takes longer than expected and scaling manufacture is still a big challenge, he said.
"Both of the products will be available in limited supply at high end restaurants. The big question is can they move from these high cost niche markets to penetrate the supermarket commodity meat markets?
"The customer base for cell-based products is not clear and we would predict their major competitor to be plant-based meat products.
"We still don't know the nutritional profile for these new products and expect that they will need to be supplemented with some minerals and vitamins."
Dr Wood said Upside's pilot facility appeared to be a high-quality biomanufacturing facility, but currently was only able to produce the equivalent of about three carcases of product per week, and future volume of production was still not known.
"All of this has been predicted for some time, will these products compete on quality and price with the equivalent commodity meat products can now be tested. Whether these companies make any money with limited supply is doubtful."