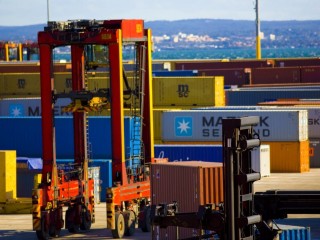 The Australian dollar headed skywards yesterday, as international investors bailed out of the US currency amid fears of the country's mounting financial crisis.
Westpac this morning reported the A$ at US110.15c, a 3.2c jump since Thursday last week.
The A$ hit a new post-float record high of US110.81c yesterday, before settling a little overnight.
As Beef Central's daily graph shows, the Australian currency had been tracking through a relatively stable period at between US104.5c and US107c for some weeks prior to yesterday's major adjustment.
Two main factors are driving the trend: ongoing squabbles over US debt, and stronger than expected inflation figures released yesterday.
Within minutes of the June quarter Consumer Price Index figures being released yesterday, the A$ had soared by US1c. A jump in fruit, clothing, petrol and alcohol prices sent the CPI figure for June leaping by 0.9pc – well above the 0.7pc figure forecast by many economists. The figure took annual inflation to 3.6pc, well above market expectations.
The result was a 'natural trigger' for an interest rate rise, one economist said.
The commodity price boom, coupled with a slide in the US$ amid growing fears that the US government could default on its debt payments, has fuelled a 25 percent rise in the A$ over the past year.
The US debt level deadlock has given the A$ wings, as currency traders offload US dollars in favour of gold or more favourable currencies.
The US Treasury must strike a deal by August 2 to raise the country's $14 trillion debt ceiling to enable it to continue borrowing, but policy-makers are deeply divided on a plan for the country's debt problems.
In May the A$ reached US110.11c, which until yesterday was the highest point since the currency was floated by Treasurer Paul Keating in 1983.
The latest rise will throw petrol on the fire for beleaguered beef exporters, who were already facing tough competitive pressure from cheaper US beef in key export markets.
The latest CPI figure will also add to the burden in a flat domestic beef market, where retailers and wholesalers have found it difficult to sell beef at realistic prices in a tight economic atmosphere.
Australian Meat Industry Council's Steve Martyn said yesterday's currency rise continued to undermine the industry's ability to compete on the world market.
"Added to increasing Government costs on industry in the form of AQIS fees and charges, it further diminishes the industry's ability to remain competitive," he said.
"The US announced overnight that its exports to Hong Kong have doubled over the past six months. Part of that is demand, but a much larger part is price advantage through currency movements and lower Government fees and charges," Mr Martyn said.