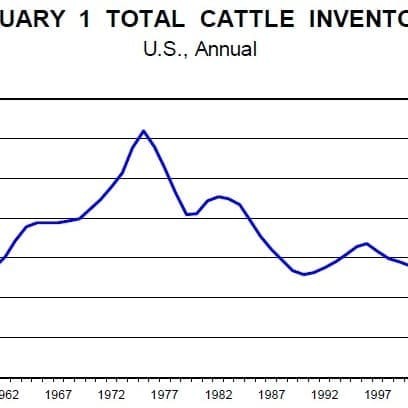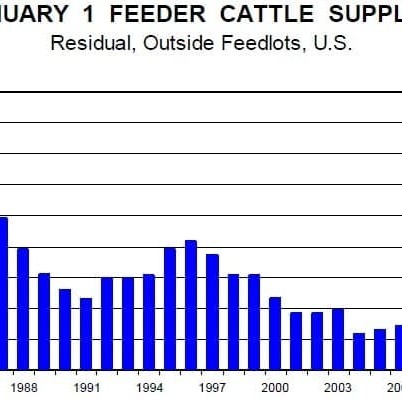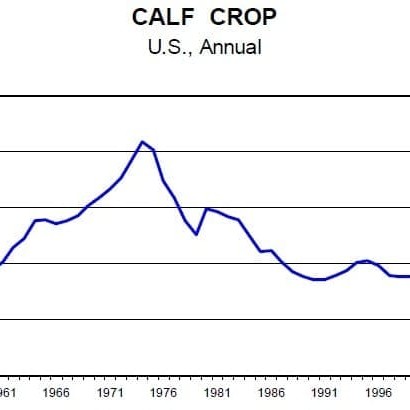 The release of the US Department of Agriculture's much-anticipated national cattle inventory report on Saturday indicates that the number of cattle on US farms and ranches on January 1 was smaller than a year ago, in almost all categories.
The result was considerably worse than what was expected by many beef industry analysts.
Among the key findings in the report were that there were 90.769 million cattle and calves on US farms on January 1, down 2.1 percent on this time last year and 0.5pc lower than the average of analysts' pre-report expectations.
The beef cow herd size (29.883 million) was sharply lower than a year ago, down 3.1pc – much more severe than analysts expected (analyst's average estimate was –2.6pc).
The decline in beef cow numbers was the largest seen since 1986 when the US herd declined 4.7pc due to severe drought and painful adjustments to declining beef demand in the US, on top of a 5.5pc decline the year before.
This year's decline in US cow numbers is the sixth in a row, and twelfth in the past fourteen years, analyst Len Steiner said. Since that sequence began in 1996, the US beef cow herd has declined by 15.4pc. It should be noted, though, that commercial cattle slaughter has declined only 6.8pc from 1996 to 2011 and commercial beef production has grown by 3.1pc.
The relatively smaller decline in slaughter is due to higher calving percentages, higher calf survival rates and faster growing cattle that enable higher output from a given sized herd. The smaller decline in beef output was driven by those factors plus a significant increase in slaughter weights, enabled by better genetics, nutrition and growth promotants.
This year's US beef cow herd decline of 967,000 head was driven almost entirely by the drought-driven reduction of the nation's two largest state beef cow herds in Texas and Oklahoma.
The Texas herd declined by 660,000 head (13pc) to 4.365 million as of January 1. Oklahoma's herd fell by 288,000 head (14pc) during the year. Nebraska was the benefactor of some of those Texas and Oklahoma reductions as cows were shifted northward to relatively better grass supplies. Nebraska's beef cow herd was 6pc larger on Jan 1.
One surprising number relatively to the pre-report survey among analysts was that of heifers being held as beef replacements. That number, at 5.21m head, was 1.4pc higher than last year, while all analysts expected the number to be lower.
Since last summer some significant heifer retention has commenced in northern and southeastern US states, however. Nebraska's beef heifer numbers are up 55,000 head (18pc) from January 1, 2011.
The 2012 calf crop is now estimated at 35.313m head, 1.8pc smaller than last year and the smallest crop since 1951. The calf crop is also 0.8pc smaller than was expected by analysts.
The only number in the positive this year was for cattle on feed in all feedlots, up 0.8pc on January 1 last year. That compares to +3pc for feedlots with capacity of 1000 head or more. Small lots have reduced their inventories from 2.5m head to 2.27m head (-9.2pc) as feeder cattle prices have soared.
Weather permitting, US producers now have plenty of incentive to not only stop liquidating their herds, but also to start rebuilding. US feeder cattle prices are currently at all-time record highs, which should provide an incentive for herd rebuilding to commence in 2012 and 2013.
The Chicago Mercantile Exchange's feeder cattle index (a weighted average price of feeder cattle sold at CME delivery points for the Feeder Cattle contract) last Wednesday was quoted at US$150.2/cwt, 17.9pc higher than a year ago and almost 70pc higher than it was in January 2009.
The supply of feeder cattle outside of US feedlots on Jan 1, as computed by the Livestock Marketing Information Centre, was 3.9pc lower at 25.85m head. Therein lies the reason that US feeder cattle prices are at record highs.