HIGHLY anticipated herd size data was released by the United States Department of Agriculture overnight, confirming a dramatic decline in US cattle inventory last year due to drought liquidation.
Beef Central monitored the growing impact of drought across the US throughout last year, with stories like this one.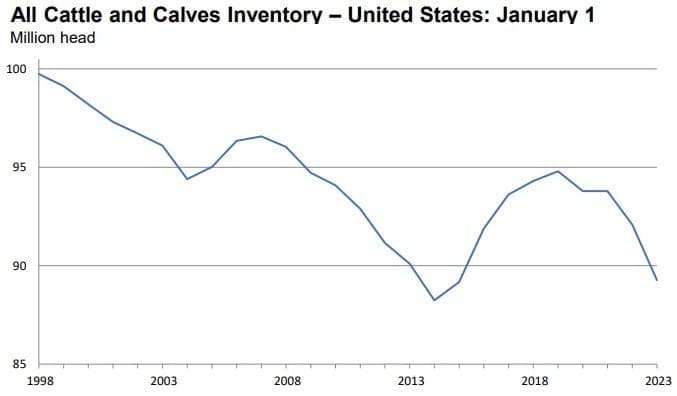 Cattle inventory was released by USDA yesterday providing a January 1 estimate of all US cattle by class and by state breakdown. The report also allowed for revisions to last year's numbers and provided key data to what the coming year's cattle supplies look like.
USDA's National Agricultural Statistics Service reported 89.3 million head of cattle and calves on US farms as of 1 January, down 3pc on the same time last year's already declining figure, and the third lowest on record.
Other key metrics:
All cows and heifers that have calved, at 38.3 million head, were 3pc below the previous year.
The 2022 US calf crop was estimated at 34.5m head, down 2pc from the previous year. Calves born during the first half of 2022 were estimated at 25.3m, down 2pc year-on-year, while calves born during the second half were estimated at 9.16m, 27pc of the total 2022 calf crop.
Cattle and calves on feed for the slaughter market in the US totalled 14.2m head on January 1, down 4pc on the previous year.
Independent analyst Len Steiner from Steiner Consulting said the report also showed beef heifers held for replacement down 5.8pc from last year, implying expanding the beef cow herd has been placed on the back burner for now.
Beef cow numbers, although larger than expected, were still lower than the last lowest point in 2014, by 39,000 head, Mr Steiner said.
Heifers held for beef replacement were still above the previous lowest number of 2011, by about 30,000 head. The heifer statistic was surprising, given the number of heifers on feed last year had outpaced first quarter of 2011 by nearly 400,000, he said.
"It is very likely heifers outside of feedlots are substantially smaller and were placed into feedyards at a higher rate. LMIC estimates total supply of steers and heifers outside of feedlots are down 722,000 head or 2.8pc from 2022. Heifers are a much larger proportion of that decline based on the other heifers number, estimated at 432,000 head below a year ago," he said.
Compared to 2011, the estimated number of heifers outside US feedlots was down 1.1 million head.
"Retained heifer numbers this low will make it very difficult to expand the US cow herd in the next year, and confirm higher prices of cattle are likely here for a few years. The calf crop though was not as short as expected, which may have provided a governor to increasing calf prices in 2022."
US herd reduction impact on Australia
MLA provided some commentary about the impact of drought on US cattle production in its annual Beef Industry Projections issued on Tuesday.
The US occupies a unique role in the global beef market, as the only participant to be a major importer and exporter at the same time. The country has the world's largest beef production system and consumer base, meaning that shifts in American beef production heavily affect the global market.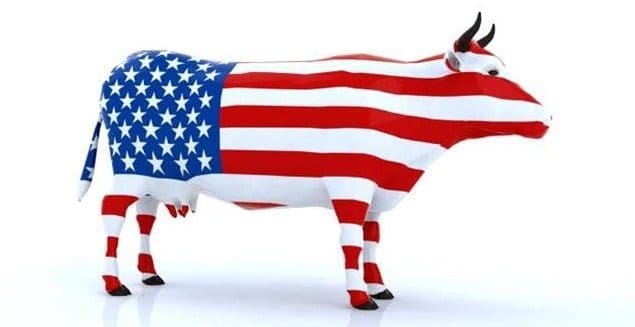 Over the past several years, in response to ongoing drought in North America, the industry has undergone widespread destocking. This has, in turn, increased US exports and limited imports, increasing supply into Australia's four largest export markets and pressuring Australian beef's price competitiveness.
The impending end of the drought will reverse these trends, reducing US supply into Japan and South Korea while increasing demand for imports into the US itself. As Australian production is expected to increase through the upcoming year, falls in American production should support Australian export prices in our key markets.
The US herd has been in a technical destocking phase since the start of 2019, when the female slaughter rate rose above 47pc. This trend has accelerated each year since, with the FSR reaching 51pc in 2022, the highest rate seen since 1985. This can also be seen in the slaughter rate, which rose by 3pc in 2022 to 34 million head for an annual turn-off rate of 37pc, the highest on record.
The US produced an estimated 13 million tonnes of beef in 2022, 2pc higher than 2021 and 3pc above the five-year average. American domestic consumption usually accounts for around 90pc of production and is stable year-to-year, so this uptick in production has had an outsized impact on exports.
This high rate of production has come at the expense of the herd, which has been in liquidation and is likely to continue declining over the next year.
Although many commentators are forecasting a swing back to herd rebuilding in 2023, production levels may take longer to recover than previous rebuilding phases. Although US production has grown over the long term, the US herd has not; increases in production have come from increased carcase weights. As feed input costs are currently high in the US and may remain so, the cost of additional gain could be very high. This means that future increases in production would likely come from a larger herd, which has been trending down for decades and would take years to eventuate if it were to occur.
Given the large US domestic market for beef, a decline in production would be clearly felt in export markets, and the US is highly likely to swing back to a net importer in the global market.
In 2022-23 US exports rose by 5pc year-on-year to 1.6 million tonnes carcase weight, 25pc above the ten-year average and enough to become the world's second largest beef exporter. Imports also grew by slightly under 1pc, but the relatively small increase meant that the US was a net beef exporter over the year.
This has meant that US market share grew in Japan and South Korea, largely at the expense of Australian exporters. The strength of the US$ did assist Australian exporters, but only to a limited extent. US exporters obtained the highest market share in Japan and South Korea since before the US Mad Cow Disease outbreak of 2004.
Looking forward, the decline in US production and subsequent drop in export volumes is likely to position Australian exporters well in Japan, South Korea and the United States (three of Australia's four largest export markets). With US beef being Australia's primary competition in those markets and relatively constrained market access conditions for other major exporters, any US decline in export volume drives demand for Australian beef. This could assist in maintaining unit prices, even if macroeconomic conditions soften further.
The key variable for the US market over the next year is when the drought breaks. Given the already-diminished herd and accelerating FSR, any female slaughter in 2023 is likely to be cutting into the core of any future herd rebuild due to a reduced female breeder herd.
It's likely that cow-calf operators will begin retaining stock to rebuild their herds as soon as sufficient rain falls occur, but it remains to be seen if the breeding stock will exist in sufficient numbers to recover quickly. If not, the recovery will be very slow, and the US will swing back to being a net beef importer, potentially for several years.