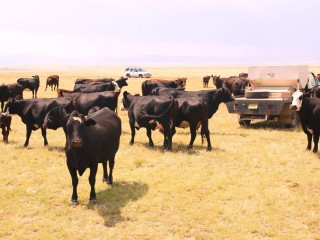 The US Department of Agriculture is forecasting an 8-9 percent rise in retail beef prices in the US year-on-year in 2012, according to revised figures issued late last week.
Among major meat proteins, beef is expected to have the largest increase in price, ahead of pork (6.5-7.5pc) and poultry (2.5-3.5pc).
The key drivers behind higher prices is the drought across the nation's southern states, more expensive feed and continued strong overseas demand for US product – although this last factor may be diluted somewhat by recent currency movements.
The upward pressures on food prices are expected to weaken later in 2012, however, the weather (especially mixed prospects for rain in the drought-hit southern states), fuel prices and currency fluctuations would still have a strong impact on prices next year.
Illustrating the impact of current US drought conditions, the number of cattle and calves on feed in the US at the start of September was 5 percent higher than the previous year, at 10.7 million head – the third highest September inventory since 1996, USDA figures suggest.
With the actual number of cattle on feed falling below expectations, the market is expected to be bullish regarding beef prices into the second quarter of 2012. Although numbers on feed are above year-ago levels, recent indications are that yield per carcase will be lower when these cattle are marketed, impacted by higher feed costs and a shorter period on feed.
Writing in the Chicago Mercantile Exchange's Daily Livestock Report, analyst Len Steiner said the increase in feedlot placements had a number of implications for US beef supplies and prices going forward.
By placing cattle on feed at a younger age and lower weight, US producers would accelerate the time taken to bring a steer or heifer to market. Cattle would spend more weeks in feedlots and animals would be younger and lighter than normal when they went to market. Those supplying beef to the Japanese market would likely find more cattle available to meet export conditions, Mr Steiner said.
"Putting cattle on feed early, by-passing the wheat grazing and/or pasture grazing phase, is a more expensive way of producing beef. This is one of the reasons why we think US beef prices have nowhere to go but up in the coming months," he said.
"Higher prices will be needed to bring a margin in the beef production business, otherwise we will see further reductions of the US cattle herd. A larger portion of feeder cattle have moved from backgrounding and dry lots directly to feedlots, thus relying primarily on expensive grain and hay."
Driven squarely by drought, overall US domestic beef cow slaughter since July is now up a whopping 18pc from a year ago (this figure includes an adjustment for imported slaughter cows).
"For the year, some regions not affected by drought have in fact shown a modest reduction in beef cow slaughter. The reason for all the focus on drought and high cow slaughter in Texas and surrounding regions is that all by itself, this region has prolonged the overall beef cow herd liquidation in the US," Mr Steiner said.
He suggested the industry would have to wait until January next year for a better idea of the number of heifers that had been held back for herd rebuilding. On the beef cow herd, however, the drought in the Southern Plains had dealt a serious setback to national herd rebuilding efforts.
"The negative impact seen in the weekly data for US beef cow slaughter is staggering," Mr Steiner said. "Since July 1, beef cow slaughter in the worst affected states of Oklahoma, Texas, New Mexico, Louisiana, and Arkansas has totalled 226,300 head, 72,200 head or 47pc higher than the comparable period a year ago."
During the same period, total US beef cow slaughter was up 18pc. The high slaughter rates in the drought-centred region accounted for almost 75pc of that national increase.
The fear among many in the US industry is that drought conditions will continue to squeeze producers this northern hemisphere autumn. Of particular concern is what happens with wheat grazing.
A recent article by Dr Derrell Peel from Oklahoma State U highlighted the issue, particularly with regard to stocker operations in his State and Texas, that relied on wheat grazing for the next few months. Winter wheat acreage in both states declined sharply in 2009-10 and recovered little this year.
Given current exceptional drought conditions, the fear is that farmers in the major beef producing states will not be able to get their wheat crop in the ground early enough to provide sufficient forage for stock. High wheat prices will also limit wheat acreage planted for forage only.
Sharply higher hay prices and limited wheat grazing opportunities could push cow/calf producers to liquidate ever more cows in the coming weeks, the Daily Livestock Report suggests.
That will boost beef production in the short term, but make for a smaller beef supply at least through 2014.
Discussing the implications of US drought to the Australian beef industry recently, Australian Lot Feeders Association president Jim Cudmore said the continuing liquidation of the US breeding herd would impact on the supply of feeder cattle in the US for the next two to three years, at least.
Some pundits were suggesting a total herd decline to 91.193 million head, the lowest level since 1958.
"Most likely this will limit the supply of fed cattle emanating from the US in the second quarter of 2012, and provide an opportunity for Australian lotfeeders focussing on the export grainfed market," Mr Cudmore said.