Could the devaluation of the US currency against the A$ and the growing momentum in US beef exports rekindle interest in the prospect of shipping North American chilled and frozen beef into Australia?
The subject has aroused some discussion recently in parliamentary, metropolitan media and industry circles.
Readers might remember the mass hysteria that swept the country in early 2009 when talkback radio and other media was alive with claims that 'BSE-riddled' US beef was about to reach Australia's shores, 'threatening the health of Australian citizens.'
The prospect of US beef imports was linked to Australia's beef-off-shelves concerns, where, should a spontaneous BSE case have been discovered in Australia, all beef would have had to be removed from sale, nationwide.
In order to avoid that potential market collapse, it meant that Australia had to accept beef from countries on a lower OIE risk status, meaning that US beef would be allowed to be imported, subject to a BSE food safety risk assessment.
In place of the more straightforward BSE risk assessment proposed at the time, however, Senator Bill Heffernan rode the wave of public sentiment to gain Senate support for the implementation of a full Import Risk Analysis, which would take two years to complete.
If all had gone according to plan, that two-year time-frame would have been completed next April, paving the way for US import applications to proceed.
In the Federal House of Representatives recently, however, trade minister Craig Emerson replied to questions on notice from Independent Rob Oakeshott, inquiring about the 'presence of US beef imports' in Australia.
The content of Mr Oakeshott's questions appeared to indicate that he was confusing fresh beef imports with value-added cooked products made in the US, using imported raw material sourced from negligible-BSE risk zones such as Argentina and Brazil.
Examples, like the popular Stagg Chilli canned meal range (pictured here), have been eligible for export to Australia throughout most of the BSE-related US beef ban since 2003.
If Mr Oakeshott did have a question around this subject, it should have been what measures AQIS has in place to verify that the beef used in the US manufacturing process is in fact sourced from approved countries.
In his response, Dr Emerson said the US Government and Australia's official import statistics had publicly confirmed that no US-sourced fresh, chilled or frozen US beef had been exported to Australia since December 2003. This was further supported by import permit information held by the Australian Quarantine and Inspection Service.
Referring to processed, cooked beef items like Stagg Chilli, Dr Emerson said valid import permits existed for products using beef that was processed in the US, but only where the beef was sourced from approved countries (Australia, New Zealand, Brazil, Argentina, and Uruguay).
"Australia's import permits for these beef products set stringent conditions to ensure that beef from approved countries does not co-mingle in the production process with beef from the US," he said.
Under Australia's new BSE policy for imported beef, countries that had recorded one or more cases of BSE in their cattle herds (such as the US) could apply to be assessed for access to Australia's beef market.
Applications to import beef would be assessed by Australian authorities under two procedures – a food safety risk assessment by Food Standards Australia New Zealand (FSANZ) and an Import Risk Analysis (IRA) by Biosecurity Australia for animal health issues, Dr Emerson said.
Biosecurity Australia commenced a regulated IRA of all animal health issues (not just BSE) for beef and beef products from the US on April 8 last year. Work on the IRA for beef and beef products from the US was paused on February 4 this year, pending the US authorities providing complete information on its cattle health status, beef production, inspection and certification systems, Dr Emerson said.
As at the end of August, that information had still not been provided.
In parallel, FSANZ had commenced a BSE food safety risk assessment in August 2010, however completion of the US assessment was on hold, pending an in-country inspection of US beef production systems at a date yet to be agreed to with the US authorities, Dr Emerson said.
Australia 'stalling' on approval process
Taking a diametrically opposed view on the reasons behind the delays in the risk assessment process was an article appearing in The Australian newspaper on October 13 suggesting Australia was 'stalling' on approving a request from the US to export beef here.
The article said FSANZ had "received applications from the US and the Netherlands' to sell their beef in Australia – ending a trade ban that has shielded Australian farmers from competition."
It said FSANZ had 'revealed' that import assessments would not be completed until July or August next year, at the earliest. In the meantime, FSANZ is preparing new rules, expected to be finalised next March or April, that will require retailers to label all beef, lamb, pork and chicken to show country of origin. Pork is currently the only species covered under such legislation.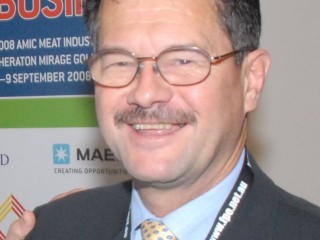 A beef industry stakeholder who has followed the US import prospect issue closely since it first emerged in 2008 is the Australian Meat Industry Council's national director for processing, Steve Martyn.
"I suspect that somewhere down the track, the US risk assessment will be completed, and US beef will be allowed in – but I don't know how long that will take," he said.
"I would have thought that even after the US provides the necessary documentation, it could still take a considerable time to achieve an outcome. That certainly applies while both sides of politics in Australia are tied to this current IRA process, and there is a Federal election coming within two years."
"Secondly, there is no real impetus right now for the US to seek access for its beef to Australia. Its exports to other markets currently are huge, driven by the competitiveness of the US$," Mr Martyn said.
If or when Australia set a process in place that could lead to possible US beef importation, it was likely this would again attract opposition from certain industry and community stakeholders in Australia – as it did in 2009. That might not occur with the same degree of vitriol as it did last time, however.
"But if the Australian dollar gets up close to US110c again and US beef prices start to hit a down cycle, then yes, it would be quite workable, price wise, for the US to contemplate seeking beef export to Australia," Mr Martyn said.
He agreed with the suggestion that there could also be 'philosophical' reasons to seek access to BSE-free markets like Australia, because it would reinforce the US arguments for equivalency on age and access into markets like Japan and Korea.
Mr Martyn said prior to the BSE ban on US imports to Australia in 2003, very small quantities of US beef occasionally trickled into Australia, on an opportunistic basis. These shipments never exceeded 1000 tonnes in a calendar year, records show.
"They were either a few USDA sirloins at $50 each in high-end restaurants looking for something different, or tri-tips, a rump muscle considered secondary in the US, but with greater value sold as a grilling cut in Australia."
Given freedom to export, the only way the previous volume of trade out of the US into Australia would grow significantly would be if the A$ went through US120c and US domestic prices collapsed, Mr Martyn said.