DROUGHT impact has seen the US beef cow herd slump to its lowest level in 51 years, a report issued this week by the US Department of Agriculture shows.
Years of drought, high feed costs and relatively low cattle prices have forced US ranchers to send cows to slaughter over the past few years, leading to a steep reduction in national herd size.
There were 29.4 million beef cows in the US as of July 1, down another 2.6 percent from this time last year, the USDA's biannual herd report said – the lowest July number since 1971. The result was the fifth consecutive year of declining beef cow numbers.
In other herd numbers released this week by USDA:
All cattle and calves in the US totalled 95.9 million head, 3pc or 2.7m head below this time last year.
Steers 500 pounds or heavier on July 1 totalled 13.9m head, down 3pc from last year, while calves less than 500 pounds totalled 26.3m, down 3pc.
Cattle and calves on feed for the slaughter market for all feedlots totalled 13.1m head, down 2pc
The 2023 US calf crop is expected to be 33.8m head, down 2pc from last year.
In a separate report, USDA said US producers placed 1.68m cattle in feedlots in June, up 3pc from 2022. Analysts, on average, had expected placements to decline 1.6pc from last year. The increase signalled that there is still not enough pasture for cattle to graze on due to dry weather, so producers put the animals in feedlots instead.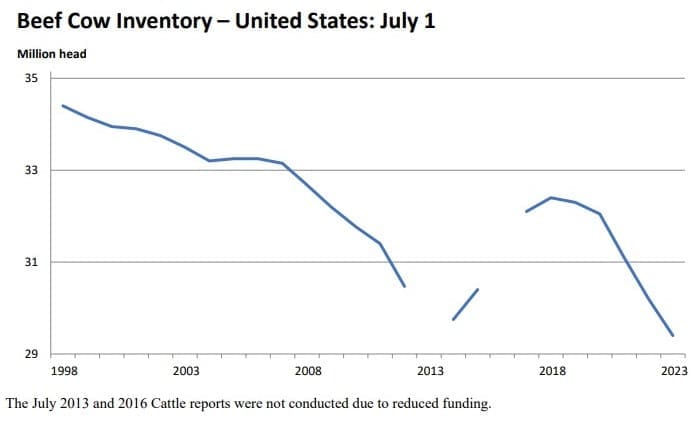 "Neither dairy or beef producers appear optimistic about the future, as those heifers held for replacement were down 100,000 head each, while 'other' heifers lost 400,000 head," Steiner Consulting said in commentary after the figures were released.
"The report was largely in-line with pre-report estimates and confirms continued contraction in the US cattle cycle," Steiner said.
A few keys points Steiner took from the report:
Cattle outside of US feedlots shrank substantially and will not refill soon
Although beef heifer replacements were smaller, they were not substantially lower, which could mean certain areas of the country are now adding or refilling herds.
The pace of herd contraction has changed, and Steiner suggests the US is no longer in a 'drought-fuelled liquidation' phase.
The USDA also released its July Livestock Outlook report this week, saying that since January, slaughter data has indicated a 12pc decline in beef cow slaughter.
This is likely a combination of improving pasture conditions in some areas, sufficient reductions in animal units per acre on poorer pastures, and the prospect of improved profitability from selling calves, USDA said.
At the same time, dairy cow slaughter was up almost 6pc year-on-year, but not by enough to offset the effect of declining beef cow slaughter on total cow slaughter.
"However beef cow retention will likely cap cow slaughter for the foreseeable future," USDA said.
Compared with the previously monthly forecast, US beef production for 2024 is projected lower by another 43,000t, to 11.2 million tonnes. This is based on a slower expected pace of marketing in the first quarter that is reflected in lower expected steer and heifer slaughter.
Exports, imports affected
The herd impact has also produced revised USDA forecasts for US beef exports (lower) and imports (higher) for the remainder of this year and 2024.
For the first time in more than three years, the US was Australia's largest monthly volume customer for beef in May and June, surpassing Japan and China in trade volume.
Based on recent data, USDA has reduced its second-quarter export estimate by 9000t to 366,000t. The 2024 export forecast remains unchanged from last month at 1.34m tonnes.
Meanwhile US beef imports in May totalled 141,000t, 6pc above year-ago levels and 11pc above the five-year average. There were significant year-over-year increases in monthly imports from Australia (+39pc) and New Zealand (+23pc), while imports were down from Brazil (-10pc), Canada (-7pc), and Mexico (-4pc).
Calendar year to date imports through May are running 1pc lower than last year, with the partial recovery due in large part to significantly higher imports from Australia-NZ. Year-to-date imports from Australia are up 18,000t, a year-over-year increase of about 24pc.
Tight livestock supplies mean US beef processors like Tyson Foods, Cargill and JBS will pay elevated prices for US cattle until producers start the years-long process of rebuilding their herds, analysts said.
At the same time, longer-term plans for new US slaughter plants to open in coming years indicated that US processors would also increasingly need to compete with each other to buy limited numbers of cattle.
"The next two to three years are going to be a bloodbath for US packer margins," Allendale brokerage chief strategist Rich Nelson said, reflecting similar trading conditions seen in Australia during 2021 and 2022.
The USDA herd survey was based on a sample of 15,600 US beef producers and feedlot operators, contacted during the first half of July by mail, telephone, internet, and face-to-face personal interviews. The response rate was 54pc.