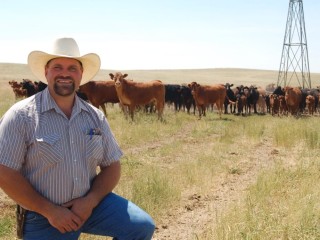 The US beef industry has initiated a landmark assessment aiming to define what constitutes 'sustainability' in a beef-producing context.
In his authoritative US Cattle Buyers' Weekly newsletter last Friday, analyst Steve Kay wrote that previous research had demonstrated that beef's carbon footprint in the US had decreased 18 percent in the last 30 years, according to the National Cattlemen's Beef Association.
He quoted NCBA as saying the Beef Checkoff-funded assessment would involve a multi-year research project that would quantify inputs, outputs and identify opportunities for continuous improvement in beef cattle raising practices.
The project would focus on the environmental, social and economic aspects of beef production.
The industry/government-funded Beef Checkoff program would partner with BASF Corporation to conduct a comprehensive assessment of the current state of the US beef industry and identify the most important areas of focus for future innovation.
"BASF is internationally recognised for its sustainability efforts. It has created tools and initiatives such as SET (Sustainability, Eco-Efficiency, Traceability) to help the food industry develop more sustainable products to meet the many global challenges and demands confronting the industry today. These include the need to increase overall food production by 70pc over the next 40 years to feed a growing world population while protecting the planet," a NCBA statement said.
The first step for the US industry would be to work with BASF to conduct what's known as a hot spot analysis to assess stakeholder perceptions of the beef industry, NCBA said.
BASF would then conduct a comprehensive 'cradle-to-grave' lifecycle assessment of US beef production. Research projects would then be developed to give producers tools to enhance the sustainability of their operations.
Global Approach Began Last Year
Global beef industry leaders had previously identified the same three topics as key impacts at a special conference on sustainability issues held last November in Denver, Colorado, Mr Kay wrote in CBW on Friday.
"Not surprisingly, the recent Five Nations Beef Alliance (FNBA) conference identified the same topics to use in defining sustainable beef production," he said.
A global approach to defining sustainability began early last year when international leaders in the beef industry and the World Wildlife Fund sought advancements in sustainable beef production through various initiatives. WWF, JBS SA, Cargill Inc, Intervet/Schering Plough Animal Health and McDonald's Corporation helped create a Beef Lifestyle Assessment Working Group.
The group met for the first time in June last year in Washington. The initiative led to WWF and the four companies convening The Global Conference on Sustainable Beef in Denver just over a year ago.
"One of the Beef Lifestyle Assessment Working Group's most important moves was to identify what it called key impacts relating to sustainable beef production," Mr Kay wrote in CBW.
"It defined these as any issue with a significant, measurable economic, environmental or social effect (positive or negative) resulting from the production of beef."
The group identified the following:
air (greenhouse gas, dust and particulate matter)
animal health and welfare
contribution to GDP, trade and wealth
contribution to rural economy and rural communities
food security for individuals and nations
land use, productivity, biodiversity, and
water usage, availability, and quality.
The recent Five Nations Beef conference involving US, Australia, Canada, Mexico and New Zealand, concluded that in the absence of any formal national or international definitions, it was incumbent on the FNBA to fill that void, according to a Canadian Cattlemen's Association report.
The FNBA agreed to take a non-competitive, holistic and balanced approach to sustainability by focusing equally on environmental, social and economic aspects of production.
In an FNBA statement quoted by CBW, it said it believed sustainability was a journey, not a destination, and required a commitment to continuous improvement.