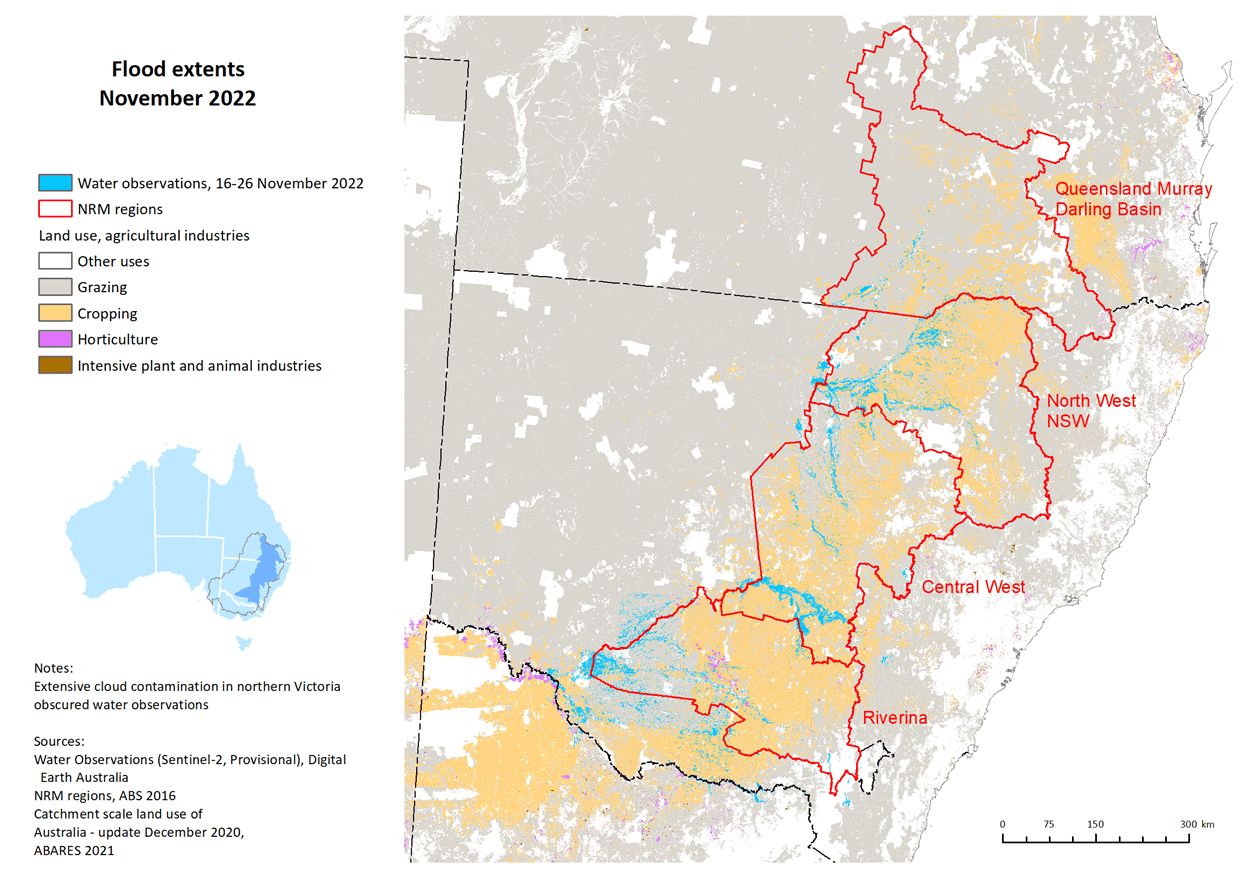 Australia's official Government commodities forecaster says it is too early to tell what the true costs of widespread flooding across the east coast of Australia will be.
Flooding across eastern Australia has damaged winter grain crops, restricted planting of summer crops, caused livestock losses and increased the risk of some pests and diseases .
The Australian Crop Report estimates that crop abandonment will account for 16 percent of planted area in NSW, 7pc in Victoria and 5pc in Queensland.
Restricted field access for harvesting can also lead to production losses and quality downgrades like those seen in NSW and Queensland last season.
Damage is also likely to have occurred to irrigated fruit crops in regions of Victoria and Queensland. Damage to infrastructure has also caused delays along food supply chains, contributing to consumer food inflation.
ABARES notes that several independent public estimates of the cost of recent flooding events have been published, but these have been limited to some types of agricultural production or to specific regions.
"It is too early to tell what the true costs of flooding are, particularly given most crops are yet to be harvested," ABARES states in an agricultural overview report for the December 2022 report released today.
"Such costs may never be accurately quantified due to the complex nature of agricultural production systems, since yields are normally determined over the course of an entire season rather than by a single event.
"For example, in addition to crops destroyed or abandoned, the associated rainfall can also lead to quality downgrades for crops or delayed/reduced plantings for summer crops which cannot necessarily be attributed to one specific rainfall event."
While flooding directly causes devastating impacts on some individuals and businesses, the ABARES report also acknowledges the beneficial effects of higher rainfall in other areas fortunate enough to avoid flooding.
The last time ABARES prepared detailed estimates on a widespread flooding event in 2011−12, the loss of agricultural production was estimated at $500−$600 million. This would account for just over 1pc of the national value of production that year, which also saw a new record set for winter crop production due to favourable conditions in New South Wales and Western Australia.
Other key points from today's Agricultural Overview report include:
Gross value of production forecast to be another near record at $85 billion.
Value of exports forecast to reach a record of over $72 billion in 2022−23.
Inflation is squeezing demand and producer incomes.
To read the full report on the ABARES website click here