WHEN it comes to bizarre diets doing the rounds on social media, the mind might go to various forms of the vegan diet.
But the latest trend starting the year on TikTok has been advocating for the direct opposite, calling on consumers to adopt the eating habits of a lion.
The Carnivore Diet or the Lion Diet consists of three main elements – water, salt and meat – and it has been attracting plenty of attention in the first month of 2023. On TikTok #carnivorediet has attracted at least 673.2m views and some of social media's biggest influencers, including podcaster Joe Rogan, have been trying it out.
View this post on Instagram

Similar trends have been trotting out over the years, with some diets advocating for replacing carbohydrates with meat and the carnivore diet getting a kick along in 2018 when controversial American psychologist Jordan Peterson claimed it "cured his depression".
What sparked the latest wave of carnivore diet fever is not entirely clear, but Joe Rogan has certainly been part of it. Having tried a month on the diet before, Mr Rogan has been posting on Instagram about his January of eating nothing but meat, eggs and fruit.
Another account that goes by the name @roryskitchen has been leading the charge, taking on the diet for a month as a way of dealing with autoimmune issues. His original post has attracted more than 1.1m views.
Proponents of the carnivore diet have been using similar tactics to the vegan community, who have initiatives like "Meat Free Monday" and "Veganuary", encouraging people to take it on in short bursts – in this case they are calling it "World Carnivore Month".
@roryskitchen Been reacting to most foods lately so I tried The Lion Diet for 24 hrs… It's a modified version of the Carnivore Diet and essentially an extreme elimination diet where you eat only ruminant meat 🥩 (like lamb, beef etc), drink only water 💦 (sparkling water for the top G's) and season with only salt🧂. I kept seeing clips of @mikhailapeterson and Jordan B Peterson floating around on my FYP, Reels & Shorts talking about how they healed chronic auto-immune conditions eating this way. As someone who has autoimmune symptoms I thought I'd give it a go. Safe to say I've felt better than I have in a long time! I'll be embarking on a 30 day version of this soon but with a stronger focus on meat stocks (it's called the GAPS Diet) so I can start healing my gut… so pls follow if u want to see the results of that. Also I'm not a doctor just a dude making videos sharin me journey. DYO research etc. #theliondiet #carnivorediet #carnivoremd #liondiet #mikhailapeterson #jordanbpeterson #gapsdiet #gutandpsychologysyndrome #guthealing ♬ original sound – Rory's Kitchen
Calls for caution from dietician community
Many dieticians have been calling for calm on carnivore diet and urging consumers to consider a more balanced approach to their eating – with more fruit and vegetables.
The CSIRO's total wellbeing recommends eating meat four times a week, fish twice and chicken once. It also acknowledges the role of protein in weight loss.
"If you find it difficult to control your diet, eating more protein at breakfast and across the day may be a good way to lose weight without leaving you hungry and craving unhealthy food," it says on its website.
"Studies conducted by CSIRO have shown that higher protein diets are more effective for both short- and long-term weight loss and weight maintenance.
"A report from the CSIRO, Protein Balance: New concepts for protein in weight management, shows that eating more protein, especially at breakfast, may be the key to achieving healthy weight loss."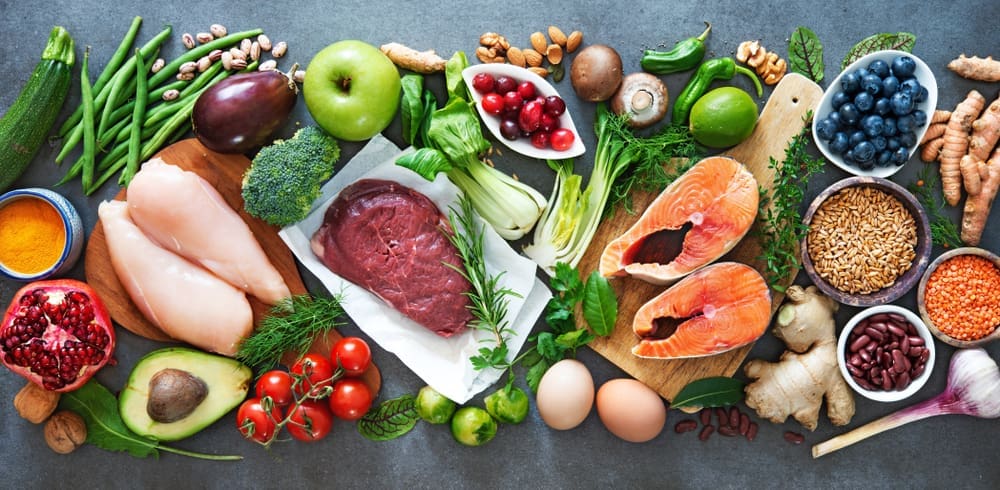 The red meat industry peak marketing body Meat & Livestock Australia has also been campaigning for meat to be part of a balanced diet – using plenty of pictures of vegetables and salad in its advertisements.
A spokesperson said the organisation backed the national health standards.
"Red meat is an essential part of a balanced diet. MLA supports the consumption of healthy and balanced meals in line with the Australian Dietary Guidelines," the spokesperson said.
"Eating red meat three to four times a week provides essential nutrients recommended for a nutritionally adequate diet and a balance of foods recommended in the Australian Dietary Guidelines for a healthy diet."