THOUSANDS of passionate people have donned green shirts and rallied outside Parliament House in Brisbane this morning, joined by others throughout Queensland and via social media today to demand fair laws for farmers and highlight that farmers are the true environmentalists.
The physical and 'virtual' rallies were held to protest against new vegetation management laws the Palaszczuk Labor Government is seeking to ram through the Queensland Parliament this week.
Grant Maudsley, president of Queensland farm lobby group, AgForce, said farmers needed to manage vegetation on their land to sustainably produce food and fibre and the flawed laws would shut down new agricultural development and deliver worse not better outcomes for the environment.
"On average, each Australian farmer produces enough food to feed 600 people. We're passionate about what we do and we love and care for our land," he said.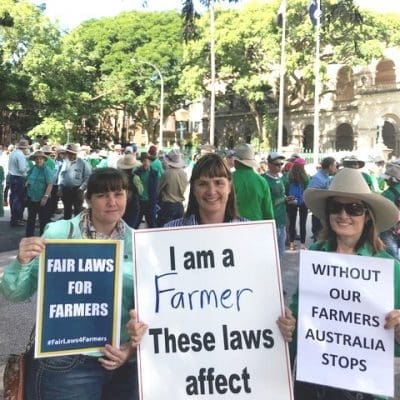 "Farmers just want to get on with their jobs and are so frustrated, angry and bitterly disappointed the Palaszczuk Government continues to ignore the social and economic impact these laws will have on our lives, our livelihoods and our regional communities."
Mr Maudsley said it was incredibly heartening to see the sea of green on social media from people of all walks of life from all over Queensland joining with farmers to say enough is enough.
"Vegetation management has been a divisive issue for two decades and we can't keep going on like this. Our food is too important to be caught up in politics. If farmers can't feed their own families, they can't feed yours," he said.
"This is not the end, this is just the beginning.  Today's outpouring of emotion and support on social media should send a strong message to the Palaszczuk Government.
"We are going to keep fighting until we get fair and balanced laws that are good for agriculture, good for the environment and don't strangle farmers in red tape. We're all in this together, we all eat food and we all care for the environment."
Speakers at the Parliament House rally highlighted the fact that good agricultural land was constantly being lost – to urban development, to mining and to conservation, meaning less food and fibre will be grown in Queensland.
"Queensland is currently the number one agricultural producing state in the country, yet these harsh and unnecessary laws threaten the future of our farming families and our entire industry," he said.
More details about farmers' concerns and the facts about vegetation management laws is available at www.agforceqld.org.au and www.atruestory.com.au
Examples of today's activities can be found by searching the hashtags #FairLaws4Farmers and #YourFoodOurFuture on social media.
Images: Patrick R Condon