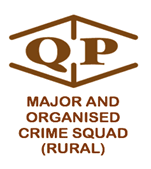 A 67-year-old Tumoulin man and a 20-year-old Moomin man have been charged with stealing and killing a steer which strayed onto the Tumolin man's property in North Queensland three years ago.
Investigators from Queensland's Major and Organised Crime Squad Rural (formerly known as Stock Squad) were called to the property last Saturday after the owner of the steer allegedly observed the beast being butchered and called police.
Queensland Police say their inquiries established that a Brahman Steer had strayed from a nearby property in 2015 and joined the Tumoulin man's herd.
Police said discussions between the land owners were unable to come to a suitable agreement on how best to return the steer to it's rightful owner after discussions of agistment payments were mentioned.
Police said the Tumoulin man allegedly arranged for the animal to be shot and butchered and to take the meat "as payment for feeding costs".
Police charged the Tumoulin man and a 20-year-old Moomin man with stealing an animal that is stock and killing an animal with intent to steal. Both are scheduled to appear in the Atherton Magistrates Court on March 6.
Officers from the Major and Organised Crime Squad Rural (MOCS Rural) said they wished to stress to members of the public that straying stock remain the property of the owner regardless of time and any costs a landholder may have incurred from straying stock.
Landholders unable to return straying stock to the owner should contact your Local Council for impoundment.
Questions in relation to Stock Crime or cattle ownership can be directed to please contact your nearest MOCS Rural officer, numbers below:
| | |
| --- | --- |
| MOCS (Rural) – Forest Hill | (07) 5465-4200 |
| MOCS (Rural) – Toowoomba | (07) 4614-2114 |
| MOCS (Rural) – Roma | (07) 4622-9350 |
| MOCS (Rural) – Charleville | (07) 4650-5521 |
| MOCS (Rural) – Kingaroy | (07) 4160-4900 |
| MOCS (Rural) – Rockhampton | (07) 4932-3681 |
| MOCS (Rural) – Longreach | (07) 4652-5202 |
| MOCS (Rural) – Charters Towers | (07) 4788-2512 |
| MOCS (Rural) – Cloncurry | (07) 4742-8813 |
| MOCS (Rural) – Mareeba | (07) 4030-3321 |