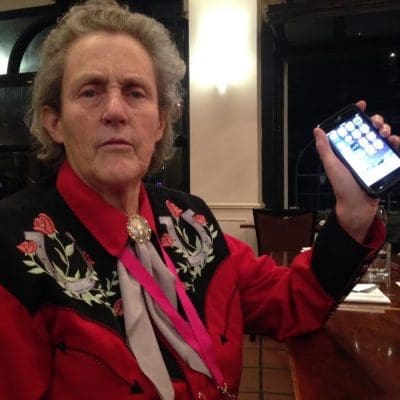 Camera-equipped mobile phones were the new enforcer of animal welfare in livestock production and could not be avoided, international animal handling expert Temple Grandin said this week.
"You cannot escape it," the animal handling expert told delegates at the Animal Production 2016 conference in Adelaide this week.
Dr Grandin said livestock handlers had to set up their systems to ensure that a "horrible horrendous video" was not filmed on a mobile phone.
She did not tell the delegates they should fear phones or ban them from farms or work areas, but later said farmers needed to make sure they were "doing things right to make sure the mobile phone doesn't have anything to take pictures of".
"We need to be doing everything as if there is a live feed to the internet at all times.
"You can't control phones."
On the need for farms to open up to consumers, holding up her smart phone Dr Grandin said "heat makes steel and then I can bend it into pretty grill work."
"When this thing right here makes heat, that's when I can get in and make change.
"But we want to make sure we can bend it into pretty grill work, not into a melded mass.
"We've got to show stuff, we've got to explain stuff and there is some stuff we're going to have to change."
The biggest changes she had seen in animal welfare in the United States were initiated from the consumer/retail end of the supply chain, including McDonalds initiating meat plant audits.
"In the future, consumers are going to drive stuff," she said.
"Today's young consumer is more interested in shared values.
"Ag has got to communicate directly with the consumer; now the consumer is separated from ag, but ag is also separated the other way.
"We have got to communicate directly with consumers."
Measurement in important for good welfare
Taking basic measurements of animal-based outcomes were important in setting up a livestock system.
There was good science behind good stockmanship.
Measuring for welfare stopped bad practices from becoming normal, she said.
"Things like handling measurements, as I've shown, lameness, body condition, dirty nests, just to maintain the basic levels," she said.
"Here's a handling measurement – how many cattle run out of the head bail? Speeders are not feeders.
"These are basic welfare things that we need to measure."
Ms Grandin said measurements on a farm needed to be simpler.
"How many animals fell during handling, how many stumbled and went down on their knees, how many vocalised when you caught them and how many got moved with the electric prodder?
"Just simple 'yes, no' measurements."
Dr Grandin said when she sees a welfare issue in an abattoir it indicates something that needs to be fixed on the farm.
"Dairy cows in bad condition, beef cattle that are lame, animals that are skinny or have difficulty walking."
She said the HACCP (Hazard Analysis Critical Control Points) principles should be applied on farms.
"It's looking at directly observable things and it is not a paperwork audit.
"I'm getting worried about everything turning into a gigantic paperwork audit."
Dr Grandin said she had worked for 20 years installing handling systems in abattoirs and had witnessed many cases of fake paperwork.
"Let's look at directly observable stuff."
Using animal-based outcome measurements would lead to the required handling systems and inform equipment maintenance, she said.
It's not all about the numbers
Dr Grandin said there were certain genetic lines of beef cattle in Australia that were repeating a leg conformation mistake made by the pork industry.
"Where they just selected for production traits and ended up with leg conformation issues.
"You cannot just use the numbers; we have got to visually appraise these animals to make sure we "are not making a problem with something like leg conformation, she said."
"We have to look at optimising systems, we can't just blindly follow the numbers.
"We've got new genomic power tools; power tools are nice things," Dr Grandin said.
"But that circular saw is going to hack my hand off a lot quicker than the hand saw will – use them carefully.
"Things are linked and they are linked in unexpected ways."