The first question that inaugural Cattle Australia chair David Foote says he is always asked at the moment is how will the new national peak council for cattle producers be funded?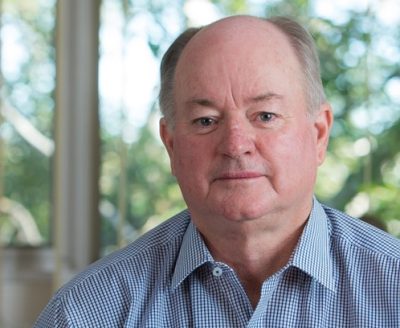 In response to that question an interview on The Weekly Grill with Kerry Lonergan which airs today, Mr Foote says Cattle Australia is aiming to develop a voluntary membership base and working to provide a value proposition which encourages producers to become members.
"There are many ways to fund an organisation. You can do it through membership, you can do it through sponsorship, and you can do it through program delivery," Mr Foote said.
"We would be hoping that our program delivery, be it through training across the bush, be it through awareness programs across the bush, that we'll actually encourage, as some other organisations do, their membership fee base is actually less than 25 percent of their total income, and that will be one of our targets."
Mr Foote said Cattle Australia hopes to get to a position where producers "will want to join because they're actually thinking we're worth funding, because we're working in their best interests".
Asked how much various producers would pay in membership fees, Mr Foote said the current model, which is not yet "set in concrete", ranged from around $100 dollars for small scale producers to around $5000 for the largest scale producers.


He noted that the organisation was not quite 10 weeks old, a time frame that had also included the Christmas and New Year break.
The first days constituted an "awkward start" with the first meeting of the Cattle Australia board held in the last days that senior Cattle Council of Australia were still on staff, while also managing court action taken by Cattle Producers Australia challenging the restructure process (which is understood to be ongoing).
"So we had a bit of a, I suppose, a headwind straight up," he said.
"And of course we had a court hearing at 10 o'clock the next morning.
"So we had a bit more to focus on than when we were out there chasing a value proposition.
"So we've got to get our house in order first, and the biggest priority is to get a CEO that's worthy of our organisation".
That has now happened with the announcement this week that former Northern Territory Cattlemen's Association CEO Luke Bowen will take up the reins as inaugural CEO of Cattle Australia from mid-April.
Mr Foote said that while building a funding base is a challenge, the organisation has the funding it needs to operate.
"Having taken over the books of the organization, we are certainly not shy of funding to achieve what we need to achieve in terms of advocacy and promoting our industry over the next couple of years," he said.
"Yep, we're going to want more to be bigger and more energetic and more powerful, we'll need more, but we're certainly not sitting in the doldrums at the moment through lack of funding."
Mr Foote also emphasised that it was important to understand that "Cattle Council voted itself out of existence."
"In their vision statement going forward, they worked out it needed a better model.
"There's not many organisations vote themselves out of existence, so it should be recognized for that process."
A key strength of Cattle Australia compared to the Cattle Council model that preceded is it is now a truly "single commodity" organisation, he said.
Cattle Council of Australia was cattle organisation, but was underpinned by a membership of State farming organisations, which represent a wide range of commodities.
Cattle Australia will be "a single commodity focused organization", Mr Foote said.
The inaugural board of Cattle Australia was announced in December.
The constitution allows for the Board to appoint a further two specialist, independent directors.
Mr Foote said a skills matrix map is being undertaken with the existing Board to identify where specialist skills are required before new directors are invited onto the Board.
Apart from senior staff who resigned along with the previous board of Cattle Council of Australia when Cattle Australia commenced, the new organisation still has the existing employee base of Cattle Council of Australia including policy and communications officers.
"So work is continuing behind the scenes. The producers are still no less represented than they were before the organization changed to Cattle Australia."
Asked about current funding agreements between Cattle Australia as the policy setting council and Meat & Livestock Australia as the levy-funded industry service organisation, Mr Foote rejected suggestions that funding from MLA to Cattle Australia was an "odd master servant relationship".
"Definitely no master/servant relationship in there," he said.
"The council has to submit a program for what it wants to deliver, whether that's sheep, whether that's goats, whether that's cattle, out to its membership base.
"It is measured against it. There are KPIs, there are milestones to be achieved and it's a budget.
"It's certainly not a profit-making process. It's a cost recovery process for you delivering a program.
"Recognise, of course, MLA is only so big, that ideally we have got council members or operatives that cover the state. They can't cover the country."
To listen to the full interview which explores additional topics including managing barriers between different sectors of the industry, fake meat, the progress of live export compensation case, biosecurity, what David Foote learned on a recent visit to the United States cattle industry's biggest annual conference, and where hopes Cattle Australia will be in 12 months time, click here.