New data shows 55 people died as a result of farm accidents in Australia last year.
That number was 20 percent higher than 2021, an "extremely disheartening" outcome that reinforces the need for continued funding campaigns, according to Farm Safe Australia chair Felicity Richards.
The Safer Farms 2023 report released yesterday to mark the start of National Farm Safety Week shows 64 per cent of farm deaths in Australia last year were attributed to farm vehicles or mobile farm machinery.
Tractor accidents are still the leading cause of death on Australian farms, followed by quad bikes: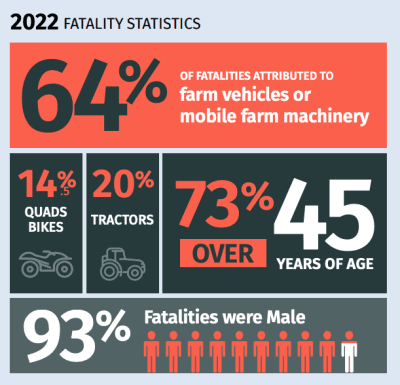 In terms of injuries, horses were the second most common factor: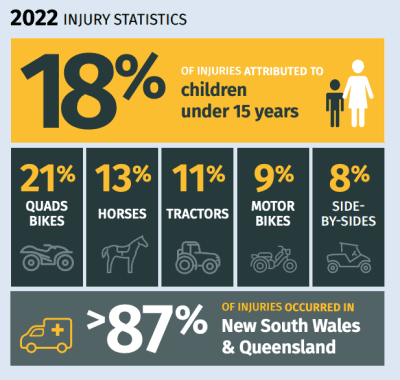 Despite the concerning increase from 2021 to 2022, the report also highlights how past legislative changes have helped to significantly reduce on-farm deaths over time.
In the early 1980's Australia was averaging 24 tractor rollover deaths a year.
However a substantial reduction in deaths has occurred following the mandatory introduction in 1981 of legislated rollover protection structures on all new tractors in Australia, and retrofitting to older tractors – despite facing "significant resistance" at the time.
By 2004 the average number of tractor rollover deaths per year had decreased to six.
The report drew comparisons between farmer resistance to tractor rollover prevention devices in the early 1980s to the more recent backlash over legislation requiring rollover protection on new and imported quad bikes.
Considering the long-term effects that the quad bike legislation may have and how many lives might be saved, there was "a pretty compelling argument to support this legislation" the report states.
"214 lives lost to quads since 2001. Cut that number by 70 percent …. that's 150 lives that could potentially be saved. Worth trying? There are 150 reasons why we should."
Runovers overtake rollovers
While rollover fatalities have reduced, the report also notes that runovers have now become the number one cause of tractor fatalities.
These accidents often occured when a safety system was circumvented.
"Have you ever thrown the tractor into neutral instead of park to jump out and get a gate? Or what about those times you tried to start the tractor from the ground, instead of being in the seat?," the report asks.
"Safety systems save lives. Don't make the ultimate mistake by trying to get around them."
Farm Safe Australia says operators should not to try to start tractors from the ground, or when under the influence of alcohol or drugs.
Its three tips for improved tractor safety are:
Always put the tractor in park prior to dismounting;
Clip your seatbelt around you, not behind you; and,
Ensure older tractors are fitted with rollover protection devices.
The vast majority of fatalities in 2022 – 93 percent – were male, and 73 percent were men aged over 45.
Farm Safety Australia has launched a new campaign titled 'stay on the safe side' in an attempt to help curb farm related deaths and injuries in coming years.
Farmers face risks every day
Leader of The Nationals David Littleproud said FarmSafe's National Farm Safety Week is helping shine a light on the risks farmers face every day.
"Agriculture continues to be one of our nation's most important industries, but it also remains one of our most dangerous," Mr Littleproud said.
"Everyone deserves to go home at the end of the workday, especially our farmers who work so hard to produce our food and the materials that clothe us, so it is important we talk about safety every chance we get.
"Our farmers are the lifeblood of our country, lets support them by taking part in National Farm Safety Week and thanking them for the work they do putting food on our table.
For more information about National Farm Safety Week visit: www.farmsafe.org.au