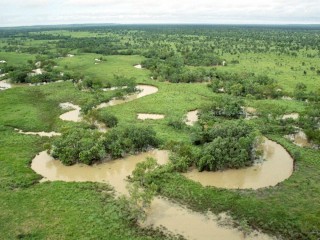 The first major property sale for more than two years in the Northern Territory has been secured, with contracts exchanged on large-scale cattle station Tanumbirini this week.
Beef Central can confirm that a new player to the rural property market Thames Pastoral Company, an Australian subsidiary of a global investment fund, signed a contract to buy the 5001 square kilometre (500,100 hectare) property from Sterling Buntine's Baldy Bay Pty Ltd on Monday.
Tanumbirini was passed in on a vendor's bid of $30 million at auction in Brisbane on May 20 last year.
While the purchase price has not been disclosed, sources close to the sale have confirmed that the price is believed to be in excess of last year's $30m pass-in price.
The property is understood to have been purchased on a walk-in, walk-out basis, with 30,000 head of mixed Brahman cattle included in the sale.
Thames Pastoral Company is managed in Australia by David Connolly, former chief operating officer with Australian Agricultural Company. Mr Connolly is believed to have negotiated the purchase of Tanumbirini directly with selling agents Ray White Rural.
Beef Central was unable to contact Mr Connolly before publishing this article.
As a matter of coincidence, Mr Connolly was also involved in what is believed to have been the last major sale of a similar scale in the NT, that being Rockhampton Downs on the Barkly Tableand, which was sold by Mr Connolly's then employer AA Co to Malcolm Harris in April 2009 for $37 million.
Tanumbirini is believed to be Thames Pastoral Company's first major purchase of agricultural land.
Sale of consequence
The sale of Tanumbirini ranks as an event of consequence for the NT property market for two reasons in particular – the market-setting role it will play in the current market and the injection of confidence it wil also bring to the NT property sector.
As the first major sale for a number of years, the transaction will serve as a barometer that will "reset" local property values.
With a new round of three-yearly property valuations due to be conducted by the NT Government this year, the Tanumbirini sale will no doubt be drawn upon for guidance as valuation staff re-assess Unimproved Capital Valuations across the NT pastoral estate.
The sale also provides a much-needed confidence boost for the lacklustre NT property market, still reeling from last year's live export suspension and this year's sharp import quota cutbacks by Indonesia, showing that big money is still available for live export geared properties.
Sterline Buntine paid $38m for Tanumbirini on a rising, live export boom-fuelled market back in 2006, at the height of his property acquisition period during his engagement with Great Southern Plantations.
Located about 400km southeast of Katherine, Tanumbirini represents a mix of forest and open downs type country.
Applying an arbitrary value of $500 a head for the Brahman stock included in the deal would value the animal component at $15m.
That calculation would place the value of the actual land at last year's pass in price of $30m bare of stock at $15m, or $30/ha.
The offering of Tanumbirini follows a major sell-off of assets by Baldy Bay over the last two years, including Amburla, near Alice Springs, sold recently for $6 million; Alambie, Inverness near Blackall, $14m; and Tobermorey and Linda Downs west of Boulia, sold for $17.5 million.