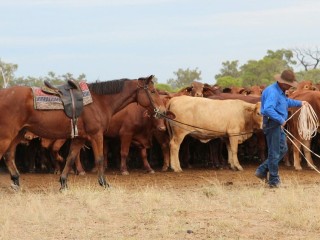 Tensions over stock route access are mounting as dry conditions intensify and place feed and water supplies at a premium.
The stock route access issue has come into sharp focus in recent months after South Australian pastoralist Tom Brinkworth purchased 18,000 cattle, predominantly heifers, from several Australian Agricultural Company properties in the Northern Territory and Queensland's Gulf country.
The cattle are being trucked to various locations in central western Queensland and walked in several individual droving mobs, overseen by boss drover Bill Little, 1500km south to Hay in western New South Wales.
The plan to transport the large consignment of stock south via stock routes instead of by road, and the increasing presence of other travelling stock is causing tensions in western Queensland where conditions are dry and grass and water on stock routes is in short supply.
Droughted cattle producers in the central west have expressed frustration at being denied access to local stock routes and having to truck their own cattle away at significant expense because local routes are now becoming too crowded.
The Winton Shire Council last month rejected an application for the Brinkworth cattle to use its stock routes.
However, that decision was subsequently overturned by the Queensland Department of Natural Resources, after its inspectors reported that the shire's stock routes had adequate supplies of food and water, and ordered the council to allow the cattle through.
In a written statement explaining its decision the department said that the Land Protection (Pest and Stock Route Management) Act 2002 did not discriminate between stock from interstate or Queensland, or from stock within or outside a Council area.
Queensland minister for natural resources Andrew Cripps further defended the decision during a Queensland Government estimates hearing in Brisbane on Friday.
He said the stock route network's primary function was to provide the pastoral industry with a cost-efficient alternative to transporting stock by truck or by train.
He added that it was suspected that some local governments were seeking the early closure of stock routes to travelling stock to protect pasture for local stock owners.
Mr Cripps told the hearing:
"The (Land Protection Act 2002) provides that, if land on which stock are currently located cannot sustain them because it is drought affected, part of a drought declared area or otherwise adversely affected by drought, the stock may be walked, subject to certain conditions, to non-drought declared areas under a travel permit issued by the relevant local government or temporarily agisted for up to 28 days while longer term arrangements are put in place, such as arranging for stock to travel to market, to a drought-free area or to a private agistment.
"Recent media reports have drawn attention to ongoing management issues, including the competition between pastoralists using the stock route network to move travelling stock and those seeking drought relief and/or long-term gazing access and concerns that stock from interstate are depriving local stock owners of access to pasture.
"Under the act, an applicant for a travel or agistment permit that has been refused by a local government can apply to the department for a review of the decision.
"When undertaking the review the department considers both the merits and the process that the council applied in reaching its decision.
"The departmental decision maker is required to determine whether the decision should stand or be revoked. It is suspected that some local governments have sought the early closure of stock routes to travelling stock so that pasture is retained in the local government area for the use of local stock owners.
"Closure for such reasons is not provided for under the act and is inconsistent with the primary purpose of the stock route, which is, of course, travelling stock.
"The department has been requested to review the following two local government decisions to date: a decision by the Winton shire, which decided to refuse two travelling permits due to insufficient feed and water—and this decision was revoked by the department following an assessment that adequate feed and water did exist on the applicable route—and a decision by the Blackall-Tambo shire, which decided to refuse an agistment permit on a reserve connected to the stock route.
"This decision was confirmed by the department that the reserve area was required for the operation of the network for use by travelling stock."
However the question of whether grass and water on stock routes should be prioritised for local stock or travelling stock continues to spark debate.
Queensland agriculture minister John McVeigh, speaking on ABC radio, recently called on stock route users to consider alternative options closely.
"Everyone needs to consider their situation and if they do have the ability to use other means, for example trucking cattle, if they have the resources to do that I would appeal to them to consider that considering the pressure many other pastoralists are under."
RELATED ARTICLE: Brinkworth negotiates massive heifer deal with AA Co