ADVANCES in electronic technologies have paved the way for a new stock water monitoring system using satellite-based data transfer instead of ground-based systems to be launched onto the market.
AgTech start-up company Farmbot claims its satellite-linked watering point monitoring system is competitive in price with 3G and 4G wireless technologies, while being more reliable, and can monitor watering points over virtually unlimited distances, regardless of terrain.
FarmBot already has about 100 of its units in operation with 20 customers in the cattle industry, from the remote Kimberley in Western Australia where Minderoo Beef has made installations, across the NT, Queensland and into NSW. Ceres Agriculture (see references below) has installed 24 units in its intensive backgrounding systems in northern NSW.
About 180 of the units are expected to be in operation by January.
FarmBot's next-gen water monitoring system uses latest satellite technology to allow remote monitoring of water tank levels, trends and operation to be beamed to a hand-held smartphone or desktop computer. Alerts and trends can be shown and monitored among a number of users and the system can also be used to predict water usage patterns and to pre-empt any likely issues.
"We believed that to deliver a water monitoring system with ultimate reliability and unlimited range, we had to go to the sky," FarmBot director Andrew Coppin told Beef Central.
Mr Coppin said cost had previously made satellite-based monitoring systems prohibitive.
"But those costs are now coming down sharply, and will continue to do so," he said.
Apart from the polar regions which did not have satellite coverage, the satellite-based system would operate virtually anywhere on earth, over any distance.
FarmBot has negotiated satellite access covering all of Australia with GlobalStar, which uses a high-elevation geo-stationary satellite servicing users across Australia and New Zealand. The service is especially relevant in northern Australia.
"We have systems installed on tanks already in regions that are as remote as you could possibly get in Australia," Mr Coppin said. "You could literally monitor a tank and trough in the middle of the Simpson Desert from Sydney, if you wanted to."
Time-savings with remote water monitoring systems in extensive grazing operations are already well documented, but Mr Coppin said equally important was the 'peace of mind' users were getting in knowing where their water resource levels were at, on a regular and reliable basis.
Software development has included the performance monitoring process, and packaging that data up into a format that can be sent and received from the satellite at frequent intervals. The data is displayed not simply as a 'green orange, or red' light, but plots water use and water levels over time in graph form.
The inbuilt intelligence in each unit 'learns' the water usage patterns recorded in the tank over time, and picks up trends outside of the normal range, which triggers a warning. It will advise on how long before a tank runs out of water, during unusual rates of use.
Each monitoring unit contains a primary and reserve battery, both re-charged by solar panels.
Mr Coppin said the units had been built tough, for typical Australian bush operations. Installation was as simple as bolting a unit to a tank, dropping a sensor into the tank, and flicking one switch to activate the unit.
Other applications
FarmBot is already working on 'stage-two' of the technology, including:
The ability to remotely switch-on and switch-off distantly-located pumps, using the satellite link
Ability to monitor flow-rate in pipes, using non-invasive, non-impeller driven technology, based on ultrasonic measurement of fluid flow.
While the primary application has been in remote monitoring of stock water systems, already FarmBot is examining other applications in pivot irrigation, plus grapes and fruit irrigation. A range of other sensors and technology could allow monitoring of pumps, diesel use or soil moisture levels, for example, where the performance data is beamed direct to the manager's phone or desktop.
Pricing:
FarmBot's satellite-connected water monitoring units retail for $950, with price negotiable on volume orders. Installation is a ten minute job for a layman. No advanced computer skills are required.
The cost to access the data from the satellite is about $45/month. Depending how the system is configured, that data access cost can cover multiple units. It's anticipated that adding a second function to the system as the technology develops – such as the ability to switch on/off a pump, will not change that subscription cost significantly. The subscription also allows sending the data to up to three devices – typically mobile phones or farm computers. It's anticipated that that cost will reduce further over time.
In comparison, existing land-based 3G and 4G monitoring systems relying on phone tower transfer technology can typically sell for $3000-$4000/unit, and can serve a single monitoring point only, Beef Central understands.
Ceres Agriculture early adopter
One of the early adopters of the new satellite-based monitoring technology is Ceres Agriculture, a large-scale backgrounding and finishing operation in northern NSW.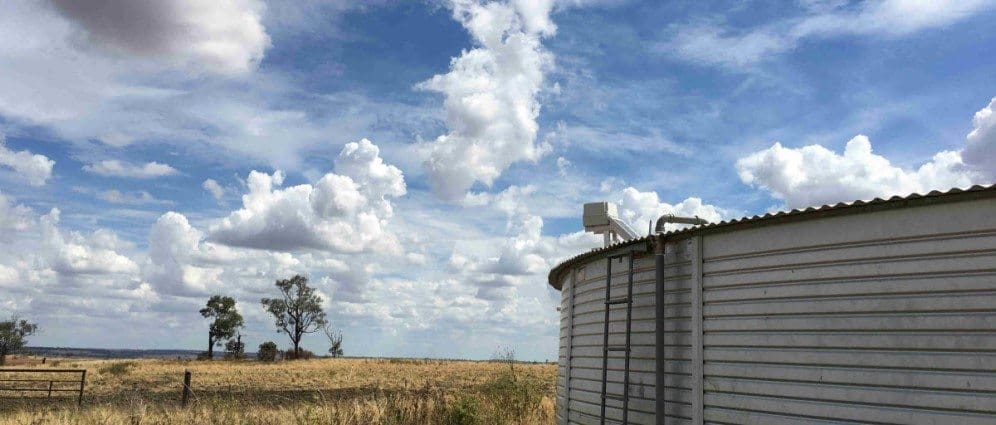 Ceres currently has 24 of the units in operation, and has found the ability to remotely view and collate water usage data to be a vital tool for managing its operations – allowing any problems to be anticipated and solved before they are given the chance to escalate.
General manager of the company's northern division, James Walker, said the savings made in animal production and wages in more efficient water monitoring, as well as the added peace of mind were considerable.
"The ability to configure and tailor each monitor is a feature of the system that has proven to be far superior to any other monitoring system we have trialled," he said.
"We now have a minimum of six people on any aggregation that are alerted to the fact that an issue may have arisen with a water system, and we have the ability to solve any small problem before it has the chance to become a big one."
"Any potential issue will inevitably happen at midnight rather than midday, and we have had a few breakages on a water system that we have been able to fix the very same day without the risk of an animal welfare issue the next day," Mr Walker said.
"The ability to look at and collate water usage and available water at the source is an invaluable tool for managing our operations and the FarmBot system has the ability to show this data on any phone or computer screen."
Rapidly developing "Internet of Things"
FarmtBot's Andrew Coppin described the company's new satellite monitoring technology as a part of the rapidly emerging new term, the "Internet of Things," in agriculture.
Wikipedia describes the "Internet of Things" as allowing objects to be sensed and/or controlled remotely across existing network infrastructure, creating opportunities for more direct integration of the physical world into computer-based systems, and resulting in improved efficiency, accuracy and economic benefit. Click here to view Wikipedia's full explanation of the "Internet of things." https://en.wikipedia.org/wiki/Internet_of_things
"As technologies have become cheaper, faster and more accessible, more and more 'things' will become internet connected," Mr Coppin said.
"The cost involved in such technologies means it is now available to everyday graziers, not just the large corporates. In the future, a farmer is likely to have a single farm monitoring device, checking everything from electric fencing and water status to soil moisture, whether gates are closed, what the local weather is doing, what the evaporation rate is, the location of farm vehicles, how much grain or diesel is in a silo or tank, and where the livestock are," he said.
"Everything necessary for decision-making will be at the farmer's fingertips on a single information device."