Effective management decisions, good use of resources and earnest communication has seen Tasmanian livestock producers John and Annie Ramsay stride ahead in the first quarter of the MLA Challenge.
The MLA Challenge is a year-long competition between six Australian cattle and sheep producers on how effectively they manage their businesses to improve productivity and profitability with a focus on reproductive efficiency and feedbase management.
Each quarter, Challengers are scored by judges from MLA, Woolworths and Agripath on their management decisions, how well they met business targets and communicated their progress.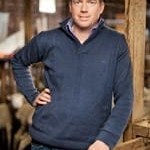 Forward-thinking management decisions by the Ramsays and effective use of the tools available to them, impressed judges in the first quarter. Mr Ramsay said he was making decisions based on a range of information, and his success so far was thanks to the range of tools available to him.
"I was quite surprised by the result, as I often question my decision making processes," he said.
"We put a lot of time and research into using the MLA tools, particularly the feed demand calculator, and they have been very beneficial to our business so far."
A key target for the Ramsays was improving lamb survival which they achieved through increases in ewe condition, mob size and better management of feed.
"By changing the breed of sheep from Merinos to composites we have been able to achieve our ewe condition target 3 for singles and 3.2 for twins," Mr Ramsay said.
"And by increasing our stocking rate from 3DSE/HA/100mm of rain to 4 DSE/HA/100mm of rain has led to maximised production of 24 DSE/HA utilising the feed resources and cutting down on fodder making expense."
Just behind the Ramsays are Queensland beef producers Lachlan and Anna Hughes, Dulacca; Western Australian producers Marcus and Shannon Sounness, Amelup; Queensland beef producers Andrew and Megan Miller, Windorah; and beef producers Matthew and Angela Pearce, Adelong, NSW; and Bill and Georgia Wilson, Edi, Victoria.
MLA Livestock Production Innovation general manager Peter Vaughan said the Challengers had progressed well in meeting their first quarter goals and were successfully meeting the challenge of taking a more strategic and targeted approach in their enterprise management.
"Even with dry seasonal conditions which saw food on offer decline for the northern beef Challengers, they had both still been able to reach many of their production targets," Mr Vaughan said.
"The Hughes's have managed this particularly well even increasing the condition score from 2.5–3 to 3–4 in 75pc of their cows with the remaining 25pc being segregated and fed a supplement.
The Millers became drought declared and had to change to a more complex management process to reach their targets.
Segregating the breeding herd into early and late calving, preg-testing, upgrading the bull team, earlier weaning and moving towards a three-month joining (Jan-Mar) after an eight-month joining last year were the changes being made by the Millers to achieve a more efficient farm management system which is helping them minimise the effects of drought and provide better marketing opportunities, Mr Vaughan said.
For Amelup sheep producers Marcus and Shannon Sounness, an excellent season followed by a storm event saw average results amongst the maiden ewes, with a low lambing percentage of 76pc, but are hoping for a better percentage next season after meeting their ewe condition score target this quarter.
Southern beef producers Matthew and Angela Pearce, and Bill and Georgia Wilson had a more favourable season which saw them comfortably meet production targets of 90pc calving rates and earlier turn-off at higher weights, respectively.
"The Challengers can now look forward to the next quarter when previous decisions and benefits will flow forward and take them closer to increasing their targets," Mr Vaughan said.
For updates, videos and background information on each participant, visit www.mla.com.au/challenge.
The MLA Challenge is supported by Woolworths and QantasLink.
Source: MLA