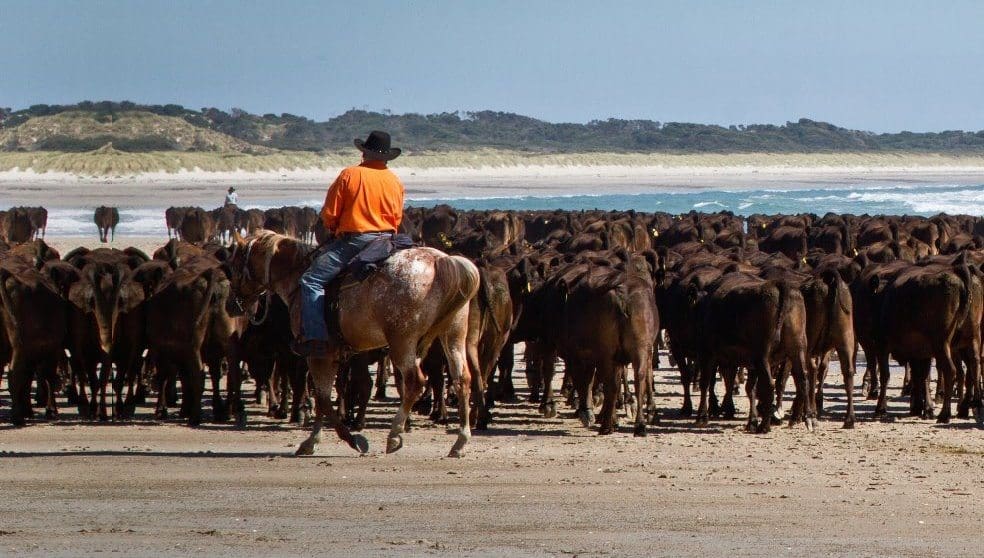 ONE OF Tasmania's best known cattle enterprises is to be the home for one of the largest renewable energy projects in the southern hemisphere.
John and Keith Hammond's Robbins Island and Jim's Plain properties, run as part of their Hammond Farms Wagyu operations near Smithton in the state's northwest, have been made famous through images of the annual cattle drive from the island to the mainland each year, across pristine tidal landscapes.
Under an agreement with international energy developer UPC Renewables announced today, the two properties will be the focus of a wind-farming development of epic proportions.
UPC Renewables has been an energy developer for more than 20 years, having developed capacity to generate more than 3500 megawatts of renewable energy, with more than A$6.6 billion of capital deployed in energy projects across three continents.
The Robbins Island and Jims Plain project will be the company's first in Australia. The total cost of the completed Robbins Island and Jim's Plains projects will be between $1.2 billion and $1.6 billion.
UPC Renewables Australia chief executive Anton Rohner said the projects would have an aggregated output potential of between 600 megawatts and 1000MW of wind energy potential.
"The Robbins Island project itself is a very large, isolated site and, together with Jim's Plain, have some of the best proven wind resources in the world," Mr Rohner said.
Sixteen years ago, investigations started into the feasibility of a large-scale wind farm on the west side of Robbins Island (totalling 10,184ha) and Jims Plain (total 380ha). More than 12 years of wind data, environmental studies and financial modelling were completed in preparation for lodgement of a development proposal and environmental management plan for both sites.
Due to the lack of a viable transmission solution and volatility in government policy at the time, the project was placed on hold until earlier this year.
"With the changes in the energy market and potential viable transmission solutions now available, these projects is set to proceed," Mr Rohner said.
A study into the feasibility of connecting directly to the Victorian grid from Robbins Island has also been initiated.
The technology to be deployed at the site will be mostly wind turbines, but the option of additional solar and other non-hydro based energy storage technologies is also under consideration.
The Robbins Island project is targeted to be ready for investment by early 2019, and will create about 250 jobs during construction, plus 50 jobs when operational. The smaller Jim's Plan project is expected to be investment-ready by mid-2018, with a smaller number of additional jobs.
"From here, we have further resource and environmental monitoring work to undertake with the development application processes and transmission studies commencing," Mr Rohner said.
The wind farm project would not significantly impact on the Hammond Farms Wagyu cattle operations, running a large Fullblood herd producing both grain and grassfed Wagyu beef, a UPC Renewables spokesman told Beef Central.
Click the link below to view a short video
Click on images below for a larger view: