COVID in humans has given the cattle industry a possible key to fighting lumpy skin disease (LSD) and other diseases, according to one of Australia's leading animal wellbeing specialists.
New ways of manipulating genetic material offers cheaper vaccines made more quickly, said Dr Michael Laurence (right).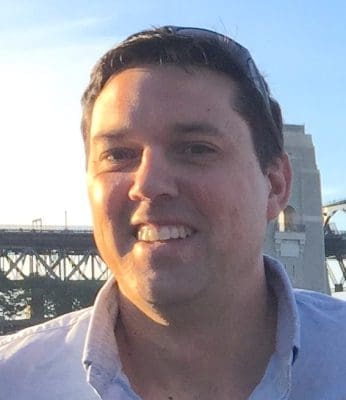 However, like COVID, cattle might need booster shots and scientists might have to hose-down possible consumer resistance to meat from vaccinated animals.
The MLA program manager animal wellbeing was addressing a biosecurity breakfast hosted by MLA in Brisbane on Tuesday.
Speaking via video-link from Perth, Dr Laurence detailed current and potential  challenges and the barriers to developing animal vaccines.
MLA, the Queensland Government, the NSW DPI and US-based biotechnology company Tiba Biotech are spending more than $1.5m seeking to create a world-first synthetic vaccine to fight LSD.
Existing LSD vaccines are modified-live vaccines,  but MLA is investing in a new form of vaccines – similar to those used to fight COVID.
Dr Laurence explained: "Instead of taking the whole bacteria or the virus (to develop a vaccine), we can take a piece of genetic material called messenger RNA and just use that. Messenger RNA is the way within the body's cell that is used to communicate the coding in the DNA to the pieces of the cell that produce proteins."
He said that previously producing an mRNA vaccine was expensive. "The cost was beyond the reach of any animal health company.
"However, owing to the onset of COVID and the need to produce vaccines really quickly, the cost of producing mRNA vaccines has come down a thousand-fold … cheaper than it was five years ago.
"And the other benefit of an mRNA vaccine is that it doesn't take very long. To produce a vaccine the old-fashioned way would take in the order of a year or even two years. But there is now the capacity to produce a vaccine construct using mRNA within a couple of weeks."
Having mRNA vaccines stored on-shore in Australia could ease some trade challenges, he added. "At the moment, if we have (live animal) vaccines for LSD or FMD on Australian shores, it changes our disease-free status," he said. "That's a completely different story to having an mRNA vaccine because there's simply no way that an mRNA vaccine can ever cause actual disease in an animal. So, it makes good sense to me that, if you have an mRNA vaccine bank here in Australia we are still disease-free; it doesn't change our status."
UNSW has partnered with the NSW DPI to develop this ability to scale up the production of any mRNA vaccine, should it become made available, he added.
"We can take those vaccine constructs and stick them into a machine and within a matter of 10 days have hundreds of thousands of doses of vaccine ready to go."
However, delivering the vaccine into the animal requires a adjuvant. Most Australian-approved adjuvants are water-based, although some are oily.  "In the case of the LSD it's possible we may have to develop a new adjuvant," Dr Laurence said. " And we've got to make sure that's safe."
He was questioned over community perceptions of meat from mRNA vaccinated animals, and admitted it was an area still to be studied.
"We're not investing in any social science work around perceptions of mRNA vaccines but it is something worth considering," he said. "I think there's a lot of concern around these new technologies, that they are somehow going to be exposing people to something that may put them at risk – and that's a fair enough assumption.
"My answer would be that when you deliver a normal vaccine you're incorporating the pathogen almost as a whole and almost be definition it contains mRNA. So, by designing an mRNA vaccine you're just stripping everything else away except the genetic material and using that to generate the immune response.
"So, among the scientific community, it's widely accepted as being extremely safe , but that's not to say that we don't appreciate that there are some significant concerns around this.
"The likelihood that vaccinating animals would lead to any sort of risk to humans is miniscule really, but it is something we would need to consider."
Asked about the need for boosters, he replied: "It depends on the disease. Once the vaccine is developed we need to determine how strong the immune response is and whether or not it needs boosting.
"Ideally we'd be able to give it just one to induce an immune response to last a long time. But in FMD vaccines even today  – even after years of development – you still need to boost it. You still need to give them regularly twice, three times a year. That's the best we can do.
"Possibly if we can develop an mRNA-based FMD vaccine the response will be better, but we just don't know yet."
He was asked about the possibility of viral mutation – or mutagenic drift – in response to the mRNA vaccine in Indonesia.
"I suspect mutagenic drift is not associated with vaccines, because you're not putting direct pressure on the virus itself through the vaccination process, it's more a protective thing. Mutation happens biologically anyway," he said.