The official launch of Tamworth's new state-of-the-art livestock selling complex tomorrow represents the latest stage in a $70 million investment in regional beef and sheep supply chain infrastructure across Eastern Australia.
The five-year, $17 million Tamworth Regional Livestock Exchange (TRLX) project is the second 'greenfield' livestock selling complex established over the past four years by Palisade Investments' Regional Infrastructure Fund and Regional Infrastructure Pty Ltd.
The companies' original project, the Central Tablelands Livestock Exchange (CTLX) near Carcoar in NSW, was built in 2008 at a cost of $18 million, replacing outdated saleyards at Orange, Blayney and Bathurst. The ultra-modrn Carcoar facility has a one-time capacity for 4000 head of cattle and 24,000 sheep, all under cover, making it the fourth largest yards in NSW.
Since then, Palisade has either bought or leased other existing saleyards at Wodonga (NVLX), Ballarat (CVLX), Inverell (IRLX), Tamworth (TRLX) and Gracemere in Central Queensland (CQLX), most now in various stages of redevelopment.
In combination, Palisade's $70 million expenditure on these facilities so far since 2008 is arguably the single biggest investment in the Australian livestock supply chain over the past five years, exceeding recent capital investments made by stakeholders within the processing, lotfeeding and other sectors.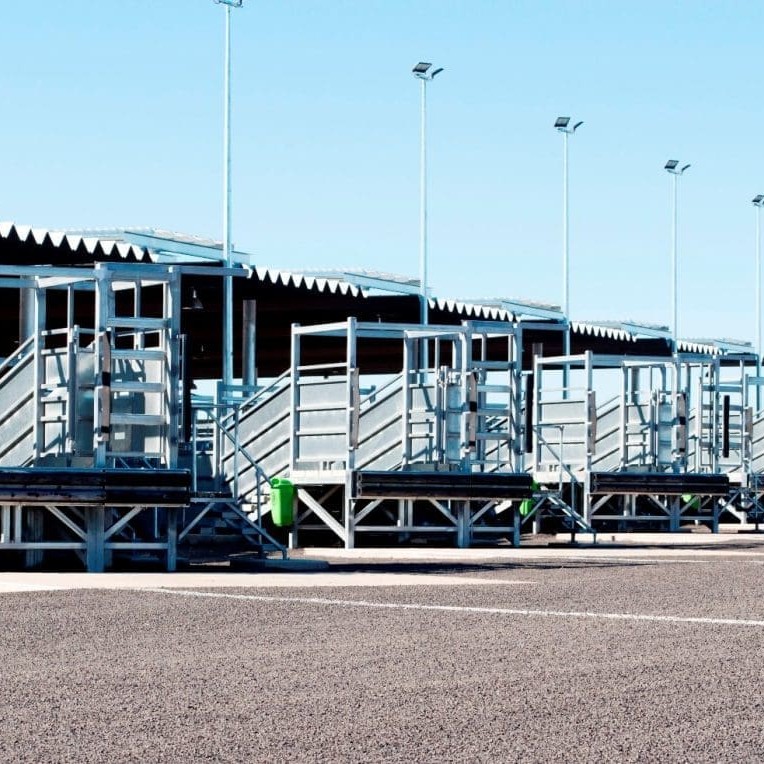 Tamworth's brand new TRLX selling facility will be officially opened before its inaugural cattle sale tomorrow, replacing existing council-owned yards that held their last fat sale on Monday. De-commissioning started on the site the following day.
Regional Infrastructure director, Garry Edwards, said in terms of size, the new Tamworth facility was mid-range, with its 5500 head cattle capacity being about 80pc of the CTLX at Carcoar. Tamworth, however, is a multi-species site, also incorporating a mid-sized sheep facility. There are 208 cattle selling pens, 60 holdings yards, and 435 sheep selling pens.
He said the group had continued to extend its knowledge of selling complex design and development since the original Carcoar project, and Tamworth included a range of further refinements in design features and technologies.
"Tamworth incorporates many of the features that already set Carcoar apart from traditional Australian saleyards, but takes it to another level," Mr Edwards said.
The new facility features a complete universal penning system, providing better flow, and allowing the yards to be easily broken-up to a broader range of configurations. Standard pens can be split, or made half as big again.
This flexibility helps better meet the challenges of different consignment sizes from a store sale to a prime sale, or requirements for larger or smaller vendors in the same sale, for example.
"It means the facility itself is not only a lot more flexible, but also allows for better utilisation of space. It can effectively house more cattle in the same penning area," Mr Edwards said.
Like the earlier Carcoar RLX, Tamworth's entire selling pen and working area is under cover, but includes 50pc more natural light access than earlier designs. The weighing and drafting systems are all automated, as they are at Carcoar, and the site features excellent visibility and presentation of stock.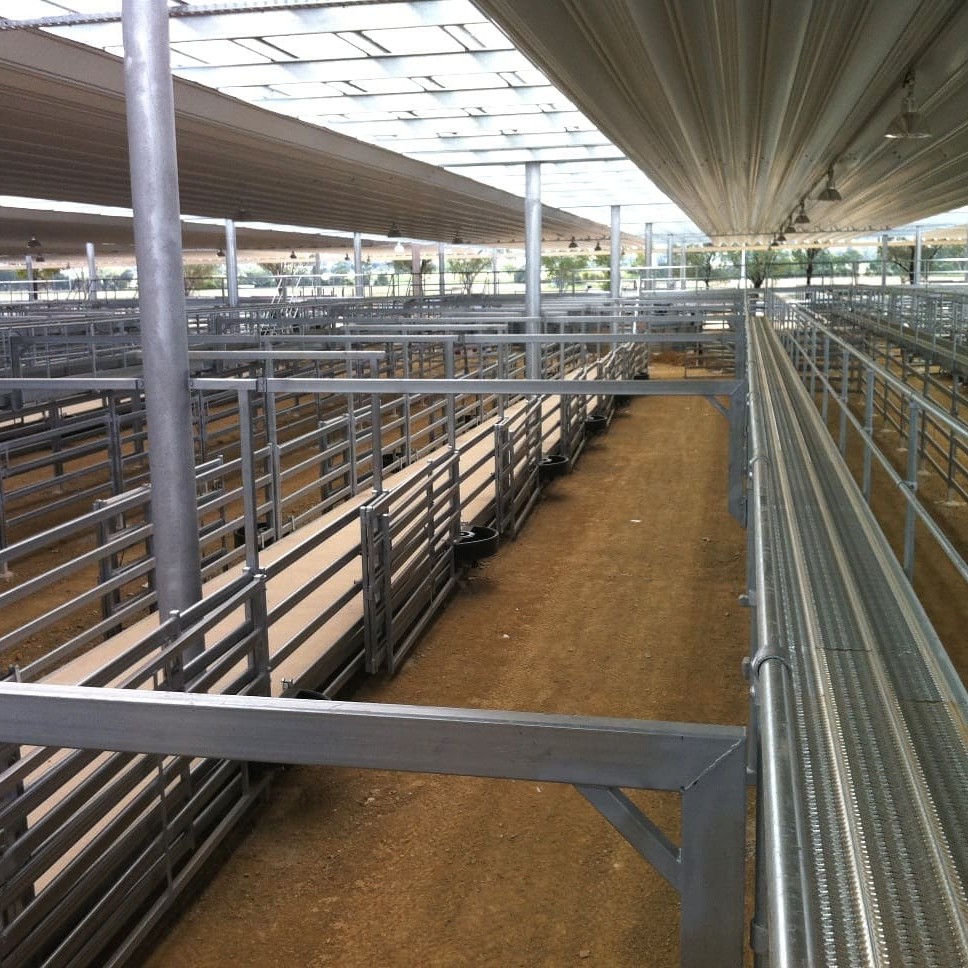 All the selling pens have soft bedding (sawdust/woodchip) over compacted gravel.
"I'm looking at early cattle that are now in the yards for Friday's sale," Mr Edwards told Beef Central yesterday. "They're relaxed, camping, comfortable, and chewing their cud," he said.
"The yards are designed effectively to facilitate complete separation of people and livestock. The animal welfare and workplace health & safety features in this facility are quite phenomenal, in our opinion."
Regional Infrastructure has a target to see something approaching 150,000 head passing through the Tamworth yards on a yearly basis, within a year or two.
When established, the greenfield RLX sites have tended to draw stock from a much larger catchment than traditional saleyards. Tamworth's inaugural sale tomorrow, for example, will see agents draw for around 5000 store cattle – the largest store offering seen in Tamworth in probably ten years.
What's the next target?
Palisade/Regional Infrastructure confirmed that Wodonga, on the NSW/Vic border, would be the next RLX project to turn the soil, with construction of a brand new facility to be started within the next three to six months. The company presently utilises the existing council-built selling facilities which it bought in 2009.
The new Wodonga site, including both cattle and sheep facilities, will probably be about 30pc larger in capacity than the Tamworth yards being launched in this week. Wodonga at this stage is budgeted to cost $17- $20 million.
The company's proposal to build a similar brand new selling facility further north at Inverell is still in its infancy, going through a full development planning application process that is likely to take some time.
"Experience has shown us, however, that once the approvals and environmental process is completed – which can take five years, in some cases – the facilities themselves can be built in less than 12 months," Mr Edwards said.
Having been through the process several times already, RIPL had now 'modularised' the construction process somewhat, using a standard template which could be tailored to suit each application, to speed-up the construction process further.
RIPL says it is investigating a number of other opportunities where council-owned saleyards, with limited capital resources, are under pressure from health and safety problems, environmental constraints, animal welfare issues, and encroaching urbanisation.
"We are hopeful of completing another four to six similar projects across Eastern Australia," Mr Edwards said.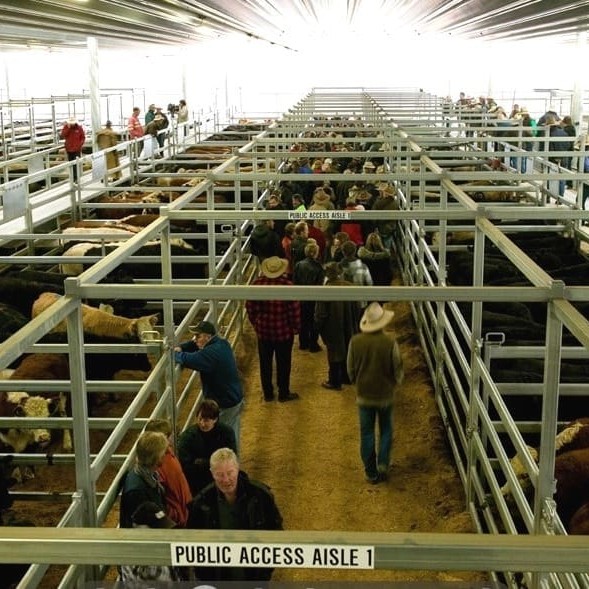 He confirmed that the company was looking at potential projects in Queensland.
"Obviously we have Gracemere already, but the challenge is in finding the right locations," he said.
"We're looking at potential sites in the southeast corner, but we're also hopeful of doing something in Queensland's northwest. It really comes down to councils and producers in those areas having an appetite to have a modern, or upgraded facility. I'd like to see us with at least another two or three in Queensland."
"It's really about where the cattle numbers are. These modern facilities are just so much more efficient in the way the can handle large lines of cattle and sheep, as well as being far safer to both animals and the people involved."
"The level of compliance at the TRLX facility, for example, compared with other selling facilities is chalk and cheese."
Each of the new facilities was costed on a minimum 20 year basis, he said.
Who's behind the RLXs?
Under the business structure, Palisade's Regional Infrastructure Fund is responsible for finance and ownership, while a second company, Regional Infrastructure Pty Ltd, is responsible for business development, operation and management.
Palisade is a specialist independent financier, providing institutional investors with access to Australian infrastructure projects through tailored portfolios and co-mingled funds. Its other investment focusses in Australia include energy, ports and transport infrastructure including rail and airports.
The company's website says it focuses on "attractive mid-market assets that are essential to the efficient functioning of the communities and economies they serve."
The Tamworth Regional Livestock Exchange grand opening sale will be held tomorrow, Friday June 28. The official opening takes place at 10:30am with the chairman of MLA, Rob Anderson and the NSW minister for primary industries, Katrina Hodgkinson. The first pen will sell at 11am, with proceeds being donated to Ronald McDonald House. A grand opening celebration event will be held at TRLX on Saturday evening (invitation only).