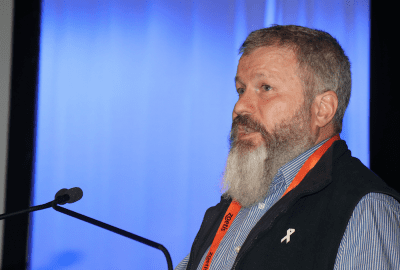 An analysis of investment in national rural research and development over the past decade has revealed, perhaps surprisingly, that overall funding for agricultural research in Australia has increased.
The trend was highlighted in an analysis conducted by Dr Wayne Hall, executive director of AgriScience Queensland, a division of the Queensland Department of Agriculture and Fisheries, and a former manager of MLA on-farm research and development programs.
Dr Hall was asked to speak on the topic of 'managing and reversing the decline in funding for on farm R&D'.
To gain a clear picture of the current funding situation for northern beef RD&E, Dr Hall went in search of relevant data, but had to rely on relatively restricted available datasets.
However, information from sources including  an ABARES examination of 10 years of investment data through to 2014-15, and reports showing MLA's budgeted investments for each of the past 10 years, provided useful insights into recent research funding trends.
The ABARES data showed total funding for all rural R&D (across all agricultural industries) increased by $700 million from 2005-2006 to 2014-15 – jumping from $2.3 billion to $3 billion over that 10 year period.
The big rise came in private sector funding in particular, Dr Hall said, increasing from  $912m to $1,462m over that time. A majority of that expenditure represented private companies investing in their own in-house R&D.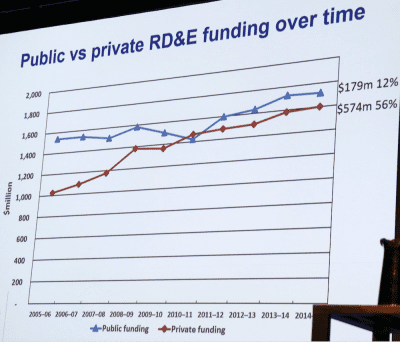 Over the same period there was an increase in funding for Rural Research and Development Corporations, but that growth was not as significant ($231m to $277m).
Australian Government funding did increase as well, mainly due to R&D tax incentives linked to the increased private sector investment ($806m to $952m).
State and Territory Government contributions fell from $330m to $239m over that period, while at the same time Universities emerged as signficiantly larger rural R&D investors, with funding growing to $345m.
What about funding for northern beef research specifically?
Dr Hall said it was difficult to find specific data, but MLA operations and investment plans detailing budgeted investments each year for the past 10 years provided a useful guide of investment trends over that period.
Overall trends highlight a slight overall decrease in grassfed levy expenditure over the past decade, and the significant growth that has occurred in investment through the MLA Donor Company in recent years, highlighted by the yellow line in the chart below.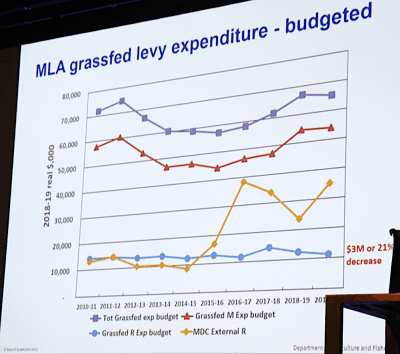 The analysis also highlighted an increase in the amount of grassfed dollars being spent on off-farm research and a decrease in the amount spent on on-farm research over the past decade.
The blue line tracks grassfed levy expenditure on research and development, which has decreased by about $3 million or 21 percent.
Arbitrarily dividing that expenditure between projects focused on on-farm research and off-farm research suggests there has been a 10 percent increase in post-farm gate research, made up of a whole lot of areas including live export, product and packaging innovation, capacity building, integrity systems, marketing support, and eating quality.
Over the same 10 year period there has been a $3.5m decrease, or 35pc, in grassfed levy expenditure directly on on-farm research.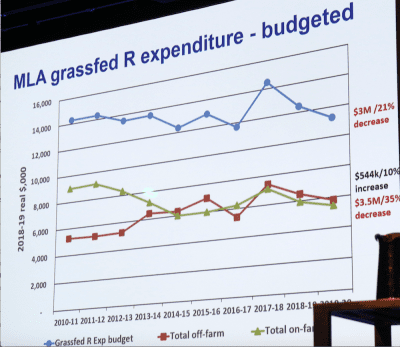 While overall State and Territory Government investment in rural R&D projects has decreased according to the overall ABARES data, an analysis of actual spending on beef related RD&E projects by the Queensland Department of Agriculture and Fisheries reveals a much more encouraging trend.
Following a 17 percent decrease in funding from 2009 through until 2013, QDAF funding for beef related RD&E projects has increased in real terms over the past six years.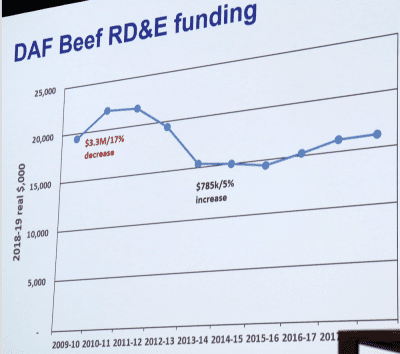 In terms of what could be done to manage and possibly reverse the decline in overall funding for rural RD&E, Dr Hall made four suggestions:
– Ensure the industry has systematically and comprehensively analysed the northern beef operating environment, and know and agree on what the key challenges and opportunities are;
– Be able to answer the "so what" question on all projects the industry invests in (i.e. only projects and areas with te highest potential to benefit the industry are supported;
– Ensure adoption is part of all R&D investment discussions;
– Business management skills be prioritised to ensure producers have good data on their physical and financial performance, and can assess the potential new technologies will have on their business performance.