NATIONAL supermarket red meat retailers Woolworths and Coles are winding-back their forward-contract prices on grainfed yearling cattle, in line with the broader slaughter and feeder steer markets.
Current forward contracts for May-June delivery on grain yearling steers are typically a little over 800c/kg on Coles' no-HGP grid, and a little under 800c for Woolworths, where implants are permitted.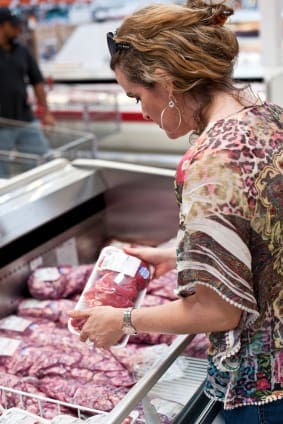 That is a massive shift from circumstances seen in stages last year when yearling grain-finished supermarket contract cattle were making mid to high 900s, in a direct reflection of the performance of the broader slaughter and feeder cattle markets this year.
One NSW cattle market observer said forward contracts on supermarket cattle had typically fallen perhaps 20pc in value since their peak last year, starting to decline before Christmas, and continuing the trend over the past two months.
"But it's to be expected – it's an accurate reflection of where the broader cattle market is at," he said. "It's a reasonably responsible price change, in line with where prices for new feeder cattle going onto feed are today," in my opinion.
"Looking at it in the longer context, while current fed cattle contracts are on the way down, they are still very high, historically," he said.
"Over the same period, there has been no great change in feedgrain prices – the other half of the equation in determining price of cattle leaving the feedlot. Grain has stayed quite strong, throughout."
"Lotfeeders had an awfully skinny time for long periods last year because of the extreme price of feeders, but thankfully margins have improved now."
The supply chain contact said he believed there was probably still some more downside to come on forward contracted supermarket cattle.
"There's likely to be a little more pain yet," he said. "I wouldn't be surprised to see contracts for delivery in winter this year in the mid-sevens, and could even be in the low sevens. It has to move in parity with the rest of the feeder and slaughter markets."
As Beef Central reported yesterday, grassfed export cattle direct consignment prices in Queensland have continued to fall recently, now down 35-50c since this time last month. Prices obtained yesterday had four-tooth grass heavy steer with HGP at 615-620c, and heavy cows 550c. Final offers for 2022 in December saw Queensland cows ranging from 600-640c/kg, and four-tooth steer 670-705c.
Feeder steers that were consistently making in the 550s liveweight in June July last year, started to deteriorate badly during the second half, falling to the 450s in December, and opening this year in the low 400s to 380s.
Big wall of grass cattle coming, that may complete for space with commodity grain
Commodity 100-day export cattle that were +900c/kg during periods last year, are now priced in the high 600s to low 700s range, and continue to come under serious pressure.
"The 100-day cattle are going to compete directly against a large volume of export grass cattle that are going to come out of Queensland some time over winter," one experienced supply chain manager said.
"That's been caused by two factors: the great grass-growing season being experienced in areas like the channel country and western Queensland; and secondly, further east in the closer settled country, a bunch of people who elected not to sell their young cattle as feeders, on a falling market during the back half of last year. They had the grass at home, and elected to take those cattle through on grass."
"Come April onwards, we'll start to see more of those grass cattle come to market, and its likely to continue through winter. There's still a lot of those cattle to come, and some of that beef will compete with generic grainfed," he said.
"The big season late last year was not the industry's friend. What it did was give 'false hope' to a lot of producers, who held cattle because of the season, in the face of the decline in feeder prices. The grass job at the time was very solid, and many people felt that they would do a lot better by holding."
"But with the benefit of hindsight, what's occurred has been that the volume of grass finished cattle coming through has already grown, and grassfed prices (not certified grass, but just everyday) have now come back significantly.
"There will be a lot of people selling these good quality, but light Jap ox into a tough market, where financially, they would have been better off selling them last year as feeders – even if the market was declining in October-November-December."
"A lot of people would be rueing that decision," he said.
The only bright prospects, perhaps, were what's going to happen in the US beef production system as supply starts to tighten, when the lower numbers now going onto feed start to have an effect on meat sales.
"There will be reduced feedlot exits in the US over the next six to 12 months, and you'd think that has to help Australian beef, in international markets."
"Secondly, nobody knows how long the Brazilian BSE suspension of trade into China will last. Everyone is wondering, at this point, what that means for Australia, if it lasts for more than a week or two."
"All in all, it will be really interesting to see whether winter pricing for grassfed yearling and export weight cattle starts to match grainfed, in that July-August period."
Will supermarket retail meat prices start to ease?
There's no real evidence yet that either Woolworths or Coles have adjusted their retail supermarket beef pricing, in response to current declines in forward contract offers on cattle. The lag-factor in feeding suggests these may take two or three months to emerge, if at all.
"It's still too early to tell whether the cattle price reduction is transferred into supermarket meat pack prices, and in turn, whether that slows down or halts the decline in domestic red meat consumption, due to recent extreme high meat prices," one supply chain manager told Beef Central yesterday.
"But at some stage, given recent cattle price trends, I'd suspect Woolworths and Coles will at least be in a position to rein-in their retail prices a little, as they claw back a bit of margin.
"I don't believe they have been in a position to do that, to date, operating under very think margins on red meat. But in the next couple of months, they may seek to try to stimulate a little more shopper demand for beef, by relaxing record high prices a little. The customer is definitely hurting, with accumulated cost of living rises and interest rates," he said.
Woolworths this week has everyday rump retailing at $28/kg, porterhouse at $43/kg (both unchanged) and everyday 82CL mince at $14/kg, down from $16/kg back in July last year.
Coles this morning was selling its 3-star 83CL beef mince on special for $13/kg, with an $11/kg deal on two or more; porterhouse $40/kg and everyday rump $28/kg. For reader interest, Coles' new Carbon Neutral scotch fillet was selling for the equivalent of $58.67/kg this morning, versus the equivalent of $43.75 for the everyday scotch version.
Beef Central has heard that one large supermarket operator may have has again tightened its carcase weight ranges a little this year, after relaxing the upper weight limit during the period of extreme short cattle supply last year and the year before.
Separate to this, it's known that Woolworths about two years ago added a little more carcase weight allowance at the top end of its steer grid range, but that was more in recognition of the weight-for-age performance of modern genetics, the company said. Top weights in the grid sweet-spot are now just over 300kg.