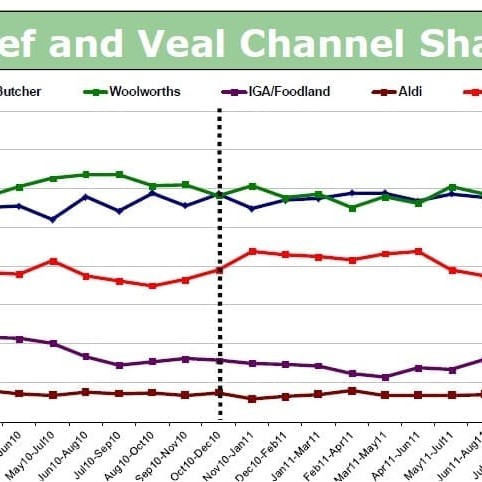 Clear evidence is emerging that price and merchandising strategy wars being waged by major supermarket retailers Coles and Woolworths are impacting heavily on butchers' trade.
Data from the most recent Roy Morgan retail meat purchasing data report covering the period to the end of December shows that the major groups are winning trade from independent retail butchers.
The trend is most evident in the summary of total meat protein sales (beef, lamb, pork and chicken, see graph at bottom of page) but is also apparent in the beef-specific category, published here.
Supermarkets are locked in a struggle for market share, luring beef and meat customers with low price offers and/or loyalty-based shopping incentives, based on strategies like newspaper vouchers offering "percentage off the bill".
Recent pricing examples include "$15 off" specials posted by Woolworths for a 2kg tray of rump – effectively a 45pc discount off the listed per-kilo price of $15.99. The MAP-packaged mince segment is also seeing savage discounting occurring. One major was recently selling 85CL mince ('Three Star') at $7.99/kg, a 20pc discount off earlier prices.
The word around the wholesale meat trade at present is that both national retailers are currently enjoying close to 'double digit' sales growth, as a result of recent merchandising strategies.
The latest rolling three-month averages for national beef market share recorded by Roy Morgan show Coles is continuing a quite dramatic recovery in share, which started four months ago.
Coles held a 21.3pc share of beef sales by December 30, up from about 17pc back in the July-September term. The most recent result is equal to Coles' best figure produced in the Roy Morgan dataset since the start of 2010.
Woolworths continues to maintain the industry's largest beef market share, rising a little to 28.8pc for the December three-month rolling average.
Both the Coles, and to a lesser extent, Woolworths figures are obviously being driven at the expense of butchers, whose share crashed in December to 25.7pc, down from 28.2pc the previous month and well above 30pc in September.
In overall meat sales (beef, lamb, pork, chicken) second-placed butchers are in danger of being eclipsed in national retail sales share by third-paced Coles, for the first time in recent history.
2011 overall results
The release of the most recent Roy Morgan survey figures for December provides a year-long data set to compare.
Overall in 2011, results showed fresh meat (beef, lamb, pork, chicken) sales were stable across the year. Chicken, pork and beef volumes grew at the expense of lamb, which was hampered by weaker supply/ high retail prices.
Coles and Aldi both experienced strong market share growth in the context of the 2011 calendar year, mostly off the back of a strong fourth-quarter surge. The effect of recent growth sees Coles challenging butchers for second place in overall meat protein market share and Aldi challenging IGA/Foodland for share position.
Understandably, given the tight economic environment, retail fresh meat prices were generally lower in 2011, the report shows, with lamb (+8.5pc) the notable exception. Beef prices fell 3.4pc and pork, 5.9pc. Chicken rose 0.5pc across the whole year, but this was off a low base, and the species recorded a large dip in the fourth quarter to produce the lowest retail chicken prices seen since 2007.
Average retail beef prices finished the year at $15.35/kg, only 8c/kg less than lamb, which continued to fall in average price in the second half of the year.
In terms of volume (measured in millions of serves per week) category volumes were fairly flat for much of 2011, before a late surge. All meats except lamb saw increased volumes during the year. Beef's share of total serves grew from 47.12 million/week in October-December 2010, to 48.03 million for the same quarter in 2011. Lamb lost almost 3 million serves/week over the same period.
January results slow
In other retail news this week the sales performance of beef for Australian butchers during January was not as strong as the same time last year, according to MLA's monthly butcher survey, carried out by Millward Brown.
Hot weather across much of the country was identified by participating butchers as a key reason for slower beef sales, with 29pc of respondents noting 'very good' to 'excellent' beef sales, compared with 35pc last year.
Chicken was the best performing meat at butcher shops during January, with 33pc of butchers indicating 'very good' to 'excellent' sales – the same as last year. There was also a shift from 'very good' to 'excellent'. Price was obviously a factor.
Pork sales performance in January was considerably weaker, with pork cuts across the board proving less popular. Lamb sales followed a similar pattern to beef, with an increased numbers of respondents noting 'good' sales.