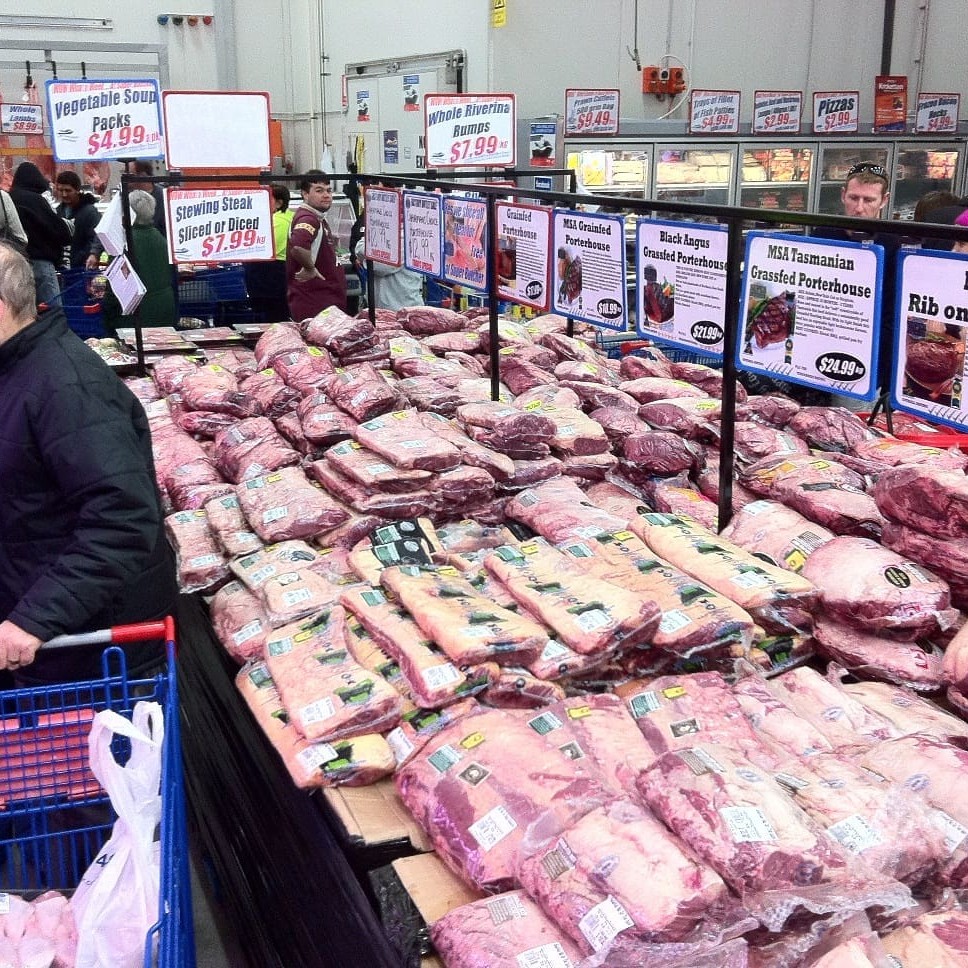 The principals behind a rescue package for the financially-stressed Super Butcher warehouse retail business remain confident they can come to an agreement with the administrator charged with determining the company's future.
As reported on Beef Central earlier this month (see our May 3 story, "Last ditch effort to save Super Butcher from collapse"), a major creditor has put together a plan to save the high-profile meat retail business from financial demise.
Super Butcher, fronted by Andrew McDonald, former owner of the failed South Burnett meatworks, has been teetering on the brink in recent weeks, owing more than $7 million to a long list of creditors and the Australian Taxation Office.
Many of the unsecured creditors are prominent meat wholesalers. One pork supplier is said to be owed $600,000, and the largest of the beef creditors, AusWide Wholesalers, says it is owed more than $1 million.
The Super Butcher Group was placed into administration in early May after a winding-up application was lodged by one of its biggest creditors.
AusWide principal, Gary Stone, has committed substantial funds and is driving a rescue effort to try to stop the business going into bankruptcy. He has formed a new company entity, Stone Reconstructions, for the purpose of taking over the Super Butcher business.
"Under this entity, we're now looking forward to securing the position of the staff working in the business and also to take charge of the company so there is a future for Super Butcher," Mr Stone said.
"The meat industry needs an alternative to supermarkets, and we think Super Butcher can deliver on that," he said.
Mr Stone said his company was awaiting the administrator's decision on the company's future, so the administration process could be 'taken out of the equation.'
After closing its doors last Monday fortnight, a stocktake was taken and the business has traded since, under the administrator's control.
"We had a poor trading week the first week, but a much better trading result last week, after being able to fill the shelves with stock," Mr Stone said.
"We were told by the administrator at last Thursday's creditors meeting, if we had not acted as we did, the business would have gone into liquidation and Super Butcher would have ceased to exist. But given the package that has been presented, we see a bright future for Super Butcher going forward," he said.
The administrator appointed to manage the process, Glenn Shannon, a partner in accountancy firm PA Lucas and Associates, said a court hearing to wind-up the company had been adjourned until May 29.
"The court wanted to see our report that was handed-out to creditors, which we would normally provide on or around that date. That does allow a process to happen in terms of the contracts that are currently in place," Mr Shannon said.
"As administrator, I needed to satisfy myself that the contract that's in place (Stone Reconstructions') was one that should be completed by the company. We have been obtaining more information on the offer and will make a ruling in due course," Mr Shannon said.
"Whatever proposal gets the best return for creditors is the one we have to pursue," he said.
Mr Shannon said a number of parties would have to sign-off on any settlement, including the major secured creditor, the Commonwealth Bank, and various landlords who would have to approve reassigning or writing new leases.
In total, books and records of the main operating entity, AM No. 1 Pty Ltd, trading as Super Butcher, show about $5.25 million in funds is owed to unsecured creditors, not including the ATO and super. The tax office has put in a proof of debt covering about $2.1 million, giving a total debt close to $7.4 million. Secured creditors including the Commonwealth Bank are not included in that figure.
Losses during the later stages are understood to have been about $30,000 a week.
A source believed to be close to the previous owners sent Beef Central an anonymous letter this week (postmarked Underwood MC), directing the blame for the company's collapse at the Australian Agricultural Co, which the letter said "courted and committed to buying Super Butcher last year for a value of $10 million."
The letter suggested AA Co then went on to "play a strategic game to ensure that Super Butcher was put to the wall, with the intention of re-negotiating the price."
The letter said the former owners were considering a multi-million dollar lawsuit against AA Co. Others have suggested there is no shortage of evidence of non-payment of beef debts well before AA Co began a process of scrutiny of the Super Butcher business.
Super Butcher is one of Australia's largest independent red meat retailers, with a chain of six large warehouse retail sites across Brisbane and the Gold Coast. At its peak, the business is said to have turned over about $850,000 a week in meat sales, with some individual stores responsible for weekly sales worth $250,000.
Should the Super Butcher business ultimately go into liquidation, it could well be fatal for some of the smaller, less financially robust creditors caught up in the crisis. It would also be one of the largest retail/wholesale collapses in Australian history.
Andrew McDonald became a familiar face in metropolitan areas over the past few years, pioneering the use of TV marketing of beef by spruiking weekly specials available in Super Butcher outlets. The business claimed it held an email database of customers numbering about 110,000 addresses.
Far from limiting supply to the Super Butcher business from within his own large wholesale supply network, Gary Stone said he hoped to continue to stock a wide range of branded quality beef products from other suppliers.
"We hope to continue to trade with those suppliers who helped build the Super Butcher business into the popular and well-supported retail business that it is," he said.