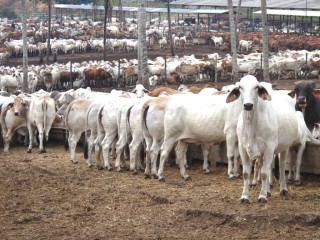 Indonesian livestock owners with breeding females may be paid an incentive by the national Government not to send those animals to slaughter, the Jakarta Globe reported yesterday.
The government plans to give Rp700 billion (about A$80 million) in incentives this year to help local cattle breeders lift the country's cattle population and prevent productive cows from being slaughtered to fulfil domestic meat demand, the Globe reported.
Prabowo Respatiyo Caturroso, director general of husbandry and animal health with the Agriculture Ministry, said local breeders would receive Rp500,000 to Rp750,000 for each breeding female that was at least five months pregnant, or considered a productive cow that could be sold to an abattoir.
There has been a substantial rise in wholesale and retail beef prices in Indonesia since Australia's live export ban was enforced, tempting some breeding stock owners to cash-in on the opportunity.
Indonesian authorities 'estimate' that the nation has a cattle population of 11.86 million head with an annual growth rate of 1-4 percent over the past 10 years. Beef production currently stands at 352,400 tonnes/year, well below the rate of consumption, which grew 9.5pc in the same period, the Globe reported.
Meanwhile Australia's agriculture minister Joe Ludwig said after meeting his Indonesian counterpart yesterday that he hoped the $340 million live export trade between the countries would resume quickly.
Mr Ludwig and Suswono, Indonesia's agriculture minister, met in Jakarta on Monday but failed to reach an agreement to end the ban.
"Both of us see the mutually beneficial outcome of opening the live animal exports industry from Australia to Indonesia as soon as practicable," he said, describing the day's talks as 'very constructive.'
Mr Ludwig told the Jakarta Globe that the trade would not start again until safeguards were in place to ensure animals were slaughtered humanely.
"At the moment we are working on ensuring that we have a live animal export industry for the longer term," he said, even though some lawmakers in Australia had proposed ending the trade altogether.
"We do have to ensure that animal welfare outcomes are dealt with appropriately by our Indonesian counterparts."
Locally-breed cattle make up 50pc of Indonesia's national production, local estimates suggest, with imports of live cattle and frozen beef making up the remainder. Domestic cattle production remained 'below expectations', the Globe reported, although the government claimed local cattle could meet 70pc of national beef production.
Indonesia's House of Representatives passed a law on livestock welfare in 2009, but it has not been implemented and no sanctions are in place for abattoirs that mistreat animals, despite concerns about halal butchering. President Susilo Bambang Yudhoyono has ordered an investigation into the abuse.