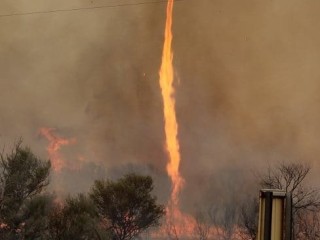 Most of us can recall times when we would have loved to have had a camera on hand to capture an amazing moment, but fortunately Belinda Easton was better prepared than most when she was confronted by a towering fire tornado near Thargomindah last weekend.
Belinda, who works at the Bulloo Shire Council in Thargomindah, was helping to fight a grassfire on a property that adjoins her own 50km west of the town last weekend.
"I was just sitting there watching the fire, obviously the front of it was huge, and I knew that it was going to jump the road," she told Beef Central.
"There wasn't much I could do. I have got a really good camera and I carry it everywhere with me so I just started taking photos.
"I never seen anything like that before, I was just lucky that I was there and I had my camera with me, it was unbelievable."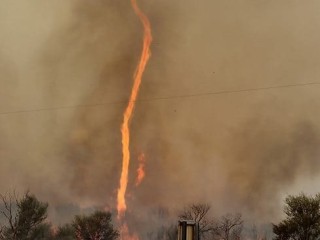 What she captured was a phenomenon that occurs when cool surrounding air is sucked in by an intensely hot fire and rises in a vortex to form a flaming tornado.
Bulloo Shire Mayor John Ferguson who also witnessed the event told the media that about 30 metres of flame then broke off and flew about 400 metres over the fire break – the main road – and started a new fire on the other side.
Belinda's stunning pictures have been doing the rural email rounds and have been picked up by the metropolitan media today, helping to highlight the serious nature of the current fire threat in inland areas.
"You hear about it on the news all the time but people don't understand what it is actually like when you're out there," Belinda said.
The fire captured in the images was started by dry storms last Friday afternoon, but had been brought under control by Monday morning.
In total it burned an estimated 35,000 hectares across about three properties.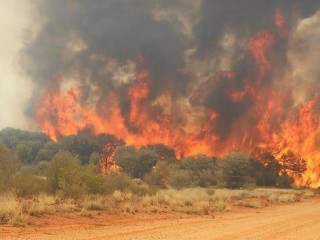 Click on thumbnails below to view images in larger format.