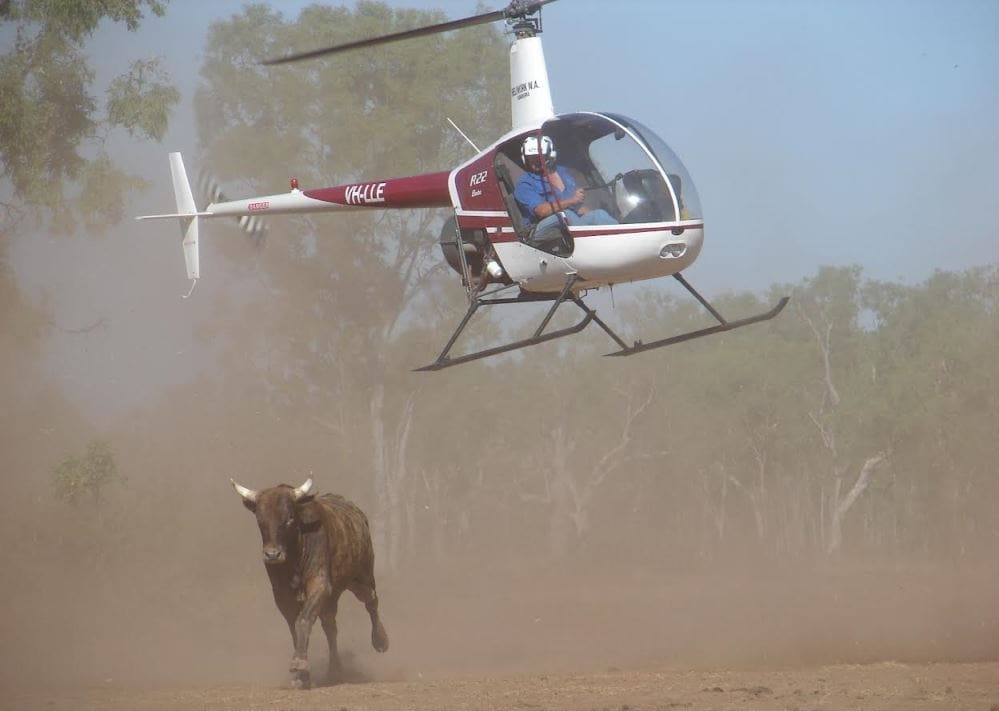 IN direct parallel with the dramatic turnaround in seasonal conditions and the equally dramatic rise in cattle prices over the past 12 months, light helicopter sales have experienced a significant rebound recently.
Sales of new helicopters for agricultural use fell away dramatically during the drought years of 2018-19, but are now providing a handy 'litmus test' of the boom times and unbridled confidence being seen across the northern beef industry.
Sources from the helicopter mustering industry have told Beef Central that there are three or four main influences in sales of machines this year:
First-time helicopter buyers among cashed-up beef producers who have not previously owned a machine
Previous owners replacing old equipment with a new machine
People upgrading from smaller (two seat) machines to four seat helicopters, and
Larger producers who already owned one machine, now buying a second one.
Beef Central contacted Scott Edmonds, whose Heliflite business imports and distributes Robinson helicopters into Australia.
He confirmed that the fundamental trends described above were being seen in his business.
"It's three-fold. We have seen a big rise in inquiries and purchases from the beef industry, due mostly to the improvement in seasonal conditions and high cattle prices. But the Federal Government's instant tax write-off has also played a part," Mr Edmonds said.
He said like many businesses exposed to the beef industry, Heliflite saw sales volume contract substantially during the 2018-19 drought years, when cattle producers stopped spending money. But things had changed substantially since then.
"In fact if we did not have buyers from the bush at the moment, business would be a bit quiet, because the tourism market (another large user of helicopters) is currently very flat, because of COVID," he said.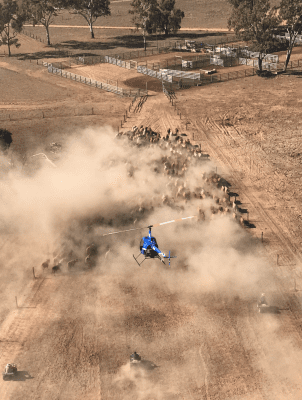 "Unfortunately the tourism sector has been badly affected, so a lot of those operators servicing the tourist trade are on the ground, or operating at very low levels."
Ever since Heliflite brought the first Robinson helicopters into Australia in the early 1980s, the livestock industry had been the biggest slice of the sales pie, Mr Edmonds said.
"It's always been our key sector. Beef has always been strong. For a period, machines were also going in, in numbers, into areas like western NSW for feral goats, but that has since declined, as stock numbers have reduced."
"Our biggest buyer market is from the Kimberley across the VRD and Barkly Tableland, and into North, Northwest and Central Queensland," he said.
Mr Edmonds said some buyers this year had been trading up from two-seat Robinson R22 machines into four-seat R44s.
"The main reason is they offer more flexibility. They have the extra two seats; they are faster; and some owners do muster with the 44s."
Another factor was 'A-to-B'.
"Many helicopter owner operators in the bush these days have a second, third or fourth property some distance away, and the 44's are better equipped to use for quick transit," he said.
"And these stations, by-and-large, are doing a bit better this year, financially," he said, with some restraint.
Mr Edmonds said his business started to see the turn in demand last year, when seasonal fortunes started to change, and the cattle market started its current rise.
"The Kimberley and Barkly regions, particularly, plus large areas of cattle country in Queensland had had some pretty rough times. And when that started to change last year – the phone started to ring."
Shipping challenges
One of the challenges with rising demand for machines this year has been access to shipping, due to COVID. Similar to experiences among beef exporters, freight access has become challenging since disease outbreaks set in last year.
With new Robinson helicopters imported from the manufacturers in the US, congestion in shipping had been Heliflite's biggest struggle this year, Mr Edmonds said.
"It's been a combination of things – lack of containers, port strikes, and the effect of COVID on dockside labour. We had a COVID incident at Long Beach in California where a large proportion of the port workers had to be isolated for a period.
"Like the motor vehicle industry, it's led to long lead-times to get vehicles and rotary wing aircraft into the country. We used to work on delivery from Long Beach to Sydney within about a month. Now we are looking at up to three months."
Currency movement
While the recent decline in value of the A$ (sitting today at US72.4c) had worked against imported equipment prices, it 'worked both ways,' Mr Edmonds said.
"The lower dollar may be hindering imports, price-wise, but at the same time it is helping Australia's exports – including beef. No doubt that is part of the current prosperity in the industry."
"Generally speaking, we've always seen the cattle industry pretty happy around the US 75c mark. It's a little below that at present."
Asked by Beef Central for indicative prices for new Robinson helicopters in the current market conditions, Mr Edmonds said with a minor price rise at the start of August, new R22's were currently worth around US$350,000 (about A$480,000+GST) fly-away, while a new R44 (the most popular Raven 1 model) was worth about A$630,000+GST.