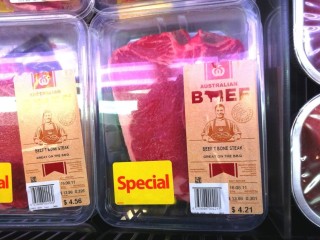 Woolworths Limited has notched up first quarter 2011-12 sales of $14.6 billion – a 4.9 percent increase on the same quarter last year, despite the soft retailing environment.
In a notice to the ASX today, chief executive Grant O'Brien said the result for the 14 weeks ended September 30 was a solid start to the year, considering how challenging retail conditions remained.
"The retail sector continues to be impacted by a lack of consumer confidence which means we have to work harder for every dollar. General merchandise is particularly affected, especially when combined with the deflationary effects of the high Australian dollar," he said.
Highlights for the quarter included a strong performance in the supermarkets division, where sales rose 5.8pc from Q1 in 2010 to $12,56 billion this year. The Home Improvement Division sales growth of 6.2pc included one month of revenue from Woolworths' first Masters store (similar concept to Bunnings) which traded well above expectations.
Within the supermarkets division, Australian Food and Liquor sales for the quarter reached $9.7 billion, up 4.4pc on the same quarter last year. Comparable store sales in Australian Food and Liquor for the quarter increased 1.9pc (Q1 2011: 2pc).
"In a highly competitive and challenging retail environment, Woolworths increased market share, customer numbers, basket size and items sold," Mr O'Brien said.
"Trading continues to be impacted by tightened consumer spending with higher domestic savings rates, interest rates, petrol and utility prices."
During the quarter, Woolies served on average 19 million customers each week.
Director of the Australian supermarkets and petrol division, Tjeerd Jegen, said clearly, this was a tough trading environment with continuing deflation across key product categories.
Fresh food was a standout performer, with strong sales – particularly for new season launches such as lamb and mangoes.
The standard shelf price movement index for the quarter was 2.2pc. This was impacted by high produce inflation due to the natural disasters early in the calendar year. Excluding produce, the index was 1.0pc.
Average prices continued to experience deflation for the quarter of 3.3pc when the effects of promotions and volumes were included. Part of this resulted from Woolworths lowering its prices for the benefit of customers, Mr Jagen said.
The company opened eight new supermarkets across Australia during the quarter bringing the total to 848, with plans to open a further 17 outlets before to Christmas. Woolworths also continues to expand its ALH hotel chain, with one new opening, taking the total to 282 pubs.