THE opportunity to see Australian-bred F1 Wagyu cattle on feed in Japan under local conditions, and talk with the yard operators about their performance was one of the real highlights of the Australian Wagyu Association's Japan Wagyu tour last month.
As the photos accompanying this report show, the sheer size of the Australian-bred steers that were nearing the end of their 15-month feeding programs left many in the tour party awe-struck. Some of the animals will produce carcases 600kg in dressed weight at slaughter – roughly double the average carcase weight of adult cattle processed in Australia.
Japanese feedlot operators feeding Australian live-exported F1 Wagyu steers are complementary about the feeding and carcase performance of the cattle, but they are increasingly being challenged by higher Australian steer procurement costs.
That's a clear reflection of prices seen for all F1 Wagyu feeders in Australia, which have soared over the past two years to record levels, before easing off a little in recent months. Japanese feeder buyers have been swept along in that process, competing for the same pool of feeder cattle as large Australian Wagyu grainfed supply chains.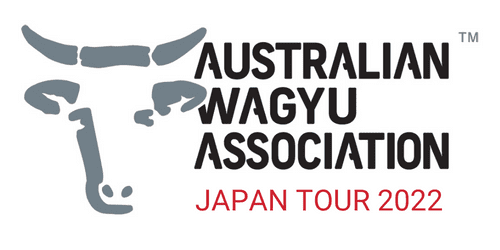 Live exporter Matt Edwards told the Australian Wagyu Association's Japan Wagyu tour group last month that where once, Australian F1 feeder steers were seen as a relatively attractive option (financially) for Japanese lotfeeders, that had now changed dramatically.
"On top of the rising prices for Australian F1 Wagyu feeders, the Japanese currency has continued to deteriorate, making our cattle look very expensive," Mr Edwards said.
"Australian feeder cattle, landed here in Japan, are now double the price of the domestic Wagyu x Holstein F1 – the closest equivalent," he said.
"It's the first time in history that that comparison has been anywhere near that. Previously the Australian feeder has always been cheaper than domestic."
As Australian live export numbers to Japan have wound-back this year (see today's second report), Japanese feedlot operators have had to increase their number of locally-bred cattle on feed.
"But that's only a short-lived solution, because they will soon run out of local feeder supply, which is small," Mr Edwards said. "Domestic feeder prices are already starting to increase, as a result of the added demand pressure."
Live exporter Matt Edwards from Edwards Livestock explains details of Japanese F1 feeding programs to the AWA tour groupDuring last month's Japan tour, the AWA tour group visited Naniwa Ranch, one of three feedlots owned by Marusho Foods, near the southern city of Kagoshima.
The yard visited by the tour group has about 2500 Australian-bred Wagyu x Angus F1s on feed, as part of a group of three company yards feeding around head near Kagoshima. The company is among the longest-serving importers of Australian feeder cattle, starting with Angus and Murray Grey some 30 years ago. About 20 years ago, imports shifted to F1 Wagyu.
Unlike many of the smaller yards visited during the AWA Japan Wagyu tour, the Marusho yard visited, was much more western in its design, infrastructure and scale, using US crushes and feed-out systems.
Much smaller numbers of Australian bred Fullbloods are live exported to Japan, but these going to other lotfeeders, including some around Nagoya.
Marusho works as part of a cooperative group with around 10 other privately owned feedlots, most of which feed all Australian cattle. The company owns not only the feedlots themselves, but is vertically integrated, owning the abattoirs where the cattle are processed, killing around 800 head per month, and the distribution network and supply contracts with Kansai supermarkets around the heavily populated Osaka region. The beef is retailed under Marusho's own brand, identified as Australian Angus x Wagyu F1.
Australian feeders going into Marusho programs are sourced by Edwards Livestock out of tick-free country in southern Queensland, NSW, South Australia and Western Australia. Victorian cattle are not permitted due to Japan's Johnes Disease protocols.
The program requires 100pc steers arriving in Japan at about 300kg liveweight after a voyage around 10 days in length, going into a 500-day feedlot program. The result is average carcase weights of around 500kg – some considerably more than that – and producing the enormous steers pictured in this article. Despite their extreme weight, the cattle due for slaughter appeared sound and mobile, with little or no sign of lameness.
Years ago, some F1 heifers were included in the live export program, but experience showed that feeding F1 heifers for 400-500 days from 300kg starter weight was not economic, failing to produce the required growth performance and going to fat too soon, Mr Edwards said.
Govt subsidy helps offset extreme high feed costs
Japanese feedlots face extremely high feed ingredient costs, with anywhere from 90 to 100 percent of ration ingredients imported, in the various feedlots visited during the tour. Different ration ingredients and even roughages came from the US, Canada, Australia, China, South America and elsewhere.
Total cost of the finished ration at Marusho's Naniwa Ranch feedlot was calculated at about $800/t in Aussie dollars (rough calculation only, at time of interview in October), feedlot manager Hiroyuki Miyahara told Beef Central.
Due to its heavy reliance on imported ingredients and currency impact, mixed ration price in Marusho's Naniwa Ranch feedlot was now 1.4 times the price as last year – a 40pc rise. That has had significant impact on the feedlot margin, the manager said, and at the same time the retail meat sale price cannot change, he said.
Part of that spiralling feeding cost is offset by generous government subsidies, however.
The Japanese national and/or prefectural governments provide subsidies offsetting high imported feedstuff costs, in addition to other heavy subsidy programs on expanding breeding herds (estimated by one lotfeeder to be worth US$2000 per additional cow added to the herd) and separate subsidies for infrastructure development to house more breeding or feeding operations. Part of this approach apparently stems back to Japanese government policy over food security, driven by memories of widespread famine across the country after WWII.
The finisher ration used at Niniwa Ranch feedlot was made up of corn, barley and a brewers' grain style by-product, ryegrass and rice straw hay plus trace minerals and other micro-nutrients, producing gains around a kilo a day.
Feedlot manager Hiroyuki Miyahara said respiratory performance of Australian F1 feeder cattle was consistently good, whereas his feedlot frequently had problems with its Japanese-bred Holstein x Wagyu F1s, often requiring antibiotics.
He thought part of the reason was that Australian F1s spend the first year of their life under 'healthy' grass paddock conditions, rather than being reared in a shed. The Australian live export protocols also include BRD vaccination covering MH, IBR and pesti.
Click here to see some earlier AWA Japan Wagyu tour stories