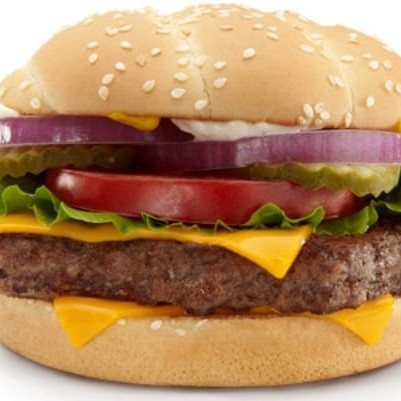 Global burger giant McDonald's Corp has reported a solid first quarter 2012 result despite soaring grinding beef and other commodity costs, and a continuing tough consumer environment in Europe, the chain's largest regional market.
The result illustrates the ongoing resilience of the burger restaurant segment during the Global Economic Crisis, as consumers continue to trade-down out of steaks and higher value items into more keenly-priced meal options.
McDonald's global first quarter result ended March 31 posting higher revenue, operating income and earnings over the same period last year.
Global comparable sales increased 7.3 percent on the same quarter in 2011 – higher than analysts had expected – benefitting in part from an additional trading day due to 2012 being a leap year. Global consolidated revenue increased 7pc and operating income, 8pc.
Net quarterly income for the world's biggest fast-food chain rose to $1.27 billion, up from $1.21b a year ago.
McDonald's continued momentum in the first quarter drove market share gains and profitability across all geographic regions, the company's chief executive officer Jim Skinner told the market on Friday.
"The ongoing strength of McDonald's results, amidst persistent economic headwinds, is a testament to our customer-focused plans and our proven business model," he said.
Entering the second quarter, global comparable sales growth for April was expected to be about 4pc, he said.
In different parts of the world:
The company's US division generated Q1 comparable sales of 8.9pc. Performance benefited from the ongoing popularity of McDonald's core menu items, revamped restaurants and favourable weather.
The Europe division delivered comparable sales growth of 5pc and operating income growth of 4pc for the quarter. Performance in the UK and Russia led the region's sales growth, with France and Germany also contributing. Ongoing economic challenges and severe weather in February negatively impacted on European results for the quarter.
McDonald's Asia/Pacific, Middle East and Africas divisions showed comparable sales increase of 5.5pc, reflecting broad-based growth led by China, Australia and Japan. The combined regions' operating income rose 10pc.
It is this last region where the company is focusing its expansion efforts. Last month, McDonald's announced plans to open 1300 new restaurants worldwide in the coming year, to add to the current catalogue of 33,000 outlets.
Although McDonald's has consistently outperformed its competitors in the fast-food industry, the company is facing the pressures of increasing costs for ingredients, typified by ground beef used in burger pattie manufacture. The company's is also seeing costs for labour and rent increase in some regions.
The higher expenses are particularly problematic for a chain like McDonald's, which risks driving away customers if those costs are passed on. Despite this, the chain raised prices three times last year for a total price increase of 3pc. It expects commodity costs to increase a further 4.5pc to 5.5pc this year, roughly in line with last year's increases.
Because of its size, the way McDonald's handles price increases can often set the trend for the rest of the fast-food industry, analysts said.
Shares in McDonald's rose more than 2pc in trading on the NYSX on Friday, after the quarterly result was announced.