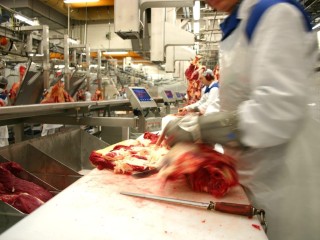 Up to ten export-entitled abattoirs across Australia are already operating under the new Australian Export Meat Inspection System (AEMIS), which officially came into being on October 1.
Further plants will roll-out under the new co-regulatory inspection model over the course of the next month, Government regulatory authorities suggest.
JBS Australia confirmed this morning that its flagship Dinmore factory in southeast Queensland will commence operations under AEMIS principles 'in a matter of weeks' and would be followed by other JBS sites as they became eligible.
The first plant to start operations after the October 1 start-up date (AEMIS pioneer Nolan Meats at Gympie pre-dated the launch timetable) was the Fletcher International sheep plant at Albany in Western Australia. It was quickly followed by other sites, including Wodonga Rendering's Norvic plant in Victoria, followed by Dubbo, Goulburn, and Katanning in WA.
Teys Australia's former Cargill sites are also either converted or close to conversion under the AEMIS model.
The number of plants involve is expected to grow to 14 or more by the end of this week.
"The issue is that each site's circumstances are unique, with different configurations and processes, so it will roll-out over time," AMIC's Steve Martyn said this morning.
"Like all changes like this, there is a lot to go through in areas like training and legal documentation," Mr Martyn said.
He stressed that the AEMIS system should not be misinterpreted simply as 'company-based' export inspection along the lines of what occurs in the domestic industry.
"The AQIS Approved Officers have a legal contract with AQIS to perform the service on its behalf. It's exactly the same as the inspection service provided by AQIS, which has used contracted third-party suppliers for years. While they performing their inspection task, the Approved Officers are under the responsibility of the plant veterinarian."
Agriculture minister Joe Ludwig last month announced the new system of export certification for Australian meatworks, saying the program would "cut red-tape, support regional jobs and improve the industry's export competitiveness."
"Australia's meat export certification system is amongst the best in the world. All meat that leaves Australia for export markets meets strict quality and safety standards," Mr Ludwig said during the announcement (See Beef Central's story "Ludwig launches new AQIS deal").
One of the challenges that now emerges for the Australian meat export industry is the prospect of dual inspections systems operating side-by-side. Some large export stakeholders may in fact elect not to adopt the AEMIS system, for various reasons, one source said.
It is feared that some export beef markets, such as Russia and China, could have the potential to fracture the Australian export industry unless a common system is used by all exporters.
Those plants that do not move to AEMIS will inevitably pay a higher cost for meat inspection, however.