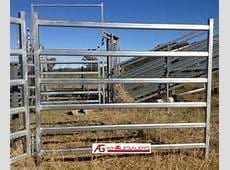 Police from Queensland's Stock and Rural Crime Investigation Squad at Forest Hill near Gatton are seeking assistance from the public regrading stolen portable cattle panels from the Harrisville area.
Detectives from the Forest Hill Stock and Rural Crime Investigation Squad are investigating the theft of a quantity of portable cattle panels which were removed from a rural property on Ellis and Jackson Road, Harrisville.  The panels were taken on or about March 5.
The panels are a standard six rail steel cattle panel and due to the number taken, would most likely have required several utilities or a small truck to transport.
If anyone saw a portable panel cattle yard being dismantled or panels being transported in that area please contact Crime Stoppers or your local police and provide the information along with reference number QP1600802450.
Anyone with information which could assist with this matter should contact Crime Stoppers anonymously via 1800 333 000 or crimestoppers.com.au 24hrs a day.For all non-urgent police reporting or general police inquiries contact Policelink on 131 444 orPolicelink.qld.gov.au 24hrs a day.
Don't let stock stray onto busy roads
Meanwhile, a spate of traffic incidents caused by livestock straying from properties onto busy roads, including some fatal accidents, has prompted NSW Police from the Richmond Local Area Command and the Richmond Valley Council to undertake a fence inspection campaign in the region.
Landholders are responsible for keeping their fences in good condition, and are responsible for any stock that stray.
Straying livestock can cause a serious hazards for motorists. In the past five weeks the NSW Police Richmond LAC has had 32 stock related callouts, including some that have resulted in fatal accidents.
Council and police now engaging in a joint operation to inspect fences, to ensure ensuring owners are complying with their obligations to keep fences in good repair and to prevent stock from straying.
More information in the video below: