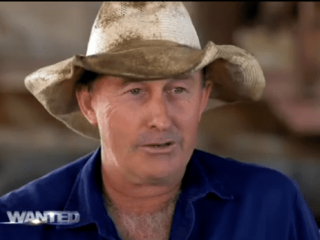 In May 2012, as western Queensland cattle grazier Scott Harris was getting married in Cairns, almost one million dollars worth of slaughter-ready bullocks went missing from his cattle properties Yandarlo and Southampton Downs at Tambo.
More than 12 months later, Charleville Police Stock Squad detectives say they are yet to crack the case, but remain determined to track down those responsible.
Mr Harris has also posted a $100,000 reward in the hope of encouraging anyone with information that can lead to the conviction of the people responsible to come forward.
The case returned to the public spotlight last week it featured on Channel 10's crime series 'Wanted' (to view the episode online click here).
Speaking to the program, Mr Harris explained that he last saw the 860 head of cattle on April 22 before leaving for his wedding in Cairns. The bullocks were due to be sold for slaughter upon his return one month later, but subsequent musters failed to locate them.
Detective Sergeant Warren Baker from the Charleville Police Stock Squad told the program that laneway infrastructure on Yandarlo and Southampton Downs meant the task of running the stolen cattle from two paddocks into yards for trucking would have been relatively straight forward for the thieves.
He said it was still unknown if just one or multiple trucks were used.
However the size of the lift, involving 860 cattle, meant it could not have been a one or two person operation. The thieves would also have had to remove and replace the NLIS ear tags from each of the 860 stolen cattle.
"Anyone that has pulled this sort of job off has got to be extremely organised to lift those cattle from the property and get them to a market so the actual thieves can prosper from the crime," Det Sgt Baker said.
While there was no record of the cattle having arrived at any abattoir or market, the program was told it was likely the cattle would have been slaughtered already and that others throughout the supply chain would have seen them.
Det Sgt Baker said he had given Mr Harris an assurance the stock squad would not rest until the case was solved.
Mr Harris said he too remains determined to find the culprits, and hopes the $100,000 reward encourages people with information to come forward.
"I want to see these people convicted because they are going to come back, if they don't come back here they will come back somewhere else."
Det Sgt Baker told Beef Central the investigation, code named Operation Kilo Buffalo, remains current and active, with detectives throughout Queensland and interstate continuing to work on case.
Any information in relation to the theft of 860 cattle from Tambo in April/May 2012 can be forwarded through crime stoppers on 1800 333000 or direct to the investigation centre at Charleville SARCIS on 0746505520 or mobile 0427 758093.
Related article: Processors on alert for $1m worth of stolen cattle