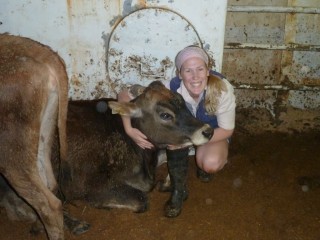 Stephanie Coombes has been named the 2013 NAB Agribusiness Rising Beef Industry Champion, announced last night at the annual industry awards event held in Canberra.
Sasha Lanyon from South Australia was awarded the NAB Encouragement Award and Steven Pocock from Queensland won a leadership scholarship to Marcus Oldham College, sponsored by the Australian Beef Industry Foundation.
"The quality of all eight candidates was outstanding," said Cattle Council of Australia president Andrew Ogilvie.
"It made the task of choosing one winner very difficult.
"They all exhibited excellent communication skills combined with a mature knowledge of the industry and the challenges that lie ahead."

Stephanie, 23, is the president of the WA Farmers Federation Young Farmers council and sits on the WA Farmers Federation Meat Council.
A passionate advocate for the agricultural industry, Stephanie has a strong presence in social media and has developed her own personal brand in 2012 to identify herself within the wider community and activity engage in discussions with consumers.
Read Steph Coombes earlier article on Beef Central: Why I work on the boats that take our animals overseas
She is an accredited stockman in the live export industry and her blog series the "Live Export Diaries" provides first hand photos and videos about the industry and has received a great response from consumers.
Future goals include working in the live export industry implementing education and training programs in destination markets, ensuring industry remains actively engaged with both the Australian and global community, and supporting and developing the next generation of people entering agricultural industry.
This award is made possible through Cattle Council's partners including NAB Agribusiness and the State Farming Organisations.
Glenn Cox, Regional Agribusiness Manager for NAB agribusiness said the importance of investing in the future of agriculture through initiatives such as the 2013 NAB Agribusiness Rising Beef Industry Champion award cannot be underrated.
"We see the investment back into the industry as fundamental in supporting the next Generation of Australian Farmers," he said.
"NAB Agribusiness is proud to have been a major partner of the Cattle Council Australia Rising Champions initiative since its inception in 2010.
"We are delighted to continue our association with the CCA and specifically the sponsorship of the Rising Beef Industry Champion Award."