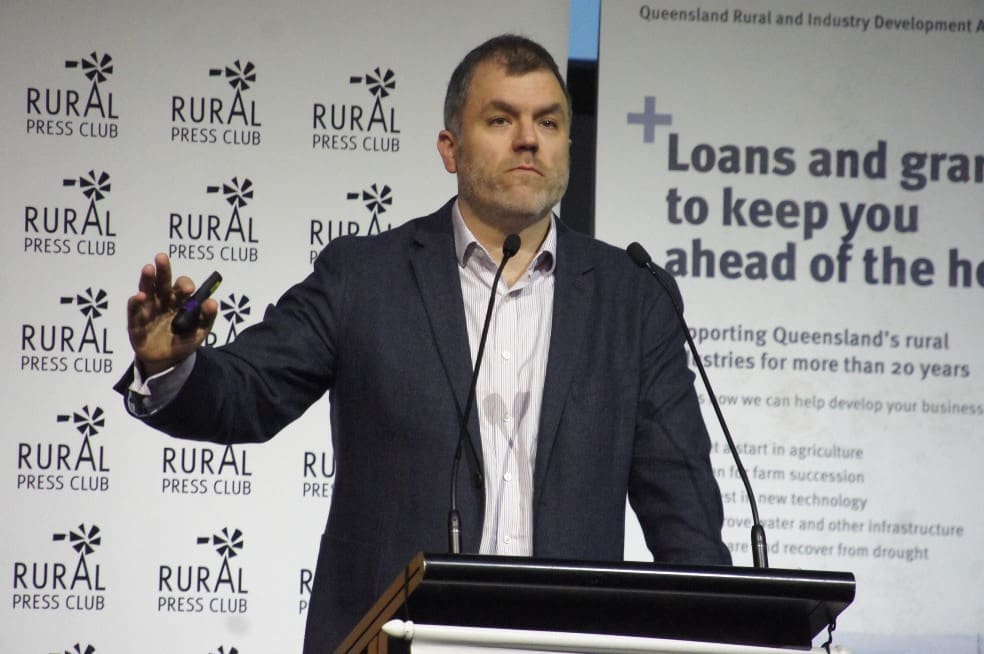 Teys Australia's chief value chain officer, Tom Maguire, addressing this morning's Queensland Rural Press Club show breakfast. 
WELL-DEFINED value chains such as branded beef programs could play a valuable role in engaging with the broader community over animal welfare issues, a senior processing industry stakeholder told a Brisbane audience this morning.
Teys Australia's chief value chain officer, Tom Maguire was guest speaker at today's Queensland Rural Press Club show breakfast, which drew a capacity audience of more than 700.
He told the audience the current 'gut feeling' was that the Australian public was going their separate way from the beef industry.
"They're concerned about city matters, while we have different concerns out in the bush in agriculture."
Mr Maguire said some of Teys customers in the US had started challenging the company about animal welfare, and what it was doing about it.
"It's a matter of starting the conversation about what we do in areas like animal welfare, and we hope this is the start."
He said the industry did not want to revisit the 'head in the sand' approach that had occurred during the animal welfare-driven live export closure episode in 2011. So often when these sort of conversations had happened in the past, processors and producers had simply said, "Just leave me alone; leave me out of it; let me get on with doing what I do."
"The point is, the industry never, ever, wants to be in that position again. The head in the sand approach does not work," he said.
Mr Maguire said the public 'mattered', because every dollar that passed through the beef industry had ultimately come from someone putting their hand in their pocket, and paying for one of our products.
"Thirty percent of them are Aussies, and the other 70pc are people in export markets around the world. But the other really important thing is that they all vote. They're the people who are shaping opinions."
"So we really need to understand who we are dealing with, even if we don't 'get' them, and they don't necessarily 'get' us."
"While we're getting on with our own (important) issues in agriculture, the biggest issue recently in consumer land is that they are annoyed with Coles and Woolworths because they no longer supply plastic bags."
"They (the broader consumer community) don't understand our issues. But because of their sheer weight of numbers, we have to deal with them. Eighty two percent of Australians now live in the 50 largest population centres, and there has been a continued drift from regional/rural areas to cities, as the Australian population has grown.
"We are largely dealing today with a population which lives in a concrete jungle, and less and less people understand what we do. The challenge is that we have to get them to understand what the red meat industry is about."
Illustrating the challenge, Mr Maguire highlighted data out of the University of Adelaide which found that 30pc of Australians thought that "better animal welfare means better for you, or tastes better."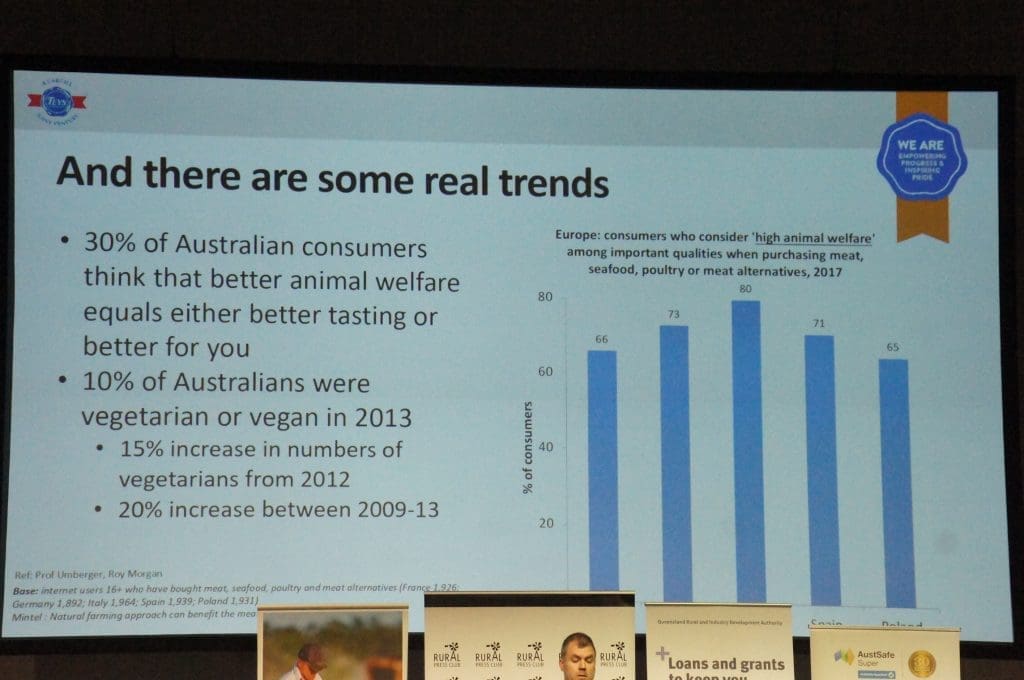 "That's a really important thing to focus on. Look at the rise in vegetarianism, and it's not just in Australia, it's around the world."
He showed other data out of Europe (an important market for Australian beef) pointing to more consumers making purchasing decisions influenced by animal welfare. And Teys had done some recent consumer panel work for its new southern grassfed brand, where numbers three and four on their list of priorities were animal welfare and the environment.
"They are consumers telling us directly: get that issue right in the brand," he said.
Fake meat, lab-grown meat uproar
Mr Maguire focused briefly on the debates about 'fake meat' and 'lab-grown' meat.
"There's a lot of uproar about both at the moment, but in my opinion we have lost the plot if that is what we're going to be concerned about. What we really have to understand is the trend behind what is putting that in peoples' mouths.
"Air New Zealand is copping it at present because it has put the 'Impossible' burger (vegetarian substitute) on its menu. Woolworths has attracted fire for placing a vegetarian-based 'minced' product in the meat aisle."
This was not some plot by Woolworths to get vegetarians into the meat aisle – because they were not going to be happy looking at everything else in the meat section, he said.
'it's about tapping-into meat eaters who want to feel a little better about themselves'
"Instead, it's about tapping-into meat eaters who want to feel a little better about themselves, and want to tick that animal welfare, 'better-for-me' box, maybe once a week."
"As an industry, the opportunity is get those consumers eating all the other product surrounding vegetarian mince in the meat aisle, instead. Sell the story about agriculture around that: something that is nutritious, something that's real, and not artificially made to look like something else."
Mr Maguire said companies developing 'lab grown' meat were tapping into a similar trend as 'vegetarian' mince. Commercially viable lab-grown meat was still a long way off, with a single meatball illustrated in one of his slides currently worth around $18,000/lb to produce.
"That's a pretty expensive meatball. They are made in 10 litre bio-reactors, using foetal calf serum (blood plasma from unborn calves), as the culture medium. To scale that up would require a 25,000 litre bio-reactor, and the environmental, animal welfare and energy use challenges around that
But in raising vegetarian and lab-grown substitutes for beef, Mr Maguire's point was that it was the consumer trend which was important.
"Why go down this path? Instead, let's give them a natural product that they can be proud about eating, with reference to the environment and animal welfare."
"Ultimately, the beef industry has to learn to tap into how consumers' feel," he said.
Consumers did not make purchase decisions based on 'reading the list of ingredients and ticking them off against a list.' "They buy on gut-feel," Mr Maguire said, "then they read the list of ingredients, and go home and justify why they bought the product."
"That's the part of the brain, the neuro-science, that makes these decisions – and that's what we, as an industry, have to tap into, when engaging with consumers and the broader community."
Mr Maguire said the great news was that the industry had the 'raw material' to align with consumer trends.
"We have fantastic grassfed and grainfed product that aligns with those consumer sentiments, those attributes that they think are good for them – natural, healthy and environmentally friendly. You can see why customers want to add animal welfare to the list."
Cohesive approach
But in order to do it, the industry needed a more cohesive approach.
Mr Maguire showed a slide illustrating the red meat industry's labarinthine organisational structure, in how product gets to market.
"That's nobody's fault – it was just what we were given 20-odd years ago," he said.
At a recent industry workshop he had attended, it was decided that AMPC would do some research for the processing industry; AMIC would go out and advocate on behalf of industry; and RMAC would do the job for all of industry.
"That's 100 percent appropriate, under the current industry structure, but there's one small problem: it doesn't work, when talking to consumers, because they don't care about that," he said.
As a comparison, he showed a second slide illustrating how animal activist groups operate, in getting out and talking about 'our stuff'.
The World Wildlife Fund's comms strategy was a 'wineglass' shape: livestock producers at one end, consumers at the other, and a narrow funnel through the middle, comprising processors, lotfeeders, retailers and food service operators.
"The WWF's strategy is pretty simple: go after that middle section, because there are relatively few of them. It means we shouldn't be surprised when they come knocking."
WWF was used as an example, because they were "good at connecting with people, getting them active on social media, and getting them engaged."
"They are talking about our issues, whether we like it or not," Mr Maguire said.
"According to Google, there are about 350,000 Australians who have their opinions (about dehorning) shaped by Animals Australia, and you can bet that's not the opinion we want to give them.
"As an industry, we need to be prepared to talk about these things, because these groups are quite happy to do it for us."
Value-chain approach
Mr Maguire said without debating about industry structures, and a "lot of good work done by a lot of people within them," the industry could be more effective as 'value chains.'
Using Teys own Grasslands certified grassfed brand program as an example, he said as a supply chain working closely with producers and end-users, a nice 'paddock to plate story' could be developed around animal welfare, that could be sold to consumers and the broader community.
"That's got to be the goal, as long as the message is open, authentic and transparent," he said.
He said Teys had received an approach about five years ago from McDonald's Japan requesting access to the company's plants for five days, for filming. The catalyst was a number of earlier food safety scares in Japan, and McDonald's wanted to 'open up' its supply chain and tell customers what the process was about, and how it worked.
'We were horrified. We'd never done it before. But by the fifth day, we'd produced a bunch of great videos'
"We were horrified. We'd never done it before. But by the fifth day, we'd produced a bunch of great videos, TV footage and newspaper articles that explained the process, using simple messages about what we do and that we are proud of it."
It was important for the beef industry to start to 'talk itself up a bit', and celebrate the industry, at a regional level. With the demise of the car industry, meat processing was now the largest manufacturing industry left in Australia, and is often the largest employer in the towns and regions we are in.
"If we can get that message out and build locally, we can develop something really important. That's the challenge for everyone – because in trying to lobby for the red meat industry in Canberra, it's easy to get lost. But in Rockhampton, Biloela, Wagga or Naracoorte – there's no question how important our industry is – and those local people can be our industry's greatest advocates.
But firstly, the industry needed to fill the 'information vacuum,' he said.
The challenge for the beef industry was to telegraph to the broader community 'what it was doing, and why' in the animal welfare space. "And we have to do it before we lose trust."
The same set of research out of Adelaide University mentioned earlier in his address found that only 20 percent of consumers were happy with the amount of information they received.
"Other research data from around the world holds no surprises: China wants more information about transparency, and US millennials want more information about the products they purchase, preferably available on a mobile phone. And of course, Europe is a real leader in this space."
"So the Australian beef industry has a real opportunity, but we have to take it, because if we disconnect with this group of people, we won't get them back."
What can the industry do to respond?
Mr Maguire said one of the first responses had to be building capability in the communications space.
He pointed to a program at West Texas University in the US, which offers a degree (and doctorate) in agricultural communications.
"Learning how to communicate, as an industry – how terrific is that. I'd like to see, in the next few years, a tertiary institution or two here in Australia doing something similar. To me, that is a critical challenge in addressing the problem. It's not a criticism of the existing media, but it's for our industry, so we can talk more effectively about what we do."
Mr Teys illustrated his point with a series of images taken by two undergrad students from West Texas U, at Teys' feedlots, during a recent Australian visit – emphasising the clean, safe, wholesome, well-sheltered aspects of the feedlot, the ration used, and the cattle in it. The creative series also showed a solar panel array at Condamine, which is helping take the feedlot partially off the grid.
"Essentially, as an industry we have to go and do a whole bunch of work to reconnect ourselves with the broader community, and sell what's important. The good news is that most Australians fundamentally care about rural Australia," he said.
"We can think they (city based communities) have forgotten about us, and they do get distracted, but you can see the recent public outcry about the drought – even beating up the Prime Minister for not doing enough.
"So there is a sense of caring there. We just have to connect the importance of our industry to those regional Australia. We see so much in the metropolitan media about what's happening in Sydney and Melbourne, but there is this huge opportunity to connect ourselves with the vitality of regional Australia. The people working in the industry are a safe bet, but each one of those knows someone else, who knows someone else."
"If we can do that, we have a really good chance of connecting ourselves, and having a proper discussion about what the red meat industry is important."
 Questions probe challenges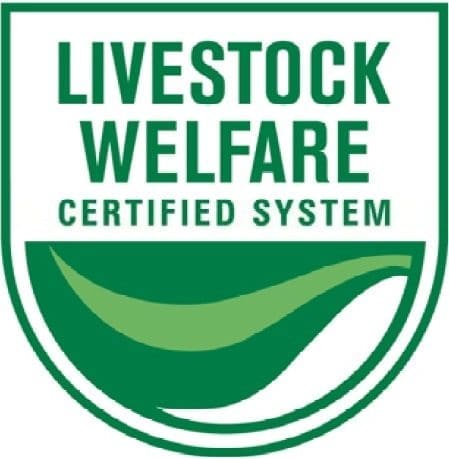 During questiontime, Mr Maguire was asked about the processing sector's animal welfare assurance program (see image), launched four or five years ago. While it had been widely adopted by processors, there was little evidence of the program logo being used in 'customer-facing' awareness and promotion.
"I agree," he said. "The processing animal welfare standard has been well-adopted, but it has only gone through one supply chain all the way to the consumer, that I can think of. And it does not cover the production sector as well. Retailers and their customers obviously care about what happens on farm, and during transport, as well as what happens on arrival at the abattoir.
"That's the challenge, if we want to keep premium products like certified grassfed brands in markets around the world."
Another stakeholder asked how the industry should embrace the new conversation with the Australian public, and our place in the broader community.
"It should start with us being really proud of what we do," Mr Maguire said.
"We get a bit nervous, sometimes, talking about (all the positive things) we do, and I believe that is our first mistake. The second part of the conversation is to really sell the benefits we bring – not just at a macro-economic level, but also at a local level – about the importance of this industry to regional Australia, and the vitality in brings to those communities."
Target middle-ground
In order to achieve cut-through with the broader community, he said the industry needed to appeal to, and concentrate on the segment of the population that it most wanted to influence.
The industry would never win the day with the ten percent at the extreme end.
'We have to concentrate on the vast majority in the middle – the people who make an ethical choice to consume meat'
"We have to concentrate on the vast majority in the middle – the people who make an ethical choice to consume meat – and respond to them in a way saying, you can still do that, while being assured that the welfare is right and the environmental management is right.
"I would not want to see us engaging in a huge debate with people who do not want to see us on earth at all. That's an important message, because the animal rights groups don't think we should be here, full-stop  – so we have no common ground to work with.
"The people that we do want to talk to are those who influence the public, but also understand that the red meat industry is pretty vital to Australia."
"My response to those people who do not want us around at all is to come to Rockhampton or Wagga Wagga, and have the debate with me there, rather than the streets of Sydney – because there are a whole bunch of people in those towns that know that without that meatworks operating, businesses start to close and facilities start to decline."