STANBROKE'S Diamantina beef brand has taken out top honours in the Darling Downs Beef Battle for the second year running to make it the first back-to-back winner of the prestigious award.
Second place went to Mort & Co's The Phoenix, and third was awarded to Stockyard Beef.
The battle has been running since 2018, and is now the biggest event hosted by Toowoomba and Surat Basin Enterprise.
Held at Toowoomba's Clifford Park, its judges were all 350 diners, who sampled cuts from nine beef producers, with an extra one added this year as a "palate-setter" to open the judging.
Other competitors this year were JBS Australia's Yardstick; John Dee's Super Gold; Rangers Valley's Black Market; NH Foods Australia's Angus Reserve, and NAPCo's Five Founders.
The event is believed to be the largest taste-testing competition in the southern hemisphere, and diners score each cut over five categories.
The closeness in scores indicated the first-class qualities of all the entries in the competition, which TSBE Food Leaders Australia general manager Bruce McConnel said showcased the Darling Downs as the beef capital of Australia.
"I know there are some Central Queensland people here that will argue that…but 65 percent of Australia's red meat production (processing)is within three hours of here," Mr McConnel said.
He also spoke about the importance of the Downs as a lotfeeding region, with access to feeder cattle, grain, and processing and export avenues.
Stanbroke's winning cut was marbling-score 5, carrying Wagyu genetics with some Angus.
It came from a steer bred on the company's country in the Gulf of Carpentaria which was backgrounded and finished in the Stanbroke Feedlot at Chinchilla prior to processing at the company's works at Grantham.
"We're absolutely thrilled to have won among such strong competition," Stanbroke sales manager Mark Harris said.
"It's a testament to everyone through Stanbroke's supply chain."
Mort & Co's entry which gained second place was also big on Wagyu genetics, while the Stockyard entry in third place was from an Angus program.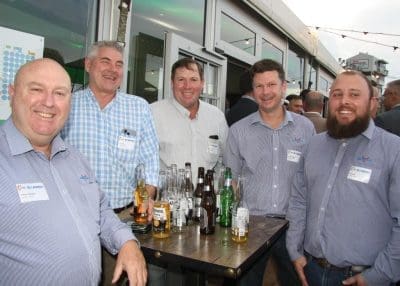 Rangers Valley Warwick-based staff Trevor Sticklen, Joe Strk, Steve Porter, Craig Burgess and Nat Dull.