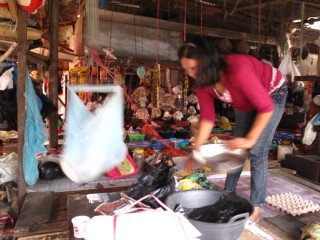 Spare a moment in your busy lives to contemplate the significance of World Food Day, which passed yesterday with little fanfare.
This year's World Food Day theme was 'Food prices: from crisis to stability', with key food security issues discussed in The State of Food Insecurity in the World 2011 report, jointly released this week by the United Nations Food and Agriculture Organization, the International Fund for Agricultural Development and the World Food Program.
Agriculture minister Joe Ludwig used World Food Day to highlight Australia's role in providing global food security in a statement issued yesterday. He said the report showed that volatile global food prices are likely to continue, significantly affecting the world's most vulnerable communities.
"Australia has been working with international organisations and through forums such as the G20, to find ways to reduce the volatility of food prices by strengthening agricultural productivity and improving information on agricultural markets," Sen Ludwig said.
He noted that while world food insecurity remained a significant issue, forecast global population growth and increasing affluence in developing economies suggested strong prospects for Australia's agri-food sector to supply a greater share of global food needs.
However, Australia's ability to supply the world with high quality food was not without its challenges.
"Global competition, land-use competition, climate change, and growing community expectations about the safety, sustainability and provenance of food pose significant challenges for the agricultural sector and policymakers within Australia," Sen Ludwig said.
The government believed that an overarching approach through its National Food Plan would help protect and improve Australia's enviable food security status, support population health outcomes and maximise food production opportunities that serve Australia and the world.
The plan was considering significant issues including domestic and global food security, productivity and efficiency, sustainability, health and nutrition, as well as other economic policies that affect the food sector, Sen Ludwig said.
World Food Day yesterday coincided with the start of a meeting of the Committee on World Food Security in Italy, where 191 countries, including Australia, are focussing on finding solutions to food price volatility and improvements in productivity for small-holder farmers.