It might be hard to pronounce, but it's a French term that the broader beef industry needs to get its tongue around: 'sous vide.'
Beef Central rarely ventures this far down the beef supply chain, but was fascinated with the emerging technology (pronounced 'soo-veed') on show at the recent Brisbane Fine Foods Show, which has obvious potential to revalue secondary beef cuts.
Robert Erskine, from Rely Culinary Technologies, demonstrated during the show the miraculous ability of sous vide to transform the eating qualities of relatively tough meat protein items into something which literally pulls apart with a fork.
Translating as 'under vacuum', sous vide is a method of cooking food sealed in airtight plastic bags in a water bath for a surprisingly long time – 12-40 hours in some cases — at an accurately regulated temperature much lower than what would normally be used for cooking, typically around 60 °C. The intention is to cook the item evenly, not overcooking the outside, while still keeping the inside at the same 'doneness'.
At completion, chefs often quickly sear the outside of the sous vide treated item briefly in a hot pan, more for flavour and appearance reasons, rather than further cooking.
The use of temperatures much lower than for conventional cooking is an equally essential feature of sous-vide, resulting in much higher moisture retention: at these lower temperatures, cell walls in the food do not burst. In the case of meat cooking, tough collagen in connective tissue is hydrolysed and dissolved into gelatin, without heating the meat's proteins high enough that they denature to a degree that the texture toughens and moisture is wrung out of the meat.
From a culinary viewpoint the value of the vacuum sealing process is secondary, but it has practical importance: it allows sous vide cooked items to be stored, still sealed and refrigerated, for a week or more. This is especially useful for the catering industry, and excluding oxygen also reduces susceptibility to oxidation, in items such as fat on meat.
Mr Erskine said the sous vide process could be applied easily to any form of protein, keeping the flavour profile, moisture and colour completely intact.
"I can take a whole piece of chuck steak, for example, vacuum seal it and cook it under sous vide for 18 hours at 60 degrees. It can then be returned to the chiller for future use. When it is required for service, the bag can be opened and the whole muscle cut into steaks. At that point, it is still reasonably red on the outside, and quite flaccid, but cooked to perfect medium rare in the middle."
Put those steaks on the grill for a minute or two for the browning/heating effect, and it eats like a really nice marbled piece of scotch fillet. The process completely breaks down the connective tissue and any gristle normally associated with chuck steak, which adopts a pleasant mouth feel," he said.
Similarly, beef cheeks cooked sous vide for 40 hours at 50c presented as a highly flavourful item that cuts like butter.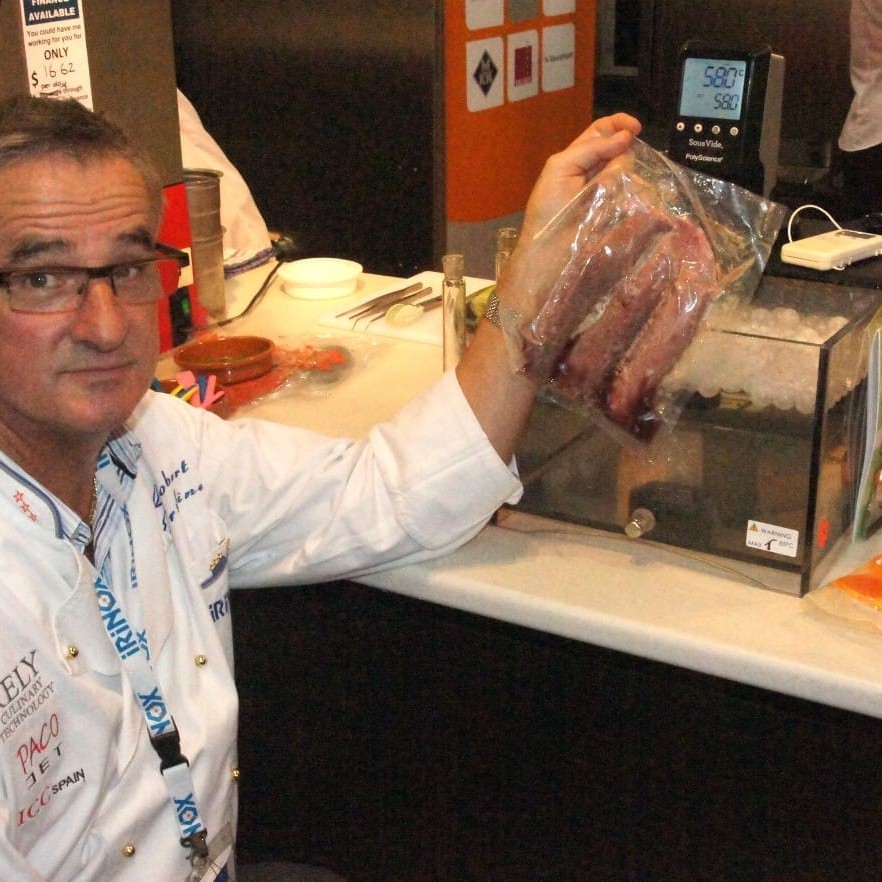 Mr Erskine said the rate of adoption of the sous vide process in the food service industry in Australia was a long way behind where it was up to overseas.
"We're very late on the uptake. This is still something new to the food service industry here, and Australians don't necessarily like change. But increasingly they see this as a means of saving money, on using cheaper raw material to present something on a plate that performs extremely well."
"And of all the animal protein sources, beef is really difficult, because there are just so many cuts."
Another of the underlying points of user resistance is linked to wariness about food safety. It goes against basic instinct to leave a piece of meat in a relatively low-temperature environment (it's possible to dip your finger in the water) for so long.
"But people don't yet understand that anything above 55C for more than 90 minutes, under vacuum, will completely pasteurise the item. You don't have to cook it hard and fast on a grill to kill any bacteria that might be present. All those details are clearly present in tables in government food safety standards."
Mr Erskine said another reason for recent interest in sous vide among steak restaurants and hotels was the reduction in cooking time.
"At peak times, a busy hotel steakhouse grill can get loaded with steaks being cooked under conventional means. It's not uncommon for customers to have a 30-40 minute wait on getting a steak. But those same steaks can be cooked sous vide days before, sliced and finished on the grill in a matter of minutes, for the same result, and potentially elevated eating quality."
Mr Erskine said smaller sous vide machines were now being taken up for home use, typically at this point by 'foodies', as well as in the food service environment. They could be purchased for as little as $500.
Overseas, sous vide is rapidly gaining momentum in the food service industry.
The Hilton Hotel group not long ago brought together executive chefs from across its Asian hotel network for an MLA-sponsored sous vide seminar and demonstration.
Particularly for the banquet catering business, which is huge across Asia, the Hilton chain is increasingly using sous vide as a cost-effective tool to keep material costs in check. Items like Australian oyster blade and chuck were demonstrated under the system, elevated into items that eat like eye fillet.
It also has the attraction of rapid turnaround when chefs are faced with feeding up to 1000 people in a tightly condensed period.