An English University has announced it will ban the sale of beef products from its campus food outlets as part of its newly adopted commitment to fight global warming.
Academic standards typically require students to back up claims with supporting evidence, but, curiously in this instance, the university's written announcement offers no backing detail or scientific justification to explain its policy or why or how banning beef will help in its bid to halt climate change.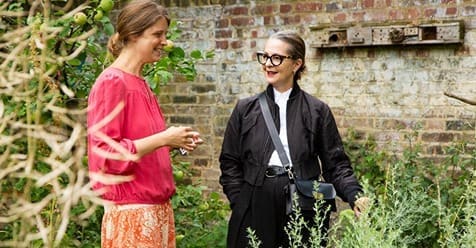 In one of her first moves as the university's new Warden, Professor Frances Corner yesterday declared a climate emergency and committed the university to becoming carbon neutral by 2025.
Professor Corner, previously the head of the London College of Fashion, and a self-described fashion activist, said in the announcement the university will take several steps to achieve zero emissions within six years.
In addition to the ban on beef, action includes adding a 10p levy to bottled water and single use plastic cups to discourage their use, installing more solar panels and switching to a 100 percent clean energy supplier as soon as practicable.
Professor Corner said the growing global call for organisations to take seriously their responsibilities for halting climate change was "impossible to ignore".
"Though I have only just arrived at Goldsmiths, it is immediately obvious that our staff and students care passionately about the future of our environment and that they are determined to help deliver the step change we need to cut our carbon footprint drastically and as quickly as possible.
"Declaring a climate emergency cannot be empty words.
"I truly believe we face a defining moment in global history and Goldsmiths now stands shoulder to shoulder with other organisations willing to call the alarm and take urgent action to cut carbon use."
However the statement offered no detail or scientific justification to support the unversity's new policy or to explain how banning beef products will help it to halting climate change.
The position ignores the science which shows that many claims that beef is a leading cause of climate change are based on  inaccurate initial measurements and flawed assumptions that do not account for the dramatic variances that can exist in emissions intensity between production systems and between cattle industries in different countries.
Giving up meat won't save the climate
One of the leading voices in this debate is US scientist Dr Frank Mitloehner from the University of California Davis, and chair of the United Nation Food and Agricultural Organisation's Livestock Environmental and Performance Partnership committee, where he works with 300 of the world's leading experts on life cycle assessments for methane emissions of different livestock and feed commodities.
An expert in mitigating air emissions from livestock operations, his critique of the 2006 UN Livestock Long Shadow report debunked its still widely reported conclusion that livestock generate more greenhouse gas emissions than the entire global transport industry.
As he wrote in October 2018, this incorrect claim continues to underlie false assumptions about the linkage between meat and climate change.
US Environmental Protection Agency data shows the largest sources of US GHG emissions in 2016 were electricity production (28 percent of total emissions), transportation (28 percent) and industry (22 percent). All of agriculture accounted for a total of 9 percent.
All of animal agriculture contributes less than half of this amount, representing 3.9 percent of total US greenhouse gas emissions.
The Livestock's Long Shadow report which received widespread international attention, and is still widely quoted, stated that livestock produced a staggering 18 percent of the world's greenhouse gas emissions.
This latter claim was wrong, and has since been corrected by Henning Steinfeld, the report's senior author.
Dr Mitloehner has explained that the problem was that FAO analysts used a comprehensive life-cycle assessment to study the climate impact of livestock, but a different method when they analysed transportation.
For livestock, they considered every factor associated with producing meat. This included emissions from fertiliser production, converting land from forests to pastures, growing feed, and direct emissions from animals (belching and manure) from birth to death.
However, when they looked at transportation's carbon footprint, they ignored impacts on the climate from manufacturing vehicle materials and parts, assembling vehicles and maintaining roads, bridges and airports. Instead, they only considered the exhaust emitted by finished cars, trucks, trains and planes.
As a result, the FAO's comparison of greenhouse gas emissions from livestock to those from transportation was greatly distorted.
To its credit, the FAO immediately owned up to its error. Unfortunately, the agency's initial claim that livestock was responsible for the lion's share of world greenhouse gas emissions had already received wide coverage.
'To this day, we struggle to "unring" the bell'
"To this day, we struggle to "unring" the bell," he says.
In its most recent assessment report, the FAO estimated that livestock produces 14.5 percent of global greenhouse gas emissions from human activities. There is no comparable full life-cycle assessment for transportation.
However, as Steinfeld has pointed out, direct emissions from transportation versus livestock can be compared and amount to 14 versus 5 percent, respectively.
Many people continue to think avoiding meat as infrequently as once a week will make a significant difference to the climate.
But according to one recent study, even if Americans eliminated all animal protein from their diets, they would reduce US greenhouse gas emissions by only 2.6 percent.
According to our research at the University of California, Davis, if the practice of Meatless Monday were to be adopted by all Americans, we'd see a reduction of only 0.5 percent.
The value of animal agriculture
While removing animals agriculture would lower national greenhouse gas emissions to a small degree, it would also make it harder to meet nutritional requirements, Dr Mitloehner points out.
"Many critics of animal agriculture are quick to point out that if farmers raised only plants, they could produce more pounds of food and more calories per person. But humans also need many essential micro- and macronutrients for good health.
"The world population is currently projected to reach 9.8 billion people by 2050. Feeding this many people will raise immense challenges.
"Meat is more nutrient-dense per serving than vegetarian options, and ruminant animals largely thrive on feed that is not suitable for humans."
Goldsmiths University's announcement attracted some supportive comments on its Facebook page but also posts from others criticing the institution for failing to understand the situation.
One facebook poster said the beef and dairy cattle produced on his farm was carbon neutral.
"My grasslands are an increasing store of carbon, by some 300 tonnes per year. If I was to plough them to grow vegetables and crops for your uneducated whims, some 39000 tonnes of carbon would be released over the next 5 years as the organic matter of my soil would fall away under all the cultivation needed to grow annual crops and vegetables for uneducated people who don't seem to understand about how agriculture works."