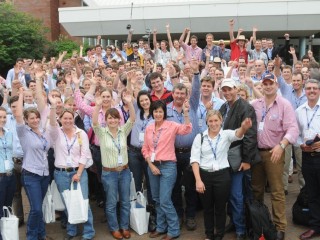 As livestock industry leaders gather in Longreach for Meat & Livestock Australia's annual general meeting next Thursday, hundreds of young cattle producers and future leaders will muster 700km away for the Young Beef Producers Forum at Roma.
Now in its seventh year, the two-day event has become a popular fixture on the annual beef industry calendar, providing under 40-year-olds with presentations tailored speficially to their needs and interests, and the rare opportunity to connect with like-minded producers from across Australia.
Social networking will also be on the agenda, and in more ways than one.
A gala dinner and auction conducted by Landmark on the night of Thursday, November 17 and a Young Beef Producers Forum marquee at the Roma Cup race meeting on the Saturday will provide ample opportunities for social networking in the traditional sense.
But social networking in the electronic sense will also be a hot topic at the forum itself, with a panel session to address the issue of how social media is changing the communications landscape in agriculture.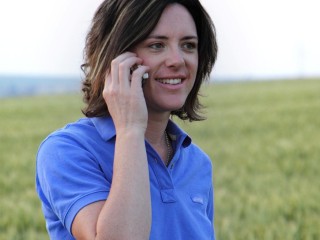 Forum coordinator and Future Farmers Network executive officer Rebecca Williams from Koolunga in South Australia said more young producers were plugging into social media to communicate with each other and to connect with consumers interested in agriculture.
"We find these days with mobile phone technology people tend to be checking their facebook and twitter accounts several times during the day," she said.
"The way it is being used most commonly so far, and I think it is probably one of the best ways they can use social media, is farmers taking photos and putting them on Twitter and Facebook to show what they're doing during the day.
"It gives people in urban areas a visual picture of what happens on a farm on a day to day basis.
"We all talk about it when we get together, but it is amazing how often those pictures explain something that you could have talked to somebody about for an hour, and one picture says it all, and really gets the message across about what farming's about."
Building networks with other producers and sharing information was another valuable use for social media.
"Working for the Future Farmers Network, I get to go to conferences through work which is fantastic, without social media I would spend a fortune in telephone bills to start with keeping in contact with everybody that I meet.
"It is excellent in that way, I have really great mates in Queensland, NSW and Western Australia just from the conferences I have been too, and we all stay in touch by social media."
The panel session on social media will include speakers from Meat and Livestock Australia and Australian Wool Innovation which are both in the process of creating social media strategies and projects for people involved in agriculture.
The conference will also hear how other industries are dealing with the challenge of educating consumers about agricultural issues, with James Kellaway from the Australian Egg Corporation and Kathleen Plowman from Pork Australia discussing these issues.
Lachlan Hughes from Rangeland Quality Meats will also share the benefits of his family's experiences in building a paddock to plate meat business that deals directly with urban consumers.
A tour of the innovative production system operated by the Thompson family at Echo Hills at Roma, and an explanation of how they are co-existing with the Coal Seam Gas industry, is a further highlight of the program.
The Young Beef Producers Forum will be held on November 17 and 18 in Roma, with the Roma Cup to follow on November 19.
For the full program, registration information and contact details, visit the Young Beef Producers Forum website here
The major sponsors of the gala dinner and charity auction are Landmark and the Australian Beef Industry Foundation.