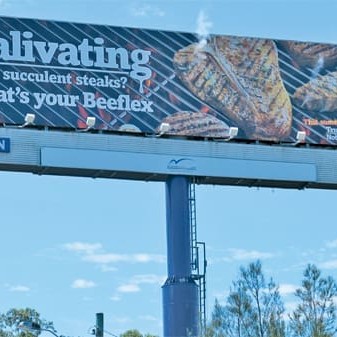 Meat & Livestock Australia's smoking barbecue billboard advertisement has been recognised in an advertising and marketing industry 'Top Seven' list of outdoor billboard ads for 2011.
Marketing industry website Mumbrella chose the 'Trust your Beeflex' billboards (pictured) as one of its ads of the year.
Mumbrella's salute to the ad said: "Featuring a giant steak sizzling on the barbie, this billboard emitted plumes of smoke to get meat-lovers in the mood with summer on the way. In addition to the billboards, bus shelters gave off the smell of cooking meat to further stimulate the 'Beeflex' of passers-by. No fun for vegetarians."
The website's other picks for outdoor advertising concepts of the year included billboard and wall ads for the New Zealand Police Force; Walt Disney's movie, Pirates of the Caribbean (also featuring smoke, from Jack Sparrow's pistols); Keyser Bombshell ladies' bras (in 3D – Beef Central's pick for ad of the year); Nike; and Pedigree dogfood.
Click image below for a clearer view