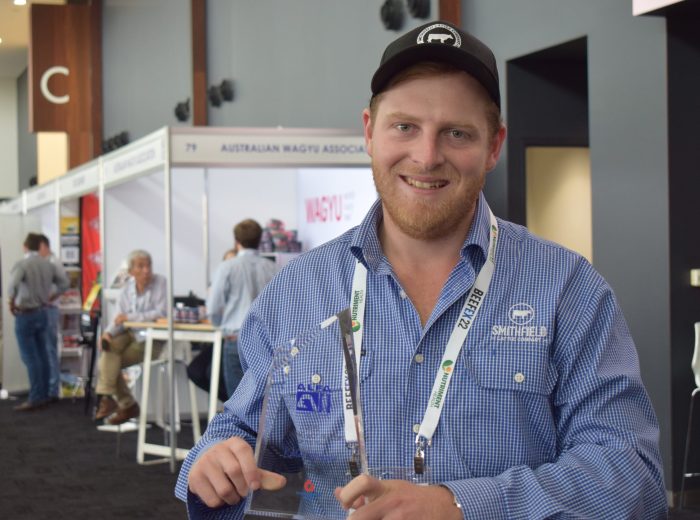 Smithfield feedlot manager and Young Lot Feeder of the year Kailen HodgsonA SMITHFIELD feedlot manager has taken out this year's Young Lot Feeder of the Year award for his work on creating autogenous vaccines for bovine respiratory disease in cattle.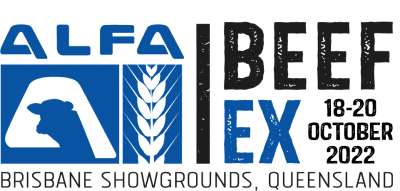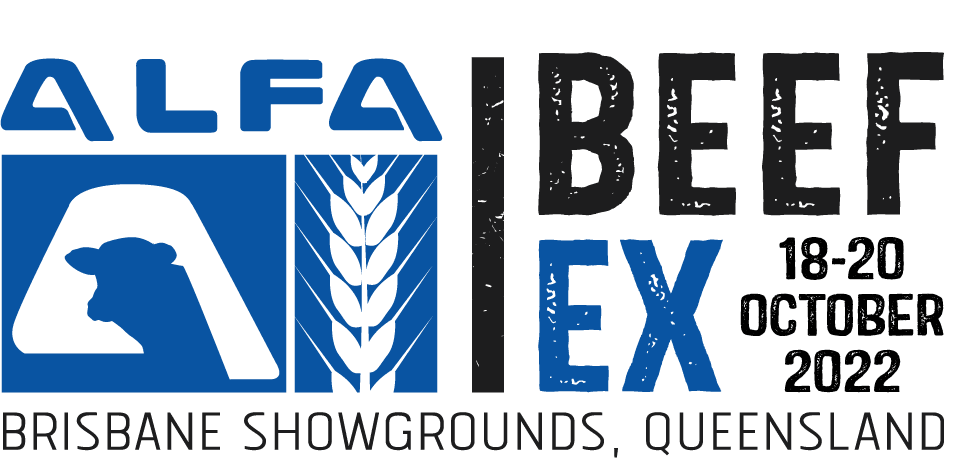 Kailen Hodgson received the award at BeefEx gala dinner in Brisbane on Wednesday night. His Young Lot Feeder award predecessor and 2021 winner James Guest was also an employee of Smithfield.
Entrants are required to submit a compelling essay on a real or perceived industry issue discussing its implications to the feedlot industry and explore a proposed solution to be successful in the award. They must also demonstrate their leadership potential through a defined set of criteria.
Mr Hodgson taking on one of the industry biggest health issues by looking at autogenous vaccines, a solution which has been gaining some research attention.
Mr Hodgson beat two other finalists were announced last month:
Caitlin Herbert – trainee manager, Gundamain Pastoral. Essay Topic: "Improving NFAS compliance through integration and automation of processes"

Mitchell Elliott – feedlot manager, AA Co's Aronui feedlot. Essay Topic: "'RecAUDIT' – A program which provides a central platform to collate and review information critical for feedlot compliance and audit requirements
The winner receives $5,000 towards undertaking a professional development course or overseas study trip and a grain fed beef industry scholarship to attend the Australian Rural Leadership Foundation's TRAIL: for emerging leaders program, valued at $10,450.
TFI earns lotfeeders' Community Heroes award
Thomas Foods International's feedlot in the Murray Mallee region of South Australia was awarded the 2022 ALFA Community Heroes Award for its Rural Pathways program earlier today.
This outside-the-square initiative, helping close the city/county divide, was born out of a need to attract staff to fill exciting new opportunities at the company's expanding feedlot.
Established in 2021, the program aimed to seek out young, enthusiastic people that were looking for an entry level opportunity in the agricultural industry – an untapped resource for both the feedlot and our rural entities. Urban school-leavers with minimal experience were the primary target, under the belief that there are many young individuals based in the city that if given the opportunity, would thrive in a rural setting and career.
In turn, the program would create a strong foundation to gain experience in all areas of the feedlot which would lead to a successful career with TFI and in turn, contributing to the local economy.
Expansion to 30,000 head
As one of the largest employers in Tintinara, the Thomas Foods feedlot is expanding from 17,000 to 30,000 head, which will create a number of exciting employment opportunities in the community.
Attracting employees has become not only an industry challenge, but an Australia-wide problem which has required TFI to think outside the square to employee staff. And so, the Rural Pathways Program was born.
Being located in a community with a small population and being the largest employer in the area, bringing new people to the area for employment is not a new challenge. Where this program is different is that it is attracting bright, enthusiastic, young individuals to the industry that would have never considered a career at a feedlot.
The Rural Pathways program was implemented in 2021 with employees commencing in February 2022. TFI is currently advertising for its next cohort for 2023 and hopes to replicate the program throughout other Thomas Foods entities.
In addition to the Rural Pathways Program, TFI has also been a keen advocate and supporter of community based organisations such as campdraft and sporting club sponsorship, educational tours for local schools and universities, and building relationships with future breeders and handlers in the local agricultural community.
Read more about Thomas Foods and their Rural Pathways program here.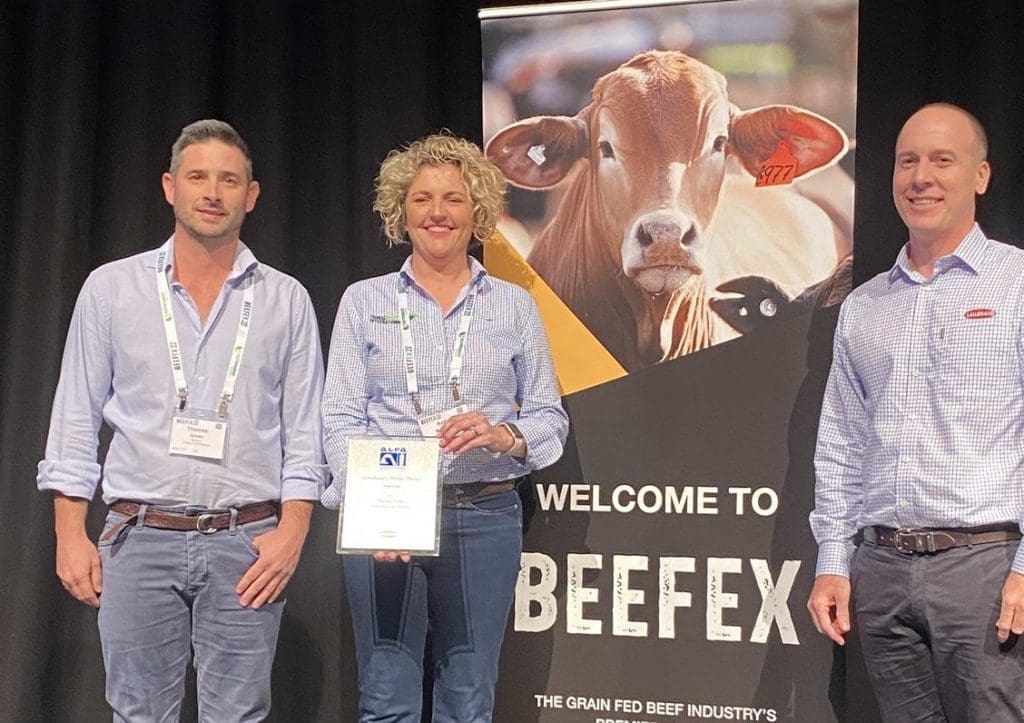 About the ALFA Community Heroes Award
Australian feedlots are vital to the fabric of rural and regional Australia by creating jobs, supporting families, and contributing to local economies and the environment.
Sponsored by Lallemand, the award recognises and rewards those feedlots that are actively nourishing their local communities and environment by going above and beyond to support their community, that 'give-back' and better the environment around them. The winning initiative will receive a $5000 cash donation towards a local charity, business, or feedlot initiative to assist in further development and impact of the initiative.​
Workplace safety key driver in Innovation award winner
A safety management product for working horses which is gaining uptake among lotfeeders earned this year's Integrated Animal Production Innovation Award announced during the BeefEX conference in Brisbane today.
Dozens of horses are employed on many commercial Australian feedlots, used by pen riders and other livestock staff.
Horse Records is a software program designed around three key pillars of biosecurity, workplace health and safety, and due diligence.
Spokesman Lucas Norton-Neale said the program was designed around biosecurity regulations in Queensland and NSW, recording all horse movements between PIC locations, as well as providing horse rider assessments and internet reporting.
"Both cattle and horses can be a little unpredictable in the feedlot industry, so it's important that each rider has the appropriate ability to match each animal," Mr Norton-Neale said.
Horse rider assessments are part of the process, to protect both the worker, as well as the feedlot. The assessment process involves nine different horse handling tasks, with a score provided against how well the rider performs. And when incidents do occur, the system provides the ability to bring them up, isolate them and respond.
Initially the program was developed as a free product by veterinary provider APIAM for use among its feedlot clients, but it is now available more widely, and embraces new elements including Hendra virus vaccinations and other animal health and veterinary treatments, as well as shoeing history and other information.
The second, most recent version of Horse Records Safety Management has been on the market for the past three months.
Mr Norton-Neale said the program also had application outside the feedlot sector, with use in campdrafting and potentially, the extensive grazing industry.