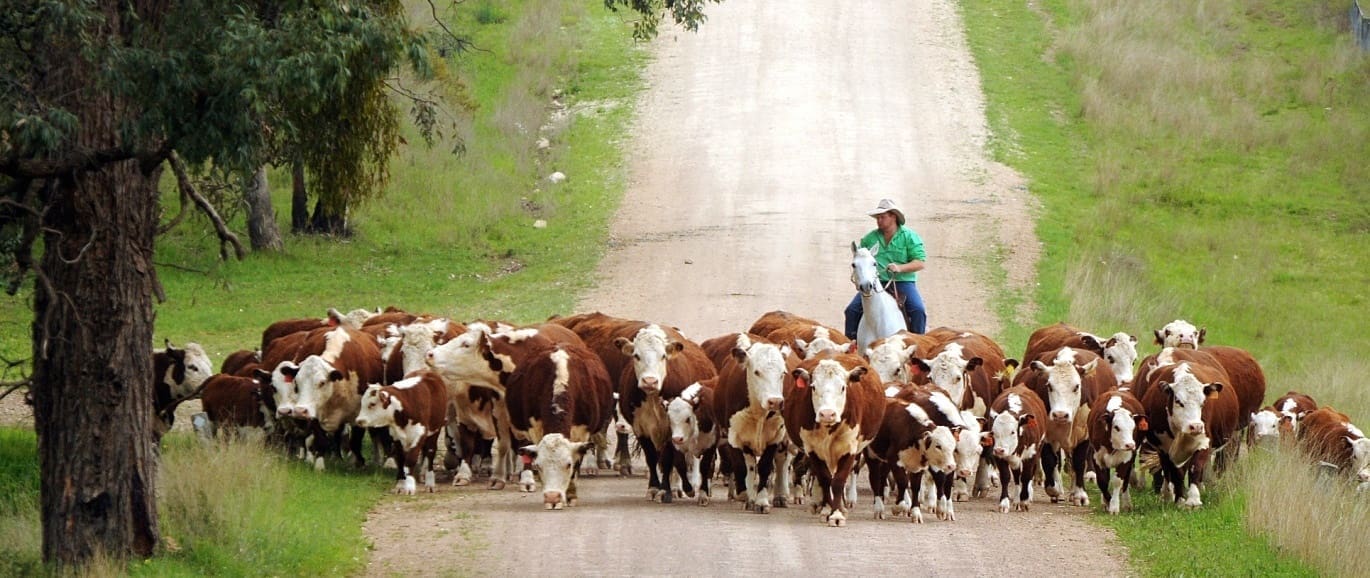 AUSTRALIA's beef and sheepmeat producers are set to enjoy strong prices into next year, according to Rabobank's just-released Global Animal Protein Outlook 2019.
However the productive capacity of Australia's beef herd and sheep flock will be limited by the heavy culling of female cattle and sheep seen in 2018, with any upside dependent on improved seasonal conditions in the year ahead.
The bank's annual outlook for the animal proteins sector, titled Growth Slows Down…As Doubt Gears Up, forecasts a slowing in the pace of growth for meat production in most regions throughout the world next year – with uncertainty created by trade tensions, high feed prices and African swine fever contributing to the decline.
Global animal protein production (primarily beef, pork and poultry) is expected to expand by just over one million tonnes in 2019 – well below the five-year average growth rate – to some 500 million tonnes.
Production growth will slow across nearly all key regions, with China predicted to see a substantial production decline, driven by the impacts of African swine fever (click here to see Beef Central's earlier comprehensive reports on the impact of ASF) on its pork sector, the report says.
Brazil's livestock production, however, is forecast to continue its strong growth trajectory, while the production outlook for North America is also relatively strong. For Australia – where sheepmeat and beef production will decline, alongside neighbours New Zealand – the overall restrained global animal production outlook will provide some upside on the price front, the report says.
"Good global prices will continue to support local (Australian) prices for finished lambs and cattle in 2019," it says.
In particular, says Rabobank senior animal proteins analyst Angus Gidley-Baird, strong global demand for sheepmeat and limited supply availability will support strong prices through 2019, with New Zealand – the world's other major supplier of sheepmeat – set to have its lowest lamb kill on record in 2019.
"While further upside beyond record 2018 sheepmeat prices will be limited, prices will remain firm, given strong demand in key global markets such as the Middle East, China and the US," he said.
Lamb production in Australia will remain restricted in 2019, impacted by higher sheep sales seen in 2018 due to dry weather conditions, Mr Gidley-Baird said.
For Australia's beef sector, the 2019 Outlook says, the cattle inventory will remain very low following heavy de-stocking seen between 2013 and 2016, and then again in 2018, due to dry conditions that limited the availability of feed. Cattle numbers will remain steady at the current low numbers until conditions improve.
"While limited supplies support cattle prices for producers, supply-chain efficiencies will be tested, with lower volumes available for feedlots and processing," he said. "And without substantial rain, 2019 will test many producers, given already-limited and expensive fodder supplies."
Rabobank expects Australian beef production volumes to fall with lower slaughter numbers and, consequently, export volumes to decline slightly in 2019.
Global outlook – uncertainty
The report says total protein production (across both land and aquatic species) will continue to expand in the key regions around the world – the European Union, North America, China, the ASEAN-5 nations, Brazil and Oceania – in 2019. However, growth is forecast to be below the five-year average, after stronger-than-expected expansion in 2018. Pork and wild-catch seafood are predicted to see the largest declines in production growth, although a slowing down in beef production is "also material", the report says.
Uncertainty will be a key theme for the global animal proteins sector in 2019, according to the Outlook. And trade will figure highly among these uncertainties.
"The only thing clear about trade in 2019 will be the lack of clarity," the report says.
Mr Gidley-Baird said while the expected increase in global production of animal protein implied that trade would also need to increase, there were in fact a number of factors working to restrict global trade. These included the growing shift to a protectionist philosophy with the US-China trade war, the strengthening US dollar, and increased biosecurity measures given animal health concerns.
On the positive side, Mr Gidley-Baird said, a number of countries, including Australia, were expected to continue to benefit from weaker currencies in 2019, making their exports more competitive.
Higher feed prices are expected to place upward pressure on production costs for animal protein producers into the first half of 2019, the report says.
"The regional picture for feed varies, but the general pattern is for rising prices in 2019, Mr Gidley-Baird said. "We expect global grain prices to rise early next year, given lower wheat availability in Europe, Russia and Australia, before the large crops that are anticipated for 2019 put downward pressure on prices in the second half of the year.
"For Australia, the severe drought in our east has decimated cereal crops this season. The strong local demand for feed, along with the lower yields in all regions except Western Australia, is likely to see continued high feed prices for the sector in Australia."
Biosecurity risks are also a factor to significantly impact the global animal proteins sector in the year ahead, the 2019 Outlook says, with disease outbreaks having affected the entire sector – from livestock to poultry to aquaculture – in 2018.
In particular, outbreaks of African swine fever and Avian influenza have been widespread. African swine fever is now a worldwide threat, the report says, and is expected to change global trade flows, with governments strengthening biosecurity measures, and to change global trade flows, with governments strengthening biosecurity measures, and to catalyse the consolidation of farming in some countries.
"We expect biosecurity to become a major theme for many countries and many companies in 2019, while it continues to impact global trade flows," the report says.
Other watch factors
The report also identifies four other key factors expected to influence the global animal proteins sector in 2019 – industry consolidation, labour shortages, an increasing focus on sustainable and ethical production and the continued emergence of alternative proteins.