Meat & Livestock Australia's mid-year industry projections issued just minutes ago anticipates rising cattle prices and lower processing throughput for the back-half of the year, in the face of a massive 8.8 percent decline in national herd size, driven by drought.
The Australian cattle herd is estimated to have declined to 26.7 million head as at June 30, a massive 2.5 million head reduction in just 12 months due to the prolonged effects of drought – the lowest level in almost two decades.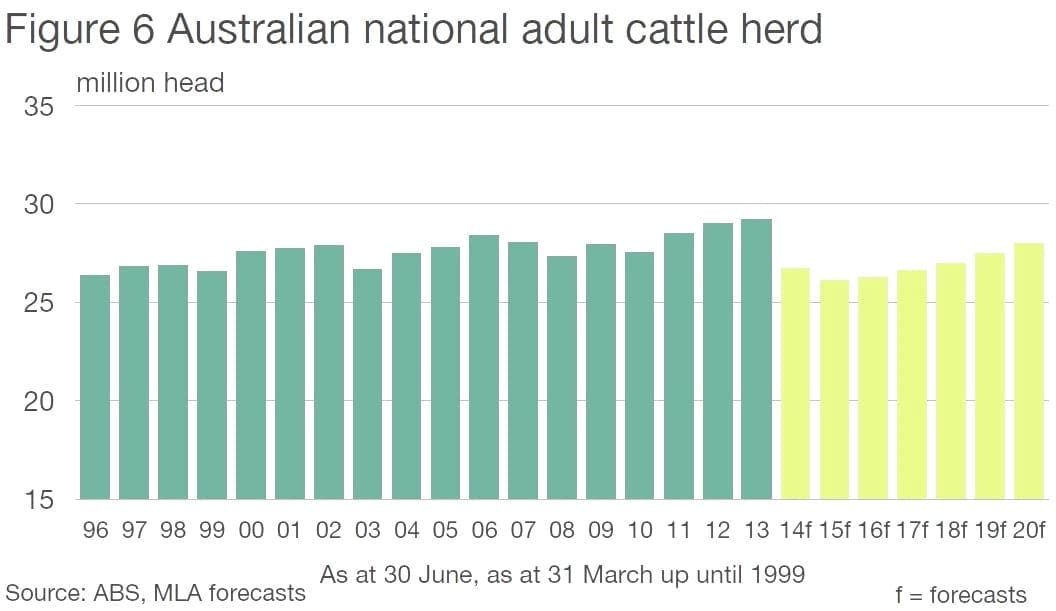 After a rapid start to the year, MLA expects slaughter to ease as the year continues, reaching 8.3 million head, down 0.7pc year-on-year.
Live cattle exports are forecast to reach 1.13 million head for 2014, up 33pc on the previous year, underpinned by strong demand from Indonesia and Vietnam.
Adult cattle turn-off as a percentage of the opening herd inventory is expected to reach 35pc in 2014, up significantly from the long-term average.
As has been the theme of the past 18 months, the drought influenced slaughter has delivered lighter weight cattle to processors for the past year. Average carcase weight for calendar 2014 is estimated to decline 0.7pc, to 276 kg/head.
All this means beef and veal production for the full year is forecast to decline 1.3pc, to 2.332 million tonnes, before declining a further 9pc in 2015, to 2.126mt.
Beef and veal exports are likely to be level with the record 2013 volume, at 1.1 million tonnes, MLA predicts in this morning's mid-year projections. Domestic utilisation is expected fall 4.5pc, to 708,000t, with strong international demand likely to strip product from the domestic market in the final few months of 2014.
The projections are based on a series of assumptions, the most important of which is that seasonal conditions are expected to be 'average' at best for the reminder of the year, especially given the continuous Bureau of Metrology's 70pv El Niño forecasts. El Niño's typically affect southern producers more so than those north of the Tropic of Capricorn, however, the prospects of another dry six months will be challenging for many producers.
The 8.8pc decline in herd size estimated by MLA comes off a three-decade high just 12 months earlier.
The fall has been fuelled by the ongoing drought in northern NSW and Queensland, causing national cattle slaughter to continue at rarely seen levels for over 18 months. Exacerbating the high turnoff and herd contraction has been surging live cattle exports and lower branding rates in northern Australia.
The regional herd ratio, as at 30 June 2014, was estimated to be close to 50:50 between the north and south for the first time in five years, given the majority of the turnoff has been from northern regions. This also suggests that nationally, the Bos indicus to Bos taurus ratio is shifting in favour of Bos taurus, meaning the overall national branding rate could improve somewhat if seasonal conditions are favourable in coming years.
Underpinned by the lower branding rates over the past 12 months, the national cattle herd is likely to continue declining into 2015. The national herd is anticipated to fall to a two decade low of 26.1m head by 30 June 2015, down a further 2.2pc from 2014.
Beyond 2015, assuming average seasonal conditions, the herd is expected to increase slightly (0.6pc) in 2016, before eventually rebuilding to 28m head in 2020 – up almost 2m on the forecast low in 2015 but still 1.2m below the peak in 2013.
As is always the case for Australia, the rate of the national herd rebuild (or indeed liquidation) will be heavily influenced by seasonal conditions. If the northern drought continues for a third consecutive summer, and slaughter levels are higher than forecast, the herd could potentially fall below 26m head in 2015.
Furthermore, total turnoff (live cattle exports combined with slaughter) as a percentage of the national herd is likely to reach 35pc in 2014, hitting the highest level since 1979, MLA says.
Provided there are improved seasonal conditions next year, it is likely to ease back closer to the long term average in 2015.
MLA manager for market information and analysis, Tim McRae, points to a more positive outlook for Australian cattle producers, underpinned by the looming shortage of cattle and robust global demand for beef.
"The sustained high adult cattle slaughter levels of the past 24 months, combined with near record live cattle shipments, have eroded the production capacity of the Australian herd heading into the second half of 2014," Mr McRae said.
"But with the inevitable tightening of supply, prices for Australian cattle are forecast to increase into next year, bringing them back in line with global cattle and beef prices. The limiting factor in a price turnaround for the Australian market will be seasonal conditions for the remainder of 2014 and the northern 2014-15 wet season – which will be key to watch," he said.
Mr McRae said export demand, particularly through Asia, had helped to alleviate some supply and price pressure in the southern markets. Looking toward 2015, the competition for a smaller volume of Australian beef was likely to intensify.
"With the emergence of China, record prices for manufacturing beef in the US and improved market access agreements into Japan and Korea, the global competition for Australian beef is extremely strong heading into the second half of 2014," he said.
The US market is forecast to be Australia's largest export beef market in 2014, surpassing Japan for the first time since 2003. The catalyst for this has come from both an increased available supply of Australian beef for export, and tight supplies in the US.
However, after two years of drought conditions still to be broken, combined with an uncomfortably high A$, the Australian cattle industry still faces some major production and competitive issues into the future – although, with a significant contraction in cattle supplies and higher prices predicted.
More articles examining MLA's mid-year Projections forecasts on Beef Central later today.