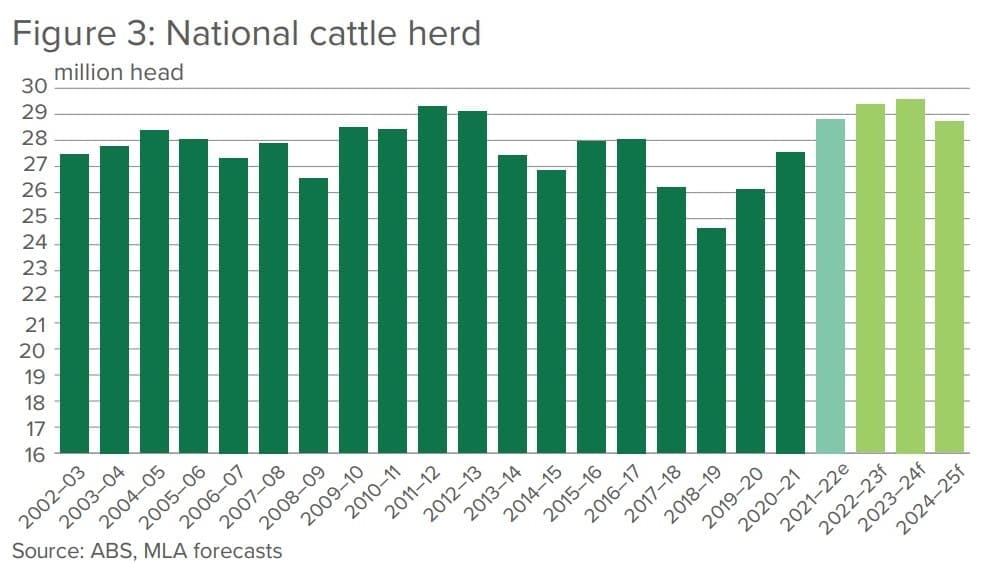 THE growth of the Australian cattle herd is on track to continue throughout 2023, resulting in a high supply of both young cattle and finished weight animals to market well into 2024.
Meat & Livestock Australia's latest mid-year Cattle Industry Projections update released today suggests the national cattle herd will reach its highest level since 2014 at 28.7 million head by year's end.
Beef production is forecast to strongly increase this year as a result of improvement in processing capacity so far in 2023, higher slaughter cattle supply and historically elevated carcase weights.
National slaughter for calendar 2023 is forecast to reach 6.95 million head, a five percent upwards revision, representing 325,000 head, on MLA's original January forecast. That in turn has pushed expectations for total beef production and beef exports higher.
Total beef production for export and domestic use is now expected to hit 2.2 million tonnes, up by 100,000t from 2.1mt in January. Exports are also forecast higher – now 1.09mt shipped weight (1.599mt, carcase weight), versus 1.014mt/1.49mt at the start of the year.
Driving the higher volume this year will be:
Strong numbers of grassfed steer turn-off from key production regions of Queensland, including the Channel Country.
Significantly higher numbers of cast-for-age cows as numbers of breeding females on-farm allow the turn-off of older stock.
With the national cattle herd reaching its highest level since 2014 this year, stocking rates in southern Australia, particularly in New South Wales, are at levels well above long-term averages. Northern Australia will develop its herd rebuild on the back of a generally strong wet season.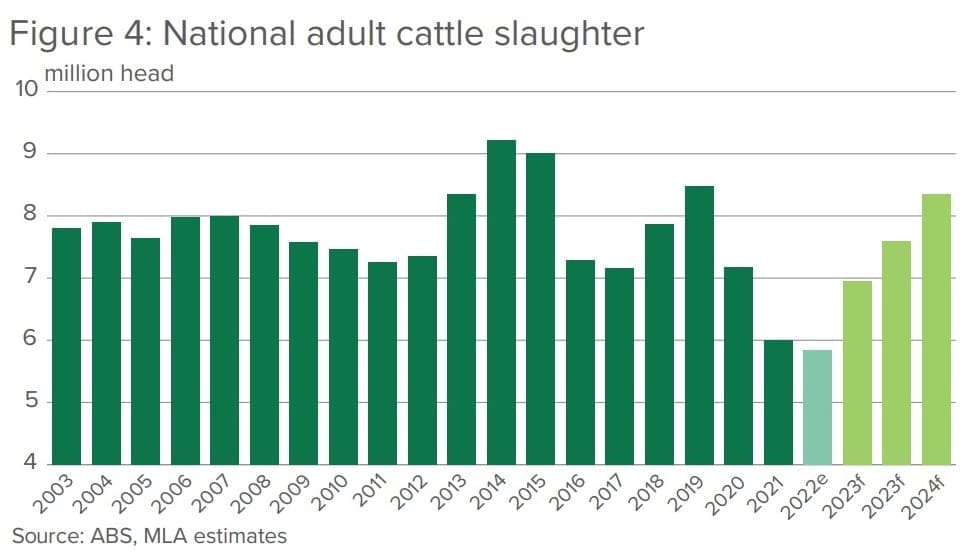 According to MLA senior market information analyst, Ripley Atkinson, a continuation of female retention in northern Australia will ensure the rebuild for this region continues, while the breeding herd in southern Australia will reach levels above long-term averages in 2023.
"The longer-term outlook of higher supply is ensured, with the above-average marking and branding rates continuing despite a forecast return to average or below-average seasonal conditions," Mr Atkinson said.
The genetic investment producers had made in building a productive, fertile breeding herd during the past three years will contribute significantly to delivering continued high supplies of young cattle into 2024, he said.
"Processors are continuing to manage higher supplies of slaughter weight stock and this trend is expected to continue for the remainder of the year."
So far in 2023, the cattle market had operated as it typically does throughout the first six months of the year, Mr Atkinson said.
"It's not uncommon for higher turn-off of stock leading into winter to place downward pressure on price. However, the previous three years have been the exception due to the rebuild following years of drought, and the impacts of COVID.
In considering these major events, it was important to acknowledge these years were outliers when it comes to examining trends in cattle prices, he said.
MLA expects the remainder of 2023 to see continued improvements in both supply of cattle and beef to market as slaughter rates increase.
"This places Australia in an enviable position to take advantage of shifts in the global marketplace, including greater market access for Australian beef, supply adjustments to key competitors and a continued strong domestic market," Mr Atkinson said.
US market in slow-down
Despite the rapid decline in prices observed in 2023, fundamentals in the US market are positive for Australian cattle prices.
The US herd is currently at its smallest since 2014, meaning that shifts in supply in 2014–15 may give us an understanding of how the US market will react in the coming months.
In 2014, after a long destock, production was well below the long-run average and import demand began to rise. This took time, as the amount of beef in cold storage remained relatively high, but by August it had reached a low of 157,000 tonnes and demand for imported product began to rise, reflected in a rise in the 90CL.
The situation today is somewhat different, as cold stocks in April were still above 2014 levels and US production is still relatively high. Additionally, Brazil has entered the US market as an exporter by using the 'all other countries' quota of 60,000t, which is now routinely filled in the first three months of the year. As such, cold stocks are likely to remain higher throughout the year compared to 2014.
However the underlying US supply shortfall is still widely expected and is likely to drive demand for imported beef, of which Australia is the only exporter with the market access and supply available to meaningfully satisfy in the short-to medium term.
MLA's mid-year assumptions are made around a set of assumptions regarding future weather patterns (2023 is overall likely to be an average to below-average year), interest rates, currency value and inflation.
Source: MLA