AUSTRALIAN food service customers from the hotel, restaurant and resort sector were treated to a rare insight into Japanese-produced elite-level Wagyu beef in Brisbane last week.
Since market access was regained in 2016, Japan has exported small, but extremely high value Wagyu beef consignments into Australia, and dozens of other countries around the world.
In fact Japan is one of only three active countries eligible to export beef to Australia, along with New Zealand and curiously, Vanuatu.
The Japanese Wagyu industry last week put on Beef Masterclasses for trade audiences in Brisbane and Sydney, designed to showcase the quality, versatility and performance of the product.
The large audience was made up mostly of food service end-customers in the form of Japanese and Chinese restaurant proprietors; hotel, resort and casino operators; importers, distributors, portion controllers and others.
Five Japanese beef exporters doing Wagyu business into Australia took part in the demonstration, including meat trading giant Starzen and four smaller regional operators.
All were keen to grow business into Australia. One reason given for this was that Australia was not like most other Japanese Wagyu export customers, which had a strong preference for loin cuts (barbecue items like striploin cuberoll and eye fillet) only.
"We find it much harder to sell forequarter Wagyu meat into most western importing countries, like the US," one of the exporters said. "But Australia is different – its about 50/50 hindquarter and forequarter meat, which is very attractive."
"That's why we highlighted the possibilities with Wagyu knuckle in today's demonstration."
He said selling beef to the US was challenging, because Japan had to compete with giants like Brazil under the very modest "Other Country" quota. No tariff or quota applied to exports to Australia.
Questioned about why Australian end-users were taking more forequarter cuts, the exporter said it may be because of the popularity of Japanese and Chinese restaurants in Australia, that were much more familiar with forequarter meat – especially Wagyu chuck rib, chuck roll or shortplate, for example.
"We are very interested to analyse the reasons for this," one exporter said.
Hosting the events was the Japan Livestock Products Export Promotion Council.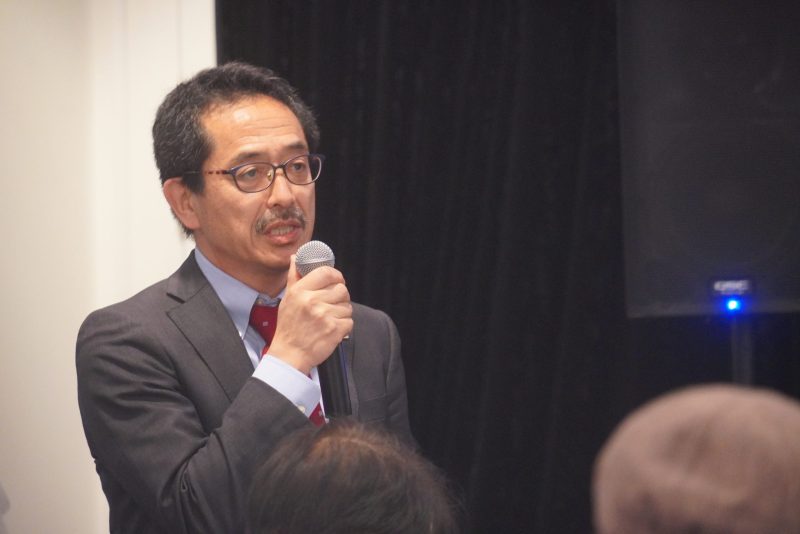 The council's deputy secretary general, Hiroyasu Fujishima, (pictured) told the Brisbane audience that Japan in 2021 produced 480,000t of beef. The US, Cambodia and Europe were currently the largest export destinations by value. No agreement had yet been reached to export Japanese Wagyu to China.
"From an international perspective, Japan's beef production is small," he said. "In 2021, Japan's total beef exports were only about 11,000t – about 0.1 percent of world exports. In comparison, Australia accounted for 11pc of global beef exports the same year."
As well as explaining the high marbling and supreme tenderness and eating qualities of Japanese Wagyu beef, Fujishima San stressed the high levels of oleic acid, relative to saturated fats, linked with health benefits.
He said the average herd size among Japanese Wagyu breeders was only 18 beef cows, meaning cattle were "cared-for like a family member."
Compost and pen waste from the feedlots and breeding properties went back to the rice paddies, in a sustainable cycle.
Japan's pedigree system, quality assurance and traceability systems all helped protect the integrity and quality of Japanese Wagyu beef. QR codes are used to make the beef's production history accessible by mobile phone, at the restaurant or supermarket. About 45pc of Japanese Wagyu carcases are graded at the top A5 level for quality and yield, he said.
One of the larger exporters represented at the seminar, Asahi Kimura from Starzen, said his company's total exports to Australia averaged around two metric tonnes per month, but was starting to expand, especially with some frozen containers as well as chilled.
Another new Japanese exporter just getting established in Australia is Kamichiku Co, based in the southern city of Kagoshima.
"Australia is a very big beef consuming country, and it is a logical target to expand our export business," international sales department representative Rika Koyama told Beef Central.
"No tariffs is a bonus, and Australia likes forequarter meat. Loin cuts are popular everywhere, but it's harder to sell forequarter in international markets," she said.
Rika speaks perfect English with an Australian accent, having been born in Cootamundra, where her father worked from 1989 establishing a Wagyu beef supply chain called Nishoku to export beef back to Japan. The company was one of the first Australian breeders of Wagyu to achieve A5 carcase grade status in the Japanese market.
A detailed cutting demonstration and sampling using a whole knuckle from an A5 graded Wagyu was carried out for the seminar audiences by master butcher Tomohiro Tanaka, from Japan's Federal Meat Acadamy.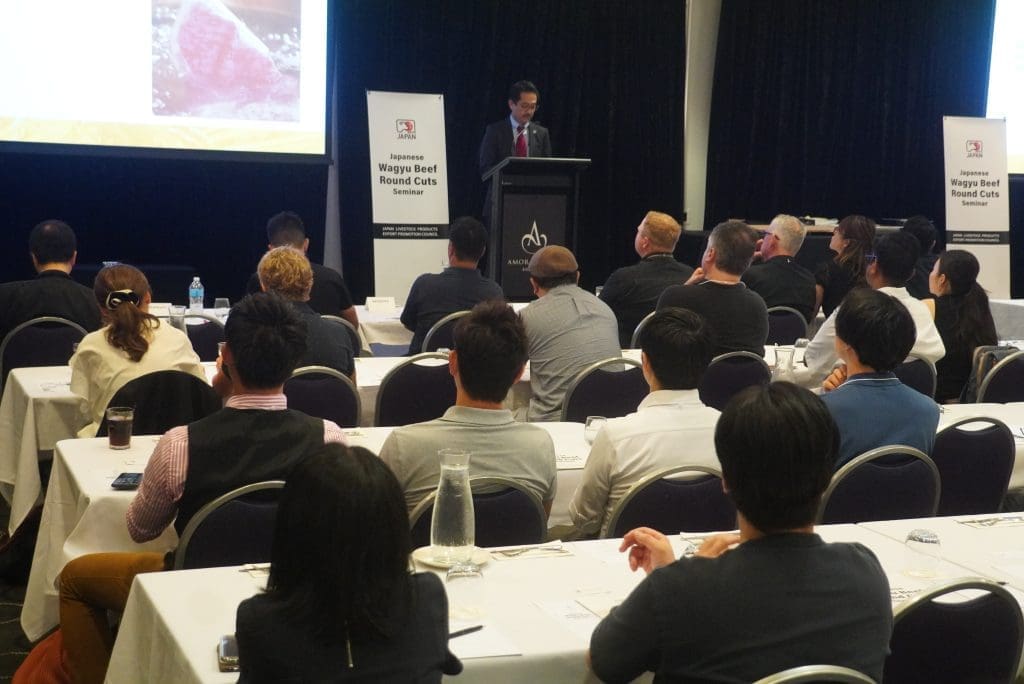 Here's some of Beef Central's observations from the event:
Precision in harvest.
The meat cutting demonstration by Sensai Tanaka underlined just how different processing operations are in Japan from Australia. The whole knuckle was seamed-out with surgical precision, with barely a skerrick of red meat left on the silverskin, tendons and connective tissue between muscles. Carcase yields in Japan are extremely high for this reason, but it all takes time and labour resources – commodities which are increasingly scarce in Australian processing operations.
Forequarter meat as valuable as loin cuts.
Unlike many western cultures where loin (grilling) cuts are most highly prized by customers – and reflected in wholesale prices – Japan places equal, if not greater emphasis on forequarter meat. The whole knuckle broken down for the seminar demonstration was divided into a number of outer knuckle, tri-tip and inside knuckle muscles – each with different marbling and cooking characteristics – including some considered ideal for grilling or BBQ. The tri-tip, for example, with abundant 'elegant' marbling, has a completely different purpose from an out-knuckle muscle with less marbling. Thick slicing or thin slicing was applied depending on how the cut would be prepared and served.
"Tri-tip in other types of beef is often overlooked, because it is bland and not tender – but in Wagyu, it's abundant marbling makes it special," Sensai Tanaka said. "It is sweet and subtle – I would recommend using it for upper-end menu dishes," he said.
Exports shifting from whole bulk primals to portioned and pre-cut form.
Several of the Japanese exporters involved in the event made reference to shifting more of their trade from traditional boxed whole cryovaced primals (like striploins, rounds or knuckles), to further-processed sliced and portioned products in much smaller skin-pack sizes, like those pictured here.
The high value of Japanese Wagyu beef, and the elimination of trim waste may have something to do with this trend.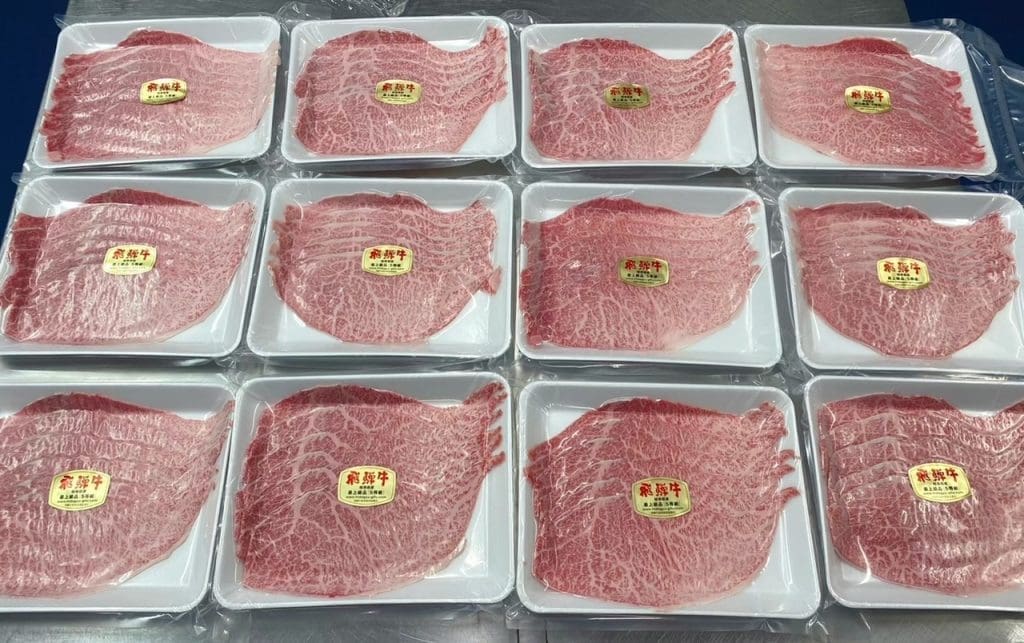 Fine slicing is key to better utilisation
The cutting demonstration proved just how far advanced the Japanese industry is in breaking down each body into smaller parts with a very specific purpose. And that applies particularly to forequarter meat, which has a common reputation in the west for tenderness issues.
Clearly, at least with high quality Wagyu carcases, a much larger proportion of the meat harvested from each carcase is suitable for grilling, than what is seen in western beef production systems.
Growing importance of fatty acid composition:
There was a growing trend in the Japanese Wagyu industry to measure and describe each individual carcase's fatty acid profiles, especially for the healthy mono-unsaturated oleic acid, the seminar was told.
This process was currently being applied on a voluntary basis, with 22 Japanese prefectures currently providing analysis and information on oleic acid levels.
Japan Livestock Products Export Promotion Council's Hiroyasu Fujishima said a new voluntary category had been provided in carcase description, bit it was not yet part of Japan's standard grading system. No national standard has yet been set.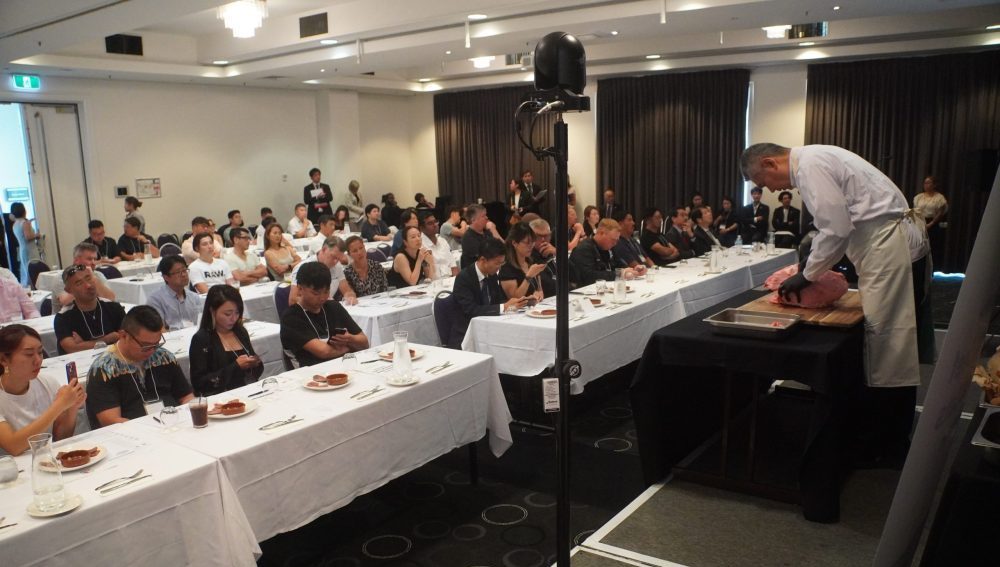 Large carcase and cut size:
The sheer size of Japanese Wagyu beef carcases – many reaching 500kg and even 600kg in weight – creates challenges in cut size and how the beef is handled.
However the technique of breaking down primals and sub-primals into much smaller components, made these items easier to manage.
"And for export markets like Australia, we are trying to find ways to cut primals so it is easier for export customers. We are still in the development stage in this, because we want to try to maintain high quality as well," Fijushima San said.
Some Japanese exporters could also provide more moderate primal weights, for those overseas customers who wanted smaller meat, he said.